Located on the left bank of the Mtkvari River, Rike Park is a somewhat new recreational park that connects a lot of places. The park is easy to find as it practically continues from the famous Bridge of Peace and sometimes also hosts live music and light shows in the summer.
For this reason, the park has become a quite popular attraction. It is an amazing place for a walk and to relax in. And depending on where you want to get to, the park just might be on the way to your destination.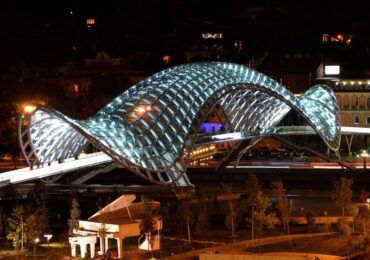 Overview:
The main attraction of the park is its location. It provides a great view over the newly-constructed Bridge of Peace, on to the Mtkvari and beautiful gardens.
The garden in the park itself is relaxing and a great place to sit. If you plan to do that, Friday evenings are good since there are sometimes Georgian dances and live music.
The park also offers many different directions to other popular destinations as well.
For one thing, Rike Park marks the entrance for the city's cable car, which takes visitors to the Narikala Fortress (which has its own very interesting history and an amazing view from the top). The aerial tramway is next to the park and slowly takes the visitors over the river and Tbilisi Old Town. This is a great opportunity to take aerial photos of the city as you're ascending.
For those who prefer walking, the Bridge of Peace (steel and glass bridge constructed in 2010), is a great way to hike to Liberty Square, or the Old Town (and also to visit Sioni Cathedral along the way).
Down from the park, Europe Square connects to Metekhi St. Virgin Church, and the Statue of King Vakhtang Gorgasali. From there, the bridge transitions to Tbilisi Old Town, which is a whole different topic and has loads of attractions and things to see.
You can also take the subway to Liberty Square and walk to Rike Park across the Bridge of Peace. This way, you'll be able to see the bridge, the park, and from there, either take the cable car up to Narikala Fortress or walk to Old Town across the Metekhi Bridge.
How to get there:
It's easy to get to Rike Park from just about anywhere.
You can walk from Avlabari Metro Station, or simply cross the Bridge of Peace from the Old Town. Alternatively, you can also hike up to Narikala Fortress first, and then take the cable car down.