The Rezo Gabriadze Theatre is, above all, a cultural institution. The theatre focuses on puppetry, magical performances and marionette art with a lot of depth and meaning.
The acclaimed screenwriter's works have definitely not gone unnoticed, as the theatre has gained recognition from critics and fans alike, even outside of Georgia. "The New York" called the place "art puppetry at the highest level", Financial Times, Washington Post and other major publications.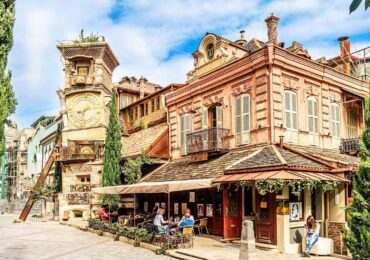 History:
Revaz "Rezo" Gabriadze is a renewed Georgian theatre and film director, writer, artist, amongst many other things. After graduating from a scriptwriters' course in Moscow, Revaz began working as a screenwriter. He co-wrote many famous films, directed some scenes, and was even a painter and an illustrator for some time.
However, after doing over 35 screenplays in total, he eventually got fed up with the Soviet Union restricting his intellectual freedom. So, he turned to puppetry to tell his dramatic stories. And in 1981, he founded the Marionette Theatre in Tbilisi.
From the very first performance there, he put his heart into the puppetry and the theatre started growing. In 1989, he received a USSR state prize and shortly afterwards started touring in foreign countries. His long tour covered places such as the Lincoln Center Festival in New York, the Edinburgh Festival, Spain and France.
To this day, Rezo Gabriadze is still working in art and theatre, along with his son Levan Gabriadze, an actor and film director.
What to see:
The building itself has a very whimsical architectural style that looks like it's out of a fairytale. In 2012, a tall, leaning clock tower was erected next to it that complements the look and makes the building easy to recognize.
There are a lot of different puppetry performances, almost daily, so you might have to plan ahead when and what you want to see.
General information:
You can typically find a puppet show at noon every day on the clock tower itself, which gives a nice preview of the main show. There are a few cafes to have a snack or a drink in as well to enjoy the small performance from the clock. Of course, the actual show is worth seeing as well since that's the main attraction.
You can find the schedule and the full list of performance (along with tickets, other information, etc.) here. 
How to get there:
The building is located in the heart of Old Town and is fairly easy to find.
Take the Metro to Liberty Square and walk, or take a taxi – that will get you nearby, but the theatre is in a pedestrian street, so you'll have to walk a short distance.