Even though it's a relatively modern construction, built in 1953, the Parliament of Georgia, found just along Rustaveli Avenue, still has its charm and there is more to it than meets the eye.
The building is the prime example of the monumental architecture style that came with the Soviet era. As the main building for all things political, it has seen a lot of tragedies and has been the site of many historic protests. Until 2012, when a new official Parliament House opened in Kutaisi, it was the central government house.
History:
The history of the parliament house goes way back before the Soviet era. The first Georgian National Parliament was actually founded in already-independent Georgia in 1918. However, shortly after adopting the first Georgian Constitution in 1921, Georgia was occupied by the Bolshevik Red Army. Hence the construction of the parliament building was deferred. It officially resumed in 1938 and finished in 1953 to administer the Georgian Soviet Socialist Republic.
During the Soviet era, the area in front of the building saw a lot of tragedies and protests. More specifically, important dates include April 9, 1989, when 19 young Georgians on a hunger strike were killed at the hands of Soviet troops. On November 22, 2003, a peaceful widespread demonstration and protests led to the government, including President Eduard Shevardnadze, resigning.
On May 26, 2012, President Mikheil Saakashvili initiated the construction of the new Parliament building in Kutaisi, as a means to decentralize power more and shift the political control closer to Abkhazia. Its many critics state that the new building is a waste of money and that moving it to Kutaisi while leaving the rest of the government in Tbilisi is inefficient.
What to see:
The old Parliament House, though it may look bland, is an impressive and huge building up close.
A small monument in front of it, paving stones, and a glass panel that commemorates those who died in 1989.
The beautiful little fountain in front of the building.
General info:
It's hard to miss right along the Rustaveli Avenue.
There is no specific time you should go there. Instead, since it's in the center, you can stop and admire the building and takes pictures along your route.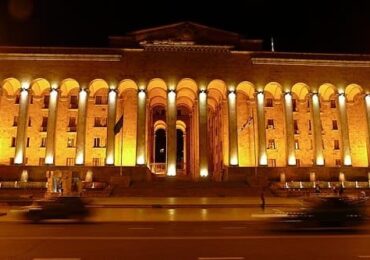 How to get there:
Metro to Rustaveli or Liberty Square and walk
Bus to Rustaveli Avenue.
Marshrutka (minibus).
Taxi.