South Caucasus small group tour 2023
15 Days | Azerbaijan, Georgia, Armenia group tour
Group size: 2-12 persons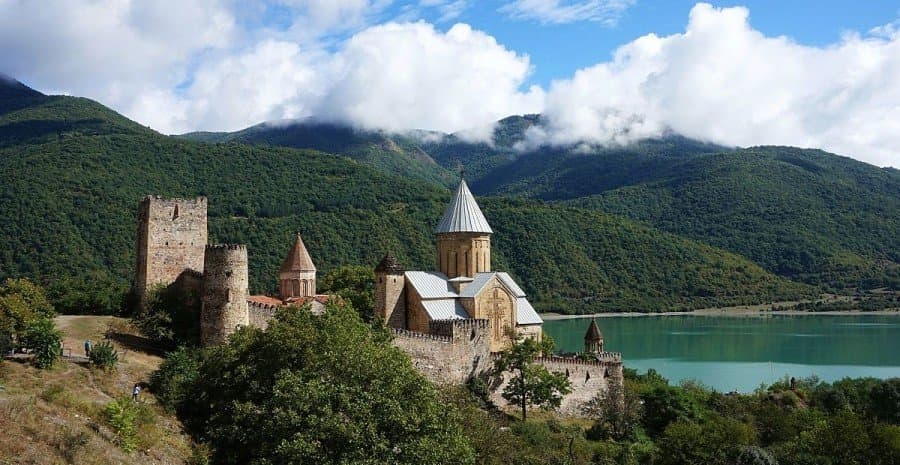 BOOK WITH CONFIDENCE. We recognise the increased uncertainty that recent events like COVID-19 may be causing in your trip planning. To help you book with confidence, we are offering an exceptional cancellation policy: Until the situation has stabilized, we provide you with the option of a 100% refund on all new bookings, for cancellations made more than 14 days prior to a tour.
This offer applies to ALL of our small group tour deals in 2023 booked and confirmed within this period.
Tour price includes:
Accommodation (Double or Twin room) in Boutique-type hotels with breakfast

English speaking guide service in each country

Sightseeing tour program

All transfers according to the program

Entrance tickets to sights mentioned in the tour program

Welcome dinners in Baku, Tbilisi and Yerevan

Wine tasting in Kakheti region, Georgia

Brandy tasting in Yerevan, Armenia

E-visa to Azerbaijan
Azerbaijan, Georgia and Armenia tour 
Overview
Our best selling tour is back! Comprehensive South Caucasus small group tour in 2023 offers you well-managed and balanced travel itinerary. The 15-day tour is combined of holiday programs in Azerbaijan, Georgia and Armenia. Discover all three countries of the South Caucasus and experience true charm and beauty of local hospitality. Back in 2019 (right before pandemic) our travelers named this tour – the best offer found online. Meaning that it is impossible to find the same value program for the same price.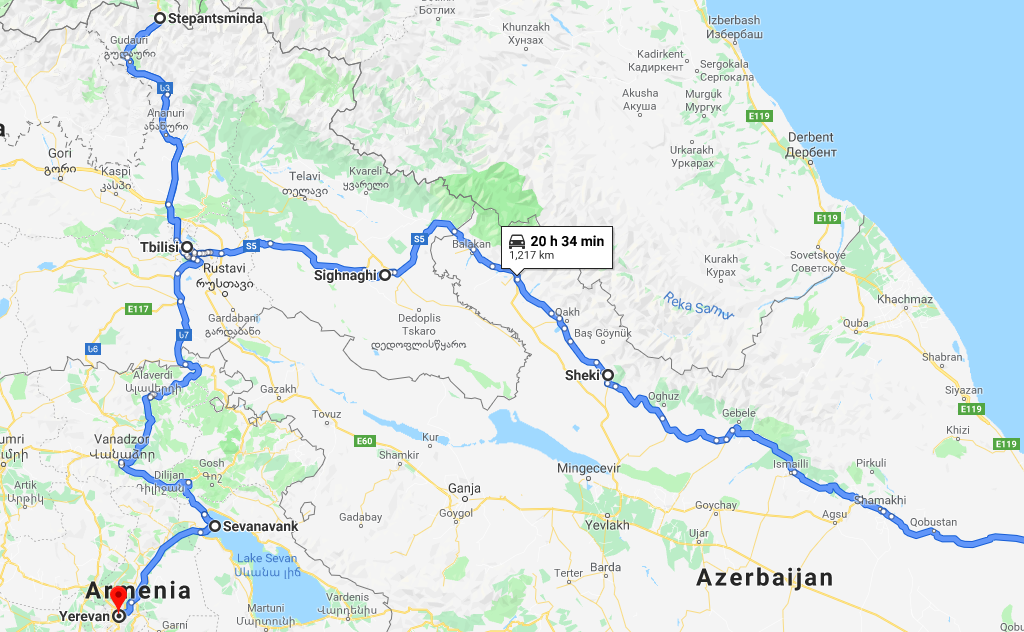 What to expect – in brief
Take the Azerbaijan, Georgia, Armenia small group tour and you will see how three countries are so close to each other and at the same time are so different. Beautiful nature, fascinating history, amazing architecture, ancient hospitality traditions, and unique cultural distinguishing features – this is the least you should expect from tour to Azerbaijan, Georgia and Armenia.
Small group escorted tour
This is a small group tour for up to 12 travelers at a time. So it will not feel too crowded and everybody will get the service and attention of our travel consultants and guides. The tour program also includes one free day in Georgia for travelers to explore Tbilisi on their own. Check this Azerbaijan, Georgia, Armenia tour itinerary in details. Then choose the most suitable dates for your travel from the Tour calendar above. And submit the tour request form. Looking forward to welcome you in the South Caucasus.
Accommodation Description
Standard accommodation is provided in comfortable Boutique-type hotels, based on Double or Twin room occupancy, breakfast included.
Single travelers requesting a separate room are subject to additional Single supplement charge. Please kindly add this information in comments section of the tour booking form.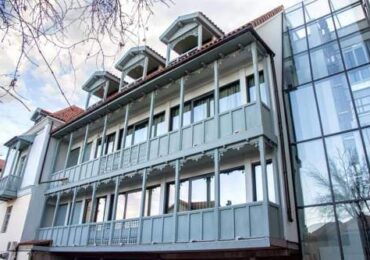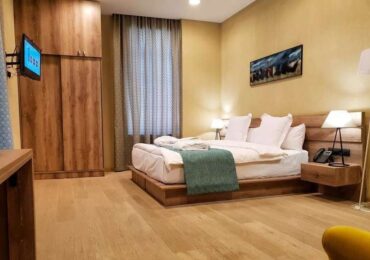 Tour price includes:
Accommodation (Double or Twin room) in Boutique-type hotels with breakfast

English speaking guide service in each country

Sightseeing tour program

All transfers according to the program

Entrance tickets to sights mentioned in the tour program

Welcome dinners in Baku, Tbilisi and Yerevan

Wine tasting in Kakheti region, Georgia

Brandy tasting in Yerevan, Armenia

E-visa to Azerbaijan
Azerbaijan, Georgia and Armenia group tour FAQ
I'm interested in this tour. How do I secure my place?
Fill in our online tour request form, read and agree to our tour booking terms, let us know your preferred payment option of the tour deposit – 500 US$. When your tour request form and deposit payment is received, we will confirm your place, by sending Azerbaijan Georgia Armenia Tour Voucher, along with Traveler Check list form.
How difficult is this tour?
Tour program is quite intense. Therefore, travelers must be able to keep up with the pace of the tour and have a reasonable level of fitness. Most tour days have early morning beginnings, as well as some long-time journeys on the vehicle. There are locations to be visited that are on uneven ground, with some having deep and irregular steps. It is also important to consider that border crossings between Azerbaijan and Georgia, and between Georgia and Armenia will involve neutral territory crossing by foot, with your luggage. Distance to be covered is about 500-800 meters on both borders. Your own judgment is a best assistant in deciding how much you can do on this tour. A stick might be useful if you need additional support.
What type of vehicle is used on this tour?
We will employ three different vehicles in each country – local cars in Azerbaijan, Georgia and Armenia. Depending on final number of participants on each particular tour, relevant vehicle will be booked. For groups of up to two persons we will use standard sedan-type cars. For groups from 3 up to 4 people minivan-type passenger vehicles will be employed. For tours with 5 or more (up to 12) participants comfortable minibuses will be used. All our cars are clean, air-conditioned, in good technical condition. Mineral water and tissues are available throughout the tour in the vehicle.
What type of accommodation will be booked?
All tour participants will be accommodated in same hotels and guesthouses along the route. In capital cities of Azerbaijan, Georgia and Armenia comfortable boutique hotels will be booked. Whilst in rural areas of all three countries small private hotels, or family owned guest houses. All accommodation options are clean, comfortable, either air-conditioned or with portable fans installed. Please note that some of the rural hotels don't have porter services and may also not have elevators. Our guides and drivers will surely be helping you with the luggage. But this is something to take a note of, anyway.
When is the best season to tour Azerbaijan, Georgia and Armenia?
South Caucasus region is an all-year round travel destination. For many reasons. But for this particular tour we would recommend joining anytime from mid-Spring up until mid-Autumn. Although, traveling in May will provide you with a different experience in terms of both weather and nature, than let's say in September. It is difficult for us to say which time is better. It all really depends on your own preferences. You may let us know the best conditions you enjoy traveling and we will be happy to suggest exact season and dates when you could join this tour.
How much money should I carry during this tour?
On this particular journey you wouldn't need much cash with you. And there are ATM's available in most of the locations on this tour. You may consider spending on your meals that are not included into the tour price. Other than that, only a few costs may incur. Paying for local souvenirs, some journey memorabilia – are some additional costs that may incur. You may be interested in tipping your guides and drivers after journey in each country. So, carrying few hundred Dollars or Euros with yourself would be more than enough.
What is the average age of the tour participants?
The only age restriction we have on this tour is that solo travelers under the age of 21 are not allowed. As this tour involves many visits to wineries, brandy production places and includes tastings and samplings into the tour price.
Similar options to Azerbaijan Georgia Armenia tour:
About South Caucasus
Azerbaijan, Georgia and Armenia, former Soviet Union countries are situated between the Caspian and Black Seas spanning Europe and Asia. Christian Georgia is about the same size as Ireland with a population of almost 4 million; predominantly Muslim Azerbaijan has a population of 10 million and is almost as big as Austria; while land locked Christian Armenia is a bit less of a size than Belgium, with a population of 3 million.
The South Caucasus region sits right in the heart of the emerging Eurasian supercontinent – a massive market that makes up 70% of the population, 80% of energy resources and 45% of the GDP in the world. China and Central Asia is to the East, Turkey and Europe are to the West, Russia is to the North, and the Middle East to the South. The new Baku-Tbilisi-Kars Railway through this region was the missing trade link of the much–heralded middle corridor of the New Silk Road, which is a multimodal trade route that goes from China to Europe via Kazakhstan, Azerbaijan, Georgia and Turkey. Sixty eight countries in total have joined this initiative so far.
Azerbaijan is bounded by the Caspian Sea and Caucasus Mountains and its capital Baku is famed for its medieval walled Inner City. Georgia is home to Caucasus Mountain villages and Black Sea beaches. It's famous for Vardzia, a sprawling cave monastery dating back to the 12th century and ancient wine–growing regions. Tbilisi the capital has mazelike cobblestone streets in its old town. Armenia, along with Georgia, is among the earliest Christian civilizations and is defined by religious sites including the Greco–Roman Temple of Garni and 4th–century Etchmiadzin Cathedral. Khor Virap Monastery is a pilgrimage site near Mount Ararat, a dormant volcano just across the border in Turkey. Yerevan, Armenia's capital is marked by grand Soviet–era architecture.