Batumi, the capital of Georgia's Autonomous Republic of Adjara, was once a less-than-significant port city, but has transformed into a vibrant summer destination in recent years. It boasts international hotels, a large assortment of restaurants and cafés, numerous attractions and pulsating nightlife. However, despite its modernization, the city maintains its old town charm and elegance, making it perfect for both pleasure and leisure.
It is true that the water in Batumi is not recommended for swimming, however this is not much of an inconvenience since it is in close proximity to places such as Gonio and Shekvetili, where the water is noticeably cleaner and better-suited for a dip.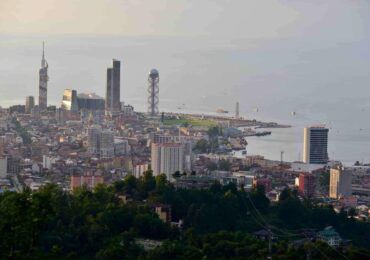 What to see in Batumi:
Dolphinarium –helps rescue and care for many dolphins each year. Well-maintained and run by dedicated individuals. Dolphin shows (15 or 20 GEL depending on time) are a must-see for children and adults alike. Mostly held in the evenings in an open-air arena – be careful which seats you choose, because you might get splashed. Swimming with the dolphins (15 minutes) starts at 100 GEL.
'Ali and Nino' –constantly-moving metal statue of a man (Ali) and woman (Nino) slowly passing through and around each another. It represents love, as well as the friendship between different nationalities.
Boulevard Stroll –one of the most pleasant activities on offer. The Ferris wheel offers a lovely view of the city. You can also head to the large tower decorated with the Georgian alphabet and dine at the restaurant 130 meters up.
Piazza –in the old part of the city, the piazza is a beautiful place to head to if you are looking for a more upscale evening with fine dining. Live music is almost always guaranteed.
Batumi Botanical Garden –miles of floral specimens from all over the world, with myriad paths, eventually leading down to the water of Mtsvane Kontskhi (Green Cape), where you can take a quick dip at the beach to cool down after all the walking.
Argo Cable Car –takes you 250 meters from sea level up to the Anuria Mountain, looking back over the city to the sea. Enjoy a drink or a meal at the top while you take in the view.
You have not been to Batumi if you haven't tried the local Adjarian Khachapuri – often referred to as a "cheese boat". For dessert, make sure to order a traditional Adjarian Baklava.
Best time to visit Batumi: June until the end of September.
How to get to Batumi:
New trains offer day and night rides from Tbilisi. Tickets might be hard to come by during the summer season, so you will have to plan and purchase online. You are welcome to use our Tbilisi to Batumi train ticket reservation service.
In addition, there is comfortable and entertaining guided van transfer service to Batumi that we offer.
Hire a private car transfer with us