Georgia is very rich in water resources and rivers, boasting some 26,000 rivers. One of the more distinguished of these is the Machakhela River, a transboundary river between Georgia and Turkey. The Machakhela National Park is in the river gorge. The park is vast, at around 9,000 hectares, therefore it is impossible to see everything it has to offer in only a day. If you are not looking to do a lot of hiking there are two automobile tracks which pass through the area. However, if you plan to do an extensive tour on foot there is an onsite guest house which offers accommodation.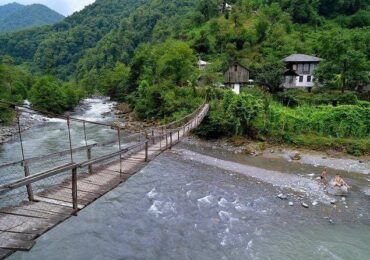 What to see in Machakhela:
Unique plants and animals – 75 % of the territory is mixed forest with species such as chestnut and oak. In addition these forests are home to around 200 species of mammals, birds and reptiles. Unfortunately, many species of both flora and fauna are included in Georgia's Red Book of endangered species. Keep your eyes open to spot the distinctive nature around you.
Arch bridges – Choose the paths to the old arch bridges, the biggest of them is the Tskhemlara Bridge (length 25m, width 2m).
Historical monuments – various fortresses, churches and monasteries are located on the territory. There are also historic wine cellars.
Machakhela Historical and Ethnographic Museum – Established in 1984 in a three-story former mosque, the museum features the authentic history and way of life of the area.
Machakhela Gun Road and monument – This area of Machakhela has been famous for manufacturing guns since the 18th century. Make sure to head down the Machakhela Gun road to see the famous gun monument.
Best Time to Visit Machakhela: Late spring, summer and early autumn.
How to get to Machakhela:
The Machakhela National Park area is about 30kms from Batumi.
Transportation is available to Machakhela by bus or taxi from the Batumi bus terminal. Car rides are also offered on site.
Machakhela Park on the map
Horseriding is very popular in Georgia and there are plenty of opportunities to ride a horse in different areas of the country. Explore amazingly picturesque and otherworldly East Kakheti landscapes on a horseriding day tour.

15 Days

ALL INCLUSIVE 15-day group tour to Georgia – is the best option for those travelers wishing to visit Georgia. Look no further as you have already found a perfect Georgia tour program.

Visit real Georgian village on the shores of Bazaleti lake, just 1-hour drive from Tbilisi. Village Mlashe is a home to a brand-new sustainable tourism project – local family-run Salty Garden.

12 Days

Georgia Green tour 12-day program is a result of our ongoing efforts to make all our travel options eco-friendly. Based on a responsible travel concept, the tour combines the unique Georgian culture, rich history…

3 DAYS

Lagodekhi getaway tour is a perfect 3-day travel program for a weekend in Georgia. Ideal tour package for those wishing to spend a couple of days in nature. Just a few hours from Tbilisi, visitors can…

One day farm tour to the village of Atskuri in Georgia (near the town of Borjomi). Dive into the life of Georgian farm and see how locals make their living. With this amazing day tour we offer our guests to experience agricultural life firsthand. 

7 Days

The tour itinerary is drafted around places that are far from major tourist attractions. Tea village of Tsitelmta in the Guria region or Machakhela nature reserve are hardly ever visited by mass tourists. The fact that indeed makes…

12 Days

ALL INCLUSIVE 12-day Georgia group tour program is a result of our ongoing efforts to make all our travel options eco-friendly. Based on a responsible travel concept, this tour…