Responsible Tourism Options in Georgia
Responsible travel and sustainable tourism are the choice of travelers who care about the global environment. But not all prospect travelers aware of practical implementation of such journeys. Further down this story we will showcase responsible tourism options in Georgia on one of our bestselling Georgia tour examples.
Global threat and local impact
It is obvious now that our Planet is under threat from environmental degradation and climate change. Not for all, though… But still. From Australia, Asia, Europe, Africa, and the Americas, wildfires, extreme flood or extreme drought, are increasingly becoming the norm. It is the responsibility of each individual and all organizations to contribute in global efforts to rehabilitate our environment and halt, and reverse global warming.
Additionally, climate change, coupled with globalization, is threatening local communities who rely heavily on indigenous produce and products. Climate change is making it harder by the day for local communities to earn a living in a highly competitive globalized marketplace where exotic foreign products are readily available. Threats posed by climate change, environmental degradation, and globalization are not restricted to a specific region but affect communities across the world, including in Georgia. This is where responsible tourism can be a way to improve the situation. One of many.
What is Responsible Tourism?
Responsible tourism is a way of travel that demonstrates respect for the people, culture, and environment you're visiting. It consists of economic, environmental, and social responsibility. You can read more about responsible tourism in Georgia here. 
Contributing to the responsible tourism practices in Georgia
At Geotrend, we understand the importance of protecting the environment and assisting local communities to revive their economic activities to cope with the rapidly changing and highly interconnected world. We take seriously our responsibility to our country's environment and ensure our travels are in line with Responsible Travel policy.
Currently, Responsible Travel is the number one priority to Geotrend operations. Our tours in Georgia and Caucasus are designed and operated in a way that provides a positive impact and long-term economic benefit to the local communities. Additionally, we proactively seek opportunities to conserve and improve the environment. We are leading by example through the adoption and implementation of energy-saving, recycling, and the use of fair-trade products in our Tbilisi office.
It would be very selfish for tour travels to overload local infrastructure and inconvenience local communities in the name of promoting Georgia's tourism sector. That is why we promote small group tours in Georgia and Caucasus. Most importantly, small groups enable us to enforce zero litter policies in every ecosystem and attraction destination in our itineraries. For example, to cut down plastic pollution, each of our travelers is provided with a free Responsible Traveler Kit that includes a reusable water bottle, and a bamboo-made toothbrush.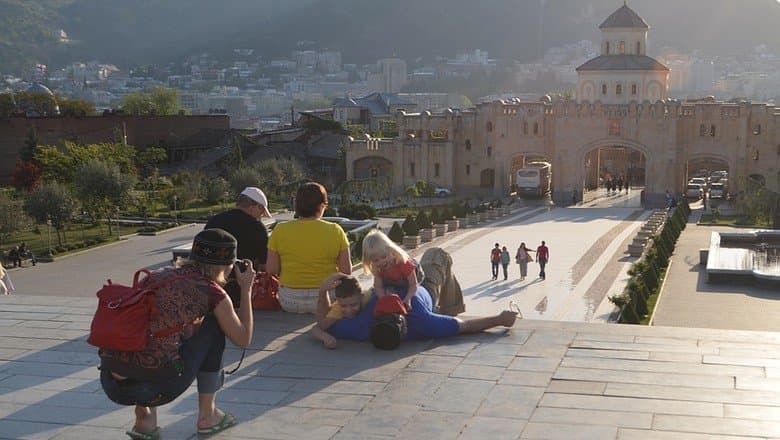 Responsible tourism option: tour program drafting and preparation
The implementation of responsible tourism on our Georgia and Caucasus tours starts way before we offer the package to clients. In tourism, the main issue that contributes to environmental degradation is large traveling groups roaming through fragile ecosystems consistently. The destruction and degradation of the fragile ecosystem is heightened by an increase in waste, such as plastic left behind by a large number of tourists visiting as a group at a time.
Guided by Responsible Tourism policy, Geotrend structures the size of group tours offered based on different aspects of the destinations in Georgia to be visited, such as the fragility of ecosystem and infrastructure. Implementation commences with an analysis of all potential destinations to be included in the tour. This is important because it enhances understanding of the maximum number of travelers that can be supported by the site without causing any destruction or degradation of its ecosystem.
After attaining the most eco-friendly number of travelers, we offer the package to the clients for them to sign up. Previous analysis of the fragility of ecosystems and local infrastructure in areas around popular attractions indicated that they can support from 8 up to 10 travelers at a time without degradation of their ecosystem and the environment as a whole.
We put aside a portion of our income to support the Georgian Oak Rehabilitation initiative. Also, we are focusing on enhancing our support to the MyWine project that conserves and develops limited indigenous vines in Georgia. Geotrend is also seeking to support Sustainable Rural Development International through Travel with Impact Initiative.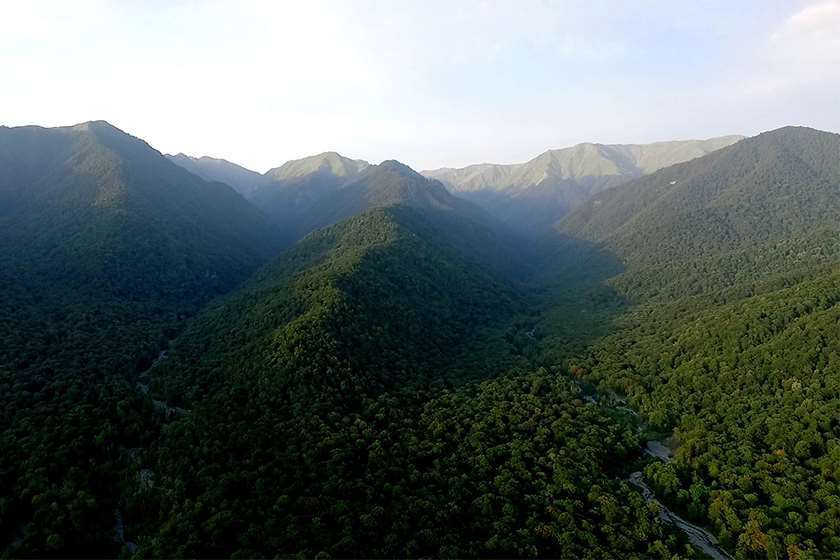 Implementation of sustainable tourism practices in Green Georgia Small Group Tour
Full tour details can be found here.
Day 1: You and other 9 travelers arrive in Tbilisi for Green Georgia small group 12-day tour
Implementation of Responsible Tourism on the actual tour commences once our representative meets you at Tbilisi International Airport and checks you into your hotel. Geotrend only partners with hotels that operate using ecofriendly practices such as recycling and energy saving. Additionally, we employ eco-friendly hybrid vehicles (or those with modern exhaust system) that will transport you and your tour group members from the airport to hotel in Tbilisi, and further down the tour program. After check-in at around past 3 pm, you will have a tour orientation from our staff member. Followed by relaxing evening to shake off any jet lag or exhaustion from your flight.
Day 2: Tbilisi and Mtskheta tour
Your Green tour officially begins on your second day in Georgia that is dedicated to its capital, Tbilisi. After a healthy breakfast, our guide will drive you and the rest of the for a 40-minute ride from the city center to Jvari church on top of a beautiful hill, overlooking the confluence of River Mtkvari and River Aragvi. The tour will proceed to Mtskheta's old town and a visit to the Svetitskhoveli monastery. At around mid-day, you'll head for light lunch in a small family-run restaurant, primarily chosen to support and contribute to the economic sustainability of this particular local community. After lunch, you'll return to Tbilisi and visit the Metekhi church, King Vakhtang monument, Narikala Fortress, the Legvtakhevi gorge, and waterfall, and end your tour for the day in a cozy eco-friendly restaurant in Shardeni. If you wish to buy souvenirs or any other product during this leg of your tour of Tbilisi, you are encouraged to contribute to the sustainability of locals by buying handmade souvenirs and products from small local artisans.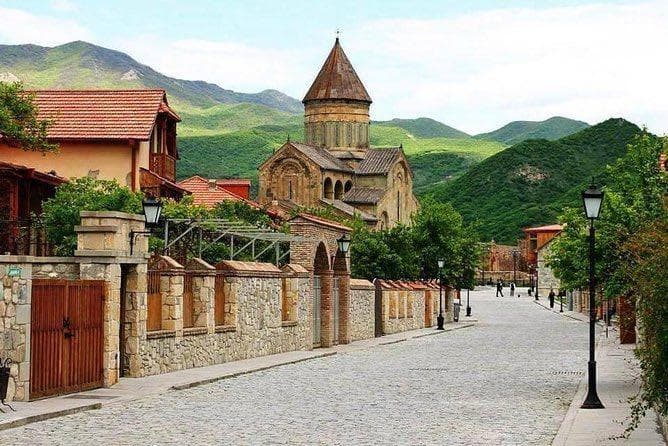 Day 3: Tour to Kakheti: Gombori, Gremi, Eniseli, and Lagodekhi
This leg of your Green Georgia tour will focus on Georgian small wine households to promote and support local agricultural practices; as well as unique natural sites and ancient architecture. You'll depart Tbilisi early for Kakheti known as the birthplace of Georgian wine. The tour will proceed to the village of Ruispiri to visit a small family-run biodynamic organic wine cellar and learn about traditional Georgian winemaking traditions, followed by wine tasting. After tasting the richness of Georgian traditional wine, you'll visit 16th-century citadel in Gremi architectural complex, Gremi museum, former residence of King of Kakheti, and the Church of the Archangels. The tour will move on to supporttraditional Georgian winemaking traditions with a visit to one of the oldest professional wineries in the area, in Eniseli village, where you'll have lunch along with local wines made from indigenous grape varieties, such as Saperavi, Rkatsiteli and Mtsvane. After lunch at the winery, you'll visit Lagodekhi National Park to appreciate the importance of protecting ecological diversity and the environment. The tour will end for the day with dinner in the yard of a family-run hotel, ensuring you support and contribute to the economic sustainability of the village.
Read more about our wine tour options here
Day 4: Tour to Kakheti: Lagodekhi and Sighnaghi
You'll continue to cherish and appreciate nature as you wake to the fresh air of Lagodekhi followed by healthy, all-natural home-made breakfast and a light hike into the Lagodekhi National Park. A 50-minute drive in your eco-friendly tour ride will bring you to Sighnaghi, "city of love", followed by a delicious late lunch at a private house, of the village of Nukriani. The family makes a living by producing felt and woolen footwear and other knick-knacks, where you can buy a pair custom-embroidered with your name or for a loved or a friend back home ending the day with a healthy delicious dinner and overnight stay in Mtskheta.
Day 5: Tour to Borjomi and Akhaltsikhe
To appreciate the value of a healthy environment, you need to go back in history to learn how it influenced daily life. Commencing with a delicious all-natural breakfast, you'll take a 2-hour drive to the region of Samtskhe-Javakheti to visit the beautiful town of Borjomi home to numerous mineral water sources. The clean drinking waters of Borjomi influenced 19th-century Russian Grand Duke Nicholas to commission the Royal residence here. After visiting Borjomi Park, you'll continue to the village of Chitakhevi to visit St.George Church, dubbed the "Green Monastery" for its location inside a picturesque mountain forest.
Another drive in your eco-friendly tour van for 20 minutes you'll reach Atskuri village, where you'll be introduced to local agricultural traditions and enjoy a produce degustation. This visit offers you a perfect opportunity to promote and support local agricultural practices, followed by a farm-to-table organic lunch as appreciation for the positive impact you made. After your healthy organic lunch, you'll visit Akhaltsikhe and 9th-century Rabati Fortress to learn the history of ethnic and religious diversity ending your trip for the day at a local guesthouse for dinner and overnight stay.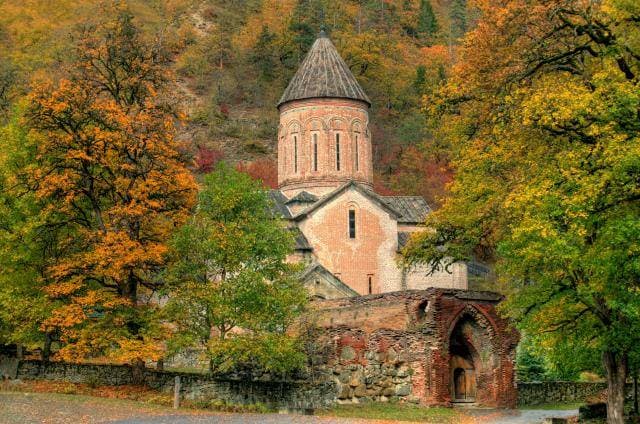 Day 6: Tour to Vardzia
On the fifth day of your Green Georgia tour, you'll journey to Vardzia to experience 12th century-Georgia and explore the remains of ancient caves. After your experience, lunch at a small local farm to witness one of the leading local examples of sustainable development consisting of a guesthouse, its own fish pond, rabbit and pig yards, chicken coop, and a rich kitchen-garden. It not only has its own wine but also boasts a solar-powered greenhouse. After one of the brightest responsible tourism experiences so far, head back to Borjomi for rest, dinner, and overnight stay.
Day 7: Tour to Martvili Canyon
After a healthy organic breakfast at your Borjomi guesthouse, drive west to the village of Shrosha, home to the best potters in Georgia. Traditional clay ovens, wine vessels, and other pottery have been made here for many years. You'll visit a family of local potters, see the workshop in action, and may purchase a handmade souvenir to contribute to the economic sustainability of local potters.
Drive on to the Samegrelo region to appreciate its unique cuisine, indigenous grape varieties, and visit a small family winery where you'll wash down lunch with a very special limited-production wine. Apart from having fun, you'll be promoting and supporting traditional Georgian winemaking traditions. Your support will be repaid with a memorable visit to the famous Martvili Canyon, once a bathing place for the Dadiani royal family.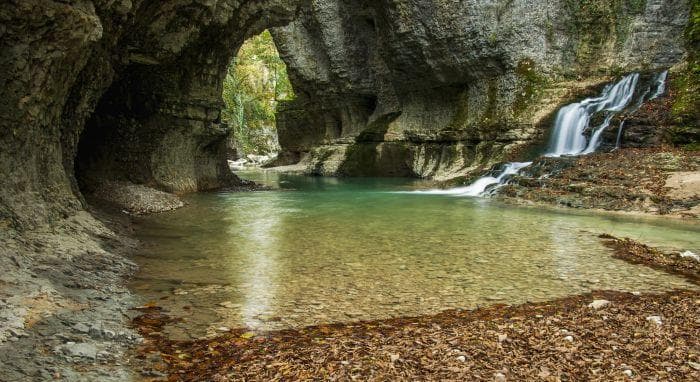 Day 8: Tour to Sataplia Nature Reserve
On the seventh day of your trip, you'll start with a visit to Sataplia Nature Reserve to see the footprints of herbivorous and raptor dinosaurs of different epochs. Take a 2-hour drive for the Adjara region of Georgia to the village of Shekvetili by having lunch in a family-run seaside cafe. After lunch, you'll venture further down the coast of the Black Sea coast to visit the "Georgia in Miniatures" park to learn the rich architectural heritage of the country. Further down the coast, you'll arrive in Machakhela for a traditional local dinner and overnight stay.
Day 9-Tour to Machakhela Protected Areas
Enjoy a delicious breakfast, followed by a journey to the Machakhela Nature Reserve visitors' center and learn how cooperation and concerted efforts between the state and private sector enabled sustainable development in the region. The success of this partnership is the reason why Geotrend is seeking to enhance cooperation with the Georgian Ecotourism Association to help preserve and improve the environment and deliver a long-term benefit for the host community.
After appreciating the environmental benefits of cooperation, you'll drive up the mountains to see ethnographic museum collections and visit a local family producing cheese and honey to support local economic activities while lunching a delicious meal. As you drive to Batumi, stop at the medieval Tskhimlari arch bridge for a few photos.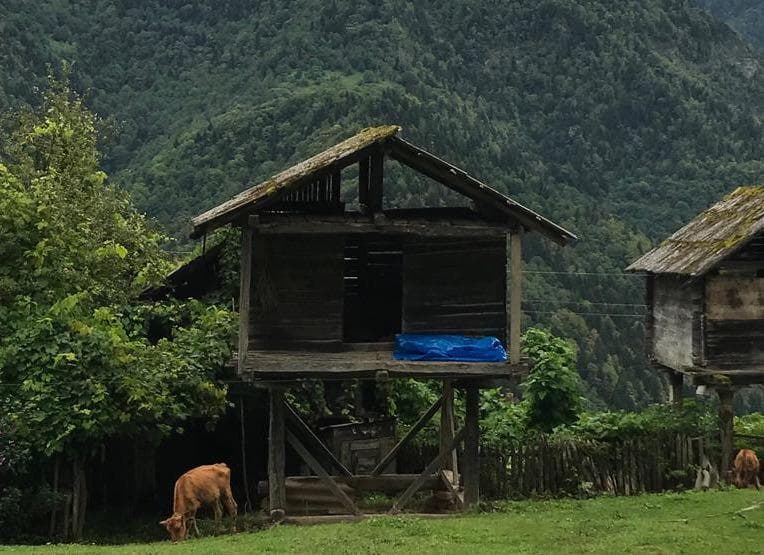 Day 10-Tour to Batumi and Batumi Botanical Garden
Wind down your Green Georgia tour appreciating the perfect balance between natural and man-made beauty of Batumi Boulevard, Europe Square, Nuriegel Lake, the Piazza, and the statue of "Ali and Nino." After lunch, visit the Batumi Botanical Garden to experience the beauty of unique floral specimens from all over the world.
Animal rights and welfare are a priority for Geotrend that is why we eliminated visits to Dolphinarium in Batumi. We also encourage our guests not to visit the Dolphinarium in your spare time because you will be supporting animal cruelty and captivity.
Day 11-Free day in Batumi / Afternoon train to Tbilisi
You will have time to spend a half-day in the amazing Black Sea coastal city of Batumi before heading back to Tbilisi. Geotrend focused on reducing carbon footprints, and we are developing a series of Georgia by Rail tour programs to reduce domestic plane and vehicle traveling. The train ride from Batumi to Tbilisi is a comfortable 5-hour long journey in a modern double-decker carriage. Our driver will meet you at Tbilisi Railway Station to arrange for a hotel transfer.
Day 12-Departure from Tbilisi
On the last day of your Green Georgia Small Group 12-day tour, you'll have a half-day to say goodbye to Tbilisi and head to the airport at around midday for your departure.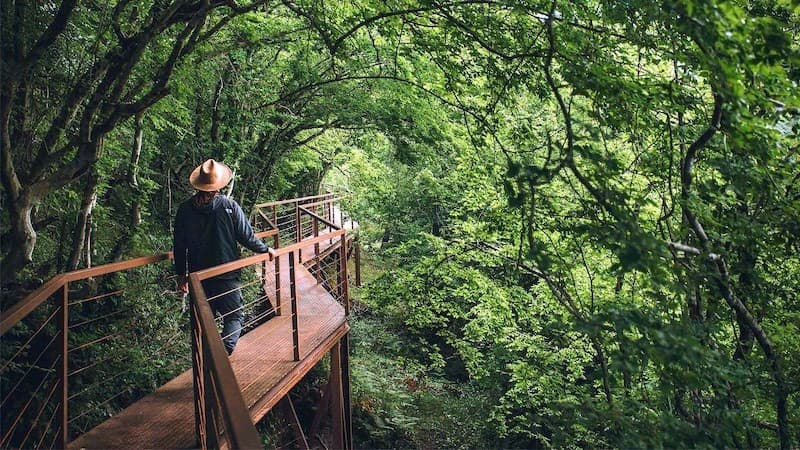 We strongly believe that all of us can and must contribute to global efforts to save and conserve our environment in any way possible. Responsible tourism is one of many options to do so. We can still travel, while supporting and contributing to the economic sustainability of places we visit. At Geotrend, we are doing our part to preserve, protect, and improve the environment in Georgia and Caucasus. Always travel responsibly, live eco-consciously – we don't have Planet B.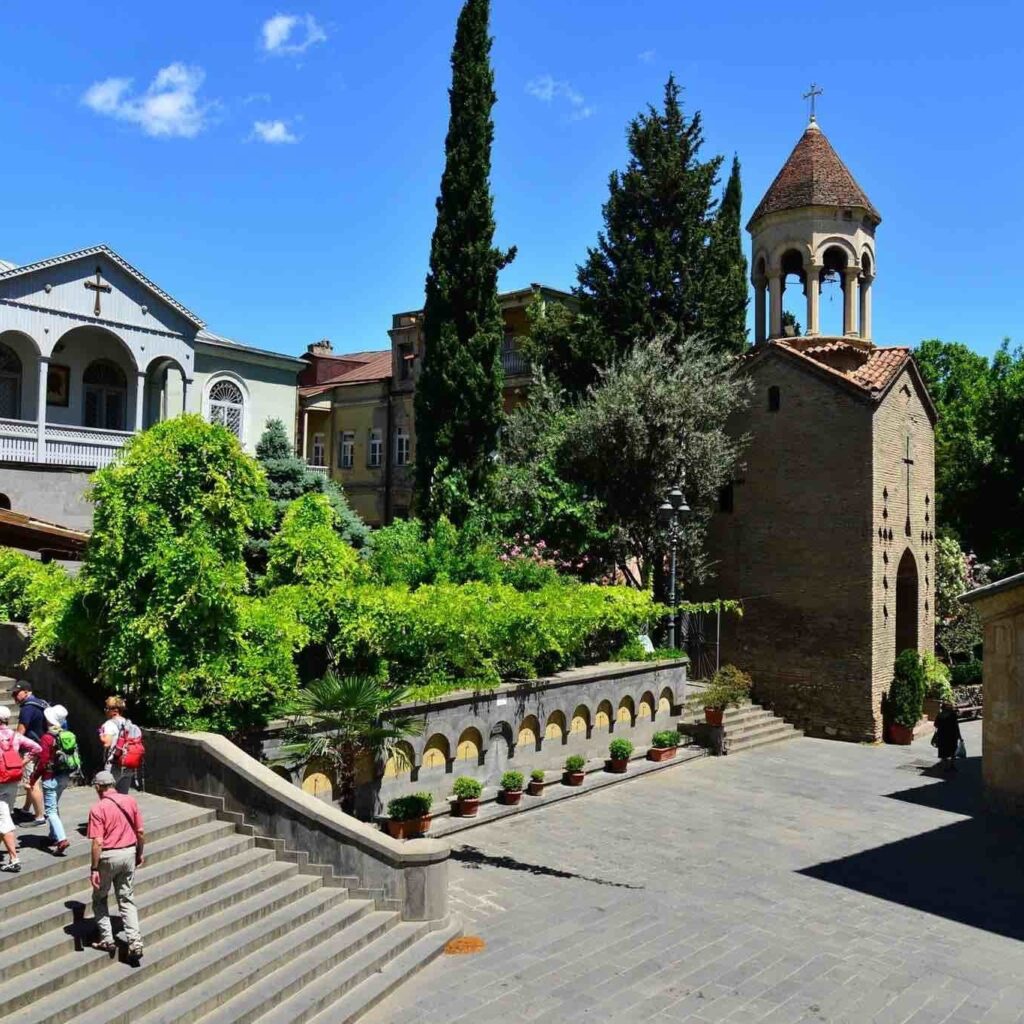 Green Georgia | 12-day small group tour
ALL INCLUSIVE 12-day Georgia group tour program is a result of our ongoing efforts to make all our travel options eco-friendly. Based on a responsible travel concept, this tour…