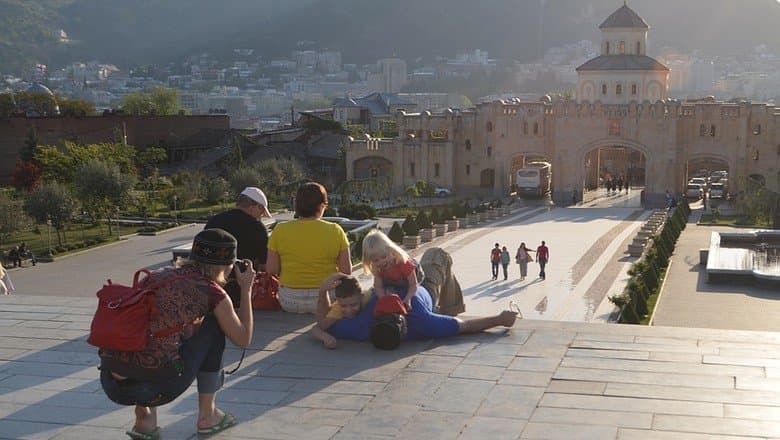 Small group tours – choice of a responsible traveler
Small group tours in contrast with more common larger group journeys are much better option from all aspects. You still pay less tour price than that of a private tour, but at the same time get tailored care and attention from your tour manager and local guide. Plus, and this is in our view the most important aspect – you become a part of a small but growing number of responsible travelers.  
Group tour size
Tours we organize are small enough to make you feel like an individual tourist. But at the same time they are big enough for you to socialize and share impressions with others on the route. Our group tours size usually do not exceed 10 people at one time. There are a lot of reasons why we have chosen number 10 as our maximum.
Perfect balance
Small group tour size of no more than 10 people lets you interact with the rest of your group peers. And it won't be felt like you are just one of those many in huge coach being transferred from one place to another. In a group of 10 people it is also easier for us to meet maximum of your travel needs, as well as along-the-way sudden requests. Whilst with the bigger traveling parties it is not always possible. And – if you are traveling alone, on a small group tour you won't be 🙂 Chances are you meet someone who likes to explore this world just like yourself.
Responsible travel
As a company and team, we are all about responsible tourism. We carefully select our local partners among likeminded people. We work towards supporting Georgian regions sustainable development through tourism. Important aspect of our responsible operations is local environment protection. Small group tours allow us to minimize the negative impact of tourism in rural and protected areas of Georgia. If you want to see Martvili Canyon then arriving there on a hybrid-powered car or on the one with a smaller exhaust level, is much better than joining a 40-seater coach. At the same time your journey to remote tea-growing village is a tremendous support for locals.
Flexibility
In a small group tour it is much easier to adjust your journey along the way. Most of our tour programs are designed that way so you have time to explore places on your own too. Itineraries are here for us to follow them. But as a traveler you most probably will need an option to try something else. Spotted a nice café district in Tbilisi, or want to visit famous Sulphur Baths, or even add a day tour or two to your journey? We are always ready to improvise to meet your requests.  
Guaranteed departure
We do mention on our group tour pages what is the maximum amount of travelers on each particular journey. But we also do note that all of our group tours are fixed and departures on those dates are guaranteed. Even if there will only be one traveler.
---
Here are some examples of our best small group tour programs: