You can travel all around Georgia and see its architectural monuments. Or you can see all of them at the same time by going to the Black Sea Resort of Shekvetili and visiting the 'Georgia in Miniatures' park. The miniature park is one of the newer attractions of Georgia and features around 50 miniatures architectural monuments from all around Georgia. In addition, each display has a small board containing information regarding its history.
The park is open Monday to Saturday from 11am to midnight. On Sunday it opens from midday to midnight. If you can't squeeze in the time to visit the park during the day, don't hesitate to go during later hours, since the park is beautifully lit, including every monument individually, which creates an enchanting environment and atmosphere.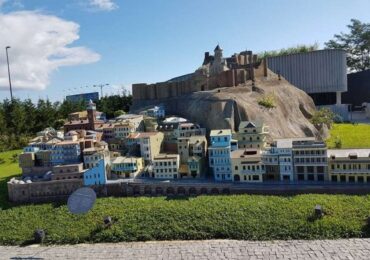 In addition to the miniature displays, the park complex includes a visitors' center, which has a mini-amphitheater, cafes and other areas to rest and enjoy your visit.
Overall it will take around one hour to explore the whole area, so you can plan to visit nearby areas on the same day.
What to see in Shekvetili: 
Amusement Park Tsitsinatela – the miniature park is located next to the amusement park Tsisinatela. It offers rides for every age. However, you should take into consideration that it opens at 6pm each day.
Black Sea Arena – this newly-built arena has already hosted performers such as Elton John, Aerosmith and others. If you are in the area, make sure to check out any concerts which might be scheduled at the time.
Paragraph Resort & Spa Shekvetili – if you are willing to splurge, this high-end hotel offers amazing accommodation with amazing views, swimming pools, a water park and aquarium display.
Best time to visit Shekvetili:
From June until the end of September, when the weather is warm, and all the businesses are fully operational.
How to Get to Shekvetili: 
You can use our comfortable van transfer from Batumi to Tbilisi, with a stop in Georgian Miniatures Park
From Batumi, there are marshrutkas (minibuses) and buses which make daily trips.
You can also take a taxi, which will cost around 20 GEL.
Georgia in Miniatures Park on the map
One day farm tour to the village of Atskuri in Georgia (near the town of Borjomi). Dive into the life of Georgian farm and see how locals make their living. With this amazing day tour we offer our guests to experience agricultural life firsthand. 

12 Days

Georgia Green tour 12-day program is a result of our ongoing efforts to make all our travel options eco-friendly. Based on a responsible travel concept, the tour combines the unique Georgian culture, rich history…

3 DAYS

Lagodekhi getaway tour is a perfect 3-day travel program for a weekend in Georgia. Ideal tour package for those wishing to spend a couple of days in nature. Just a few hours from Tbilisi, visitors can…

15 Days

ALL INCLUSIVE 15-day group tour to Georgia – is the best option for those travelers wishing to visit Georgia. Look no further as you have already found a perfect Georgia tour program.

12 Days

ALL INCLUSIVE 12-day Georgia group tour program is a result of our ongoing efforts to make all our travel options eco-friendly. Based on a responsible travel concept, this tour…

Horseriding is very popular in Georgia and there are plenty of opportunities to ride a horse in different areas of the country. Explore amazingly picturesque and otherworldly East Kakheti landscapes on a horseriding day tour.

7 Days

The tour itinerary is drafted around places that are far from major tourist attractions. Tea village of Tsitelmta in the Guria region or Machakhela nature reserve are hardly ever visited by mass tourists. The fact that indeed makes…