According to Orthodox Christian teaching, dense forest symbolizes serenity, peace of mind and solitude. Zegaani Monastery, deep in the woods near the village of Zegaani is a calm, fairytale-like place, where ancient churches beautifully blend into nature.
The first building constructed at the monastery, St. Marina's Church, dates to the 5th century. Thus, it is one of the first Christian buildings in Georgia, which had accepted Christianity only a hundred years earlier.. In the 6th and 7th centuries, the large three-churched basilica – a shape attributed only to Georgian Christian architecture – was built. Additionally, numerous centuries-old shrines and a winery were also established. The monastery is surrounded by a low stone fence.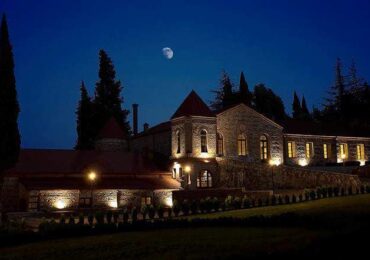 Zegaani Monastery's location, ancient architecture and beautiful frescoes, fine Georgian chanting along with the birds' chirping treats visitors to a tranquillity that is hard to find elsewhere.

What to see at Zegaani Monastery
Church of St. Marina represents the first wave of the Christian architecture in Georgia. In the 5th century, only single-naved basilicas were built. Constructed on a cross-shaped foundation, with light-colored cobblestones. The interior is decorated with 16th century frescoes.
Three-Churched Basilica of All Saints – the largest church at the monastery. Its unusual shape is due to the fact that Mass can only be performed once per day on the Holy Table. Thus, to increase the number of Masses each day, two more altars were added. The Basilica of All Saints is mainly built with pumice stone.
Ruins of centuries-old shrines, the winery and the short stone fence.
General Information
Entry is free of charge.
The territory of the monastery is supervised by the monks. Movement through monastery buildings and/or taking pictures may require special approval from the abbot.
Women are required to wear a headscarf (often found on the entrance to the church) and a skirt.
Men should not wear shorts or hats.
Best time to visit the Zegaani Monastery: Late May – Late October.
How to get to Zegaani Monastery 
Tbilisi – Zegaani (122km)
Gurjaani – Zegaani (10km)
Zegaani Monastery on the map