Georgian religious architecture is renowned for its unique intermingling with nature. Monasteries were not only spiritual sanctuaries but also defensive fortresses, where nobility and ordinary people found refuge during tough times. Alaverdi Cathedral is one of the few examples of monasteries surrounded by a solid stone fence.
Alaverdi Monastery was built in the 11th century by Kakhetian King Kvirike on the remains of a monastery established by Joseph, one of the Thirteen Assyrian Fathers. It is one of the biggest cathedrals of the country, built on a cross-like foundation. In 2007, Alaverdi Monastery was listed as a Tentative Heritage site by UNESCO. Alaverdi is 20km north-west of Telavi.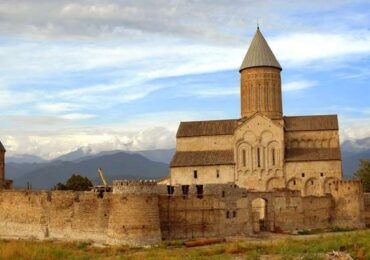 The communist ban on religionand total destruction of sacred symbols and paintings were not enough to demolish the eight centuries-old frescos preserved on the walls of Alaverdi. The cathedral's location – in the Alazani Valley, close to the Alazani River – together with rich frescoes and fine Georgian chanting creates a serene atmosphere.
What to see at Alaverdi 
Tomb of Saint Joseph –founder of the monastery and a holy symbol for Orthodox Christians. The walls are decorated with colourful stones and carvings. The tomb is open for visitors (conditions apply).
Frescoes above the altar depicting the Virgin Mary with the Child and the Archangels Michael and Gabriel date to the 15th century, while the frescoes of Holy Fathers and various ornaments are from the 11th century.
Views of the Alazani Valley – The mountain range and the soothing sounds and humid air of the Alazani River create the ideal atmosphere..
The garden around the Cathedral.
General Information
Entry is free of charge.
The monastery is supervised by the monks. Movement through monastery buildings and/or taking pictures may require special approval from the abbot.
According to tradition, women are required to use a headscarf (often found on the entrance to the Cathedral) and a skirt.
Men should not wear shorts or hats.
Alaverdi Monastery on the map