Once upon a time, there was a residence in the middle of Kakheti, where intellectuals from all over the world came to socialize and discuss the latest trends in literature and poetry. The residence was a truly European jewel – surrounded by a vast garden with towering trees and rare flowers, where the best grapes were fermented to produce the finest wines.
Tsinandali Residence was built by Alexander Chavchavadze on land given to his father by the Kakhetian King Erekle I. Noble Alexander was a prominent figure in the Russian Empire, and an important importer of European culture, ménage, and poetic romanticism. Alexander Pushkin, Alexander Griboyedov, and Thomas-Alexandre Dumas were some of the many frequent guests at Tsinandali Residence. It was also home to the first grand piano in the country.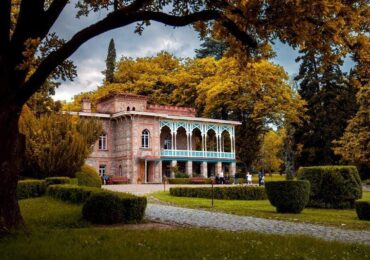 The architecture of the House Museum of Chavchavadze in Tsinandali is a fusion of the traditional Georgian and European traditional. After it was completely burnt down in the 19th century, the residence was restored by Russian Emperor Nicholas II, but soon redecorated under Communist rule. After the privatization of the Tsinandali Residence in 2007, the mansion, gorgeous garden, unique winery and old wine cellar were restored, refurbished, and re-opened for visitors.
What to see at the Tsinandali Estate
The Garden –created by a European landscape designer, the Tsinandali Garden is where tall trees blend beautifully with the unique, indigenous flowers. Legend has it that lovers who go through the Alley of Love will be happily married till the end of time.
Tsinandali Wine Cellar – where the first Georgian wine was bottled. Even though the first wine was fermented 8,000 years ago, it was not bottled before 1814. The cellar preserves more than 16,000 bottles.
Tsinandali Museum Guesthouse – presents the opportunity to finish the day off in the traditional atmosphere of the 19th century residence. It is on the territory of the estate, opposite the mansion. The ceiling of the 1st-floor dining room is decorated by an enormous handmade metal chandelier by famous sculptor Zurab Tsereteli.
The Chavchavadze Museum – holds permanent exhibitions of the private collectibles of the Chavchavadze family. Visitors will hear the story of the country intertwined with details from the lives of the Georgian nobility, and specifically the Chavchavadze family. The museum preserves more than 600 relics and holds various exhibitions and concerts throughout the year.
Best time to visit Tsinandali Residence: Late August – Late October.
How to get to Tsinandali Estate
Telavi – Tsinandali (10km)
Tsinandali Estate on the map