Ujarma Fortress is one of the oldest castles in the world, with one significant difference –it is still well-preserved. It was originally built in the 3rd century by King Aspacures I of Iberia. In the 4th century, with the involvement of St. Nino the Enlightener of Georgia, the Church of the Holy Cross was constructed. This led to the enhancement of Ujarma's spiritual and political significance, enriched by the King Vakhtang I Gorgasali, who refurbished the castle and built the minor citadel inside it. It remained as such until the 8th century when the Mongols destroyed the castle, which had already been shaken by the Arab conquerors of the 7th century.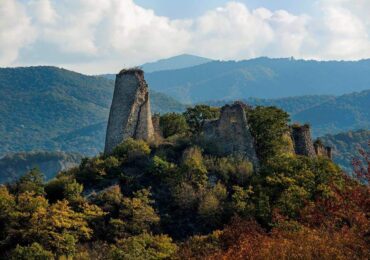 On the territory of the Ujarma Fortress the remains of the Royal Halls, big and small water reservoirs, the wall, and towers can be accessed. The Church of the Holy Cross was revived after centuries with the blessing of Ilia II, Catholicos-Patriarch of All Georgia. During several archaeological excavations, glass and bronze bracelets, rings and buttons, were found alongside the unique Georgian wine-making clay tool, the Qvevri, and traditional bakery, the tone.
What to see in Ujarma
The Church of the Holy Cross – built by Salome of Ujarma, King Mirian's daughter-in-law, in the 4th century. The single-naved basilica is built with cobblestones and red brick.
The Big and Small Water Reservoirs – built in the remains of the towers during the late feudalism period. The castle may have had an irrigation system connected to the Iori River, on the banks of which the fortress lies.
Due to the castle's location, the landscapes of the Iori River and the hills covered in evergreen forests also serve as an interesting attraction for photographers.
Best time to visit Ujarma: Late August – Late October.