Gombori Mountain Pass is known for its picturesque landscape. This 65-kilometer forest highway through the Gombori Ridge is the watershed separating the Alazani and Iori River valleys. This geographical separation serves as the customary regional division of Inner and Outer Kakheti.
The highest point of Gombori Ridge is Mount Tsivi (literally 'cold'), with an elevation of 1991 meters. The ruins of castles and towers, well-preserved monasteries and churches indicate that historically, even before the Gombori Mountain Pass Highway was remodelled, numerous pathways on the old forest road were used as shortcuts.
Gombori Mountain Pass is on the lower slopes of Gombori Ridge, with the highest elevation at 1620 meters. The forest highway is an alternative way of getting to Kakheti – Georgia's easternmost region. It begins on the Tbilisi-Kakheti connecting road, near the village of Vaziani in Kvemo Kartli, and goes to Telavi, the capital of Kakheti.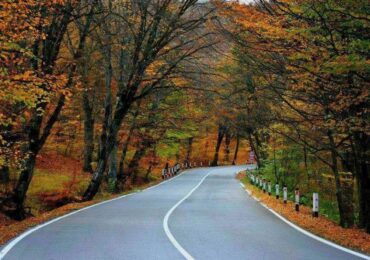 Georgia is on the border of the subtropical and temperate zones, resulting in four distinct seasons each year. The curvy mountain road is wonderful throughout the year, with every season presenting unique and picturesque landscapes. In summer, the mix of the green broadleaved and pine forests in the two river valleys fill the road with humid, clear air. In spring, blossoming trees are covered with colourful flowers. Winter presents the mountain road surrounded by mighty trees covered in soft and untouched snow. In autumn, before the leaves fall, the crowns of trees reveal a spectacular palette.
The high elevation of the mountain road means precipitation during autumn and winter. Due to its often tight curves, the road can be difficult. During the winter, it is frequently closed and controlled by the patrol.
Best time to visit Gombori Mountain Pass: All seasons with additional precautions.
Disclaimer: The road may be closed in winter, or in case of strong precipitation.
How to get to Gombori Mountain Pass:  
Tbilisi – Vaziani (Gombori Patrol Station) (30km)
Tbilisi – Telavi (100km)