David Gareja is an example of cave town, a spiritual sanctuary for monks where people from various backgrounds lived for a common goal – the salvation for all mankind.
The David Gareja Monastery was established in the 6th century by David of Gareja, one of the Thirteen Assyrian Fathers, in the country's easternmost region Kakheti, on the border with Azerbaijan. For geopolitical reasons, a few monastic buildings and churches on what is now the territory of Azerbaijan are inactive. The monastery was first expanded by Dodo and Luciane, disciples of David, who established new cave monasteries – Dodo's Rka and the Monastery of John the Baptist.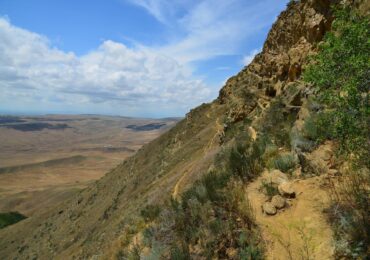 The spiritual significance of the David Gareja Monastery was noted not only in Georgia, but also outside its borders. Numerous conquerors and marauders destroyed and burned down the monastery. Abbas I of Persia tried to eradicate monastic life in David Gareja by executing 6,000 monks.
The mural painting of the David Gareja Monastery is an important example of the Georgian fresco technique. After the first church was painted in the time of early feudalism, an art school was established that lasted until the 15th century, but abolished after Tamerlane's (aka Timur) numerous raids. The frescoes preserve the images of the monastery's donors – the kings and nobles.
What to see at the David Gareja Monastery Complex 
The Laura of St. David – the first monastic building on the territory of the monastery, built in the 6th century by the founder, David of Gareja. The complex (laura) consists of several monastic and utile buildings dating from 6th to the 18th centuries.
Tomb of St. David – a holy site for Orthodox Christians inside the Laura of David. The tomb is open for appropriately attired visitors.
The Dodo's Rka Monastery – established by Dodo, one of David's disciples, in the 6th century. It consists of several cave churches. The monastery is on a hill, a few kilometers from the main Laura.
The Monastery of John the Baptist – fully built inside a cave. The complex consists of the main and small churches, interconnected by a small stone staircase.
The frescoes – all bear the unique style of the religious art. The scenes depict the nature and history of the country, along with preserving the names of benefactors.
General Information
Entry is free of charge.
The monastery is supervised by the monks. Movement through buildings and/or taking pictures may require special approval from the abbot.
Women are required to wear a headscarf (often found on the entrance to the Cathedral) and a skirt.
Men are not permitted to wear shorts or hats.
Best time to visit David Gareja Cave Monastery: Late August – Late October.
How to get to David Gareja
Tbilisi – David Gareja (70km)
Marshutka (minibus)
Taxi
Rustavi – David Gareja (36km)