The Ikalto Academy, the intellectual and academic cornerstone of Georgia, in the easternmost region of Kakheti, was on the territory of the country's spiritual center – the Ikalto Monastery. Shota Rustaveli, the author of the renowned Georgian epic The Knight in the Panther's Skin, was an alumnus of the academy.
The Ikalto Monastery was established in the 6th century by Zenon, one of the Thirteen Assyrian Fathers – group of Orthodox Christian missionaries who established a monastic life in Georgia. He was subsequently buried there. In the 11th century, after the Ikalto Academy was completed, the monastery gained the status of the academic center of the country. It was built by the Christian philosopher Arsen of Ikalto, who was canonized by the Orthodox Church of Georgia for his efforts.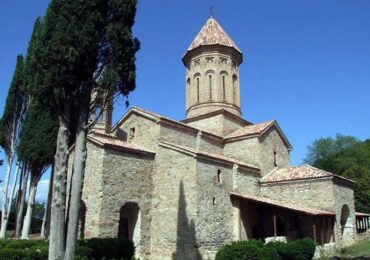 Students at the Ikalto Academy were mastering theology, rhetoric, astronomy, philosophy, geography, geometry and chanting. They also learned metallurgy, ceramics, viticulture, winemaking and pharmacology. The academy ceased to exist in 1616 when the army of Abbas I of Persia burned it down.
The monastic complex of the Ikalto Monastery is home to several churches. The Church of the Holy Transfiguration was built at the turn of the 9th century, on the ruins of the original church built by Zenon in the 6th century. The Church of the Holy Trinity was built around the same time. In the 12th and 13th centuries, the single-naved Basilica of the All Saints was built.
Ikalto Monastery is 10km north-west of Telavi.
What to see at Ikalto Monastery
Tomb of Saint Zenon of Ikalto – the resting place of the founder of the monastery is a holy symbol for Orthodox Christians. His tomb is available for viewing by pilgrims.
The Church of the Holy Transfiguration – also known as the Church of the Deity, it was built out of cobblestones at the turn of the 9th century.
On the territory of the Church of the Holy Trinity, the remains of the old domed church are preserved.
The single-naved Basilica of the All Saints was originally built with pumice stone, but frequently renovated with red bricks.
The ruins of the Ikalto Academy,
'Satsnakheli' – an elongated stone vessel for compressing grapes, – it was built in the 8th century as a part of the wine cellar. Ancient Qvevri's are exhibited in the wine cellar.
General Information
Entry is free of charge.
The territory of the monastery is supervised by the monks. Movement through monastery buildings and/or taking pictures may require special approval from the abbot.
Women are required to wear a headscarf (often found at the entrance to the church) and a skirt.
Men should not wear shorts or hats.
Best time to visit Ikalto Monastery: Late August – Late October.
How to get to Ikalto Monastery
Telavi – Ikalto Monastery (10km)
Ikalto Monastery on the map