Once the Nekresi Monastery Road ends, the narrow forest track to Nekresi Monastery begins. This ancient monastic complex is a real Christian jewel – located in the woods, away from human temptations and evils. T
The mighty Kakhetian forests preserve the remains of the ancient city of Nekresi, originally built in the 2nd century BC by the Iberian King Pharnajom. The city is 15km north-west of Kvareli. The remains of residential buildings, shops, wine cellars, and other archaeological evidence suggest Nekresi played an important role in Iberia. The city was surrounded by the wall, only scattered fragments of which remain.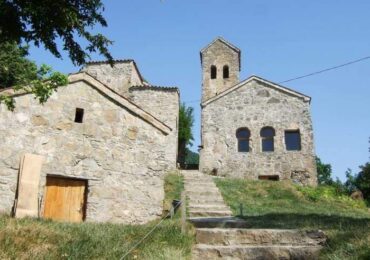 The spiritual importance of the Nekresi Monastery is amplified by the number of the churches built there. The first is one of the oldest monastic buildings in the country, and is attributed to Iberian King Trdat, who reigned in the 4th century. In the 6th century, Abibos – one of the Thirteen Assyrian Fathers – established a monastery. In the 7th century, the form attributed only to the Georgian Christian architecture – the three-churched basilica – was built. One century after, the domed church was completed and construction concluded in the 16th century with the bell tower.
What to see in Nekresi
Small Church –built in the 4th century AD by King Trdat of Iberia. Due to the uneven architectural proportions, the church is considered to have been built according to the oral tradition.
Three-Churched Basilica – according to the Orthodox Christian tradition, Mass can only be performed once throughout the day on the Holy Table. To increase the number of possible Masses during the day, the unique three-churched basilica was constructed. Only a small part of the 16th-century frescoes remain.
Domed Church –considered the domed variation of the three-churched basilica.
The Bell Tower –built in the 16th century next to the remains of the Bishop's halls.
General Information
Entry is free of charge.
The territory of the monastery is supervised by the monks. Movement through monastery buildings and/or taking pictures may require special approval from the abbot.
Women are required to wear a headscarf (often found at the entrance to the Cathedral) and a skirt.
Men are should not wear shorts or hats.
Best time to visit Nekresi: Late August – Late October.
Nekresi Monastery on the map