Georgian religious architecture has a unique, easily-identifiable style characterized by tall domes with a stone roof. One other distinguishing feature of Georgian churches is that they blend into the nature around them.
Gremi Monastery was built in the 15th century by the Kakhetian King Levan. Red brick dominates the wall design. It is unusual since the majority of churches are built with gray or dark cobblestones. The imposing size of the church designates its strategic and spiritual importance for Kakheti.
Gremi is 20km north-west of Telavi, close to the village of Gremi. The monastery is on a hill, surrounded by mountains and forest with the colors ever-changing, according to the season of the year. In 2007, Gremi was listed as a Tentative Heritage site by UNESCO.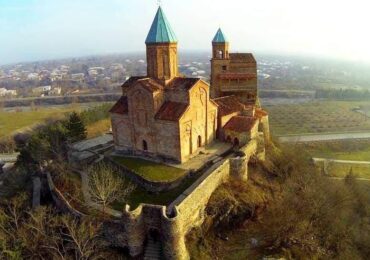 During archaeological digs in 1939-1949 and 1963-1967, the remains of the old city were found in Gremi. The city consisted of three main territories including Archangel Complex consisting of the church, the castle and household areas like a winery, pantry, and the machine for workings on the metal. The ancient city included a commercial district divided into small lots for various sellers. As Gremi was built by the king, the castle and all the necessary nobility-used equipment and utilities, including baths, decorated fountains, and supervisory tower, were also present.
What to see in Gremi 
Gremi Museum-Reserve, consisting of the Archangel Complex and the remains of the old city, decorated Bell Tower and Royal Halls and Commercial District invite visitors to 16th-century Gremi to feel the atmosphere of the country with troubled geopolitical history but a warm heart. Among the artefacts preserved in the museum, you can find bronze tools and weapons (12th century), ceramic artworks and water supply pipes (15th century), weaponry (16th century), and many other items.
General Information
Entry to the Cathedral is free of charge.
The territory of the monastery is supervised by the monks. Movement through monastery buildings and/or taking pictures may require special approval from the abbot.
Women are required to wear a headscarf (often found on the entrance to the Cathedral) and a skirt.
Men should not wear shorts or hats.
The museum is open Tuesday to Sunday 11:00-18:00
General admission is 3 GEL (~ $1.5) for adults, 1 GEL for students, and 0.5 GEL for schoolchildren. Tour guide service costs is available for 5 GEL.
Best time to visit Gremi: Late August – Late October.