In the forest near Telavi, the capital of Kakheti Region, one you can find the gorgeous Old Shuamta Monastery, which attracts people with its architectural simplicity, magical location and serenity. Old Shuamta is an architectural complex consisting of three churches, monastic houses and utilities. There is a basilica built in the 5th century – one of the oldest Christian buildings in Georgia. The next constructions were built in the 7th century in the form of domed churches, based on cross-like foundations, which is both symbolic and also one of the distinctive qualities of churches built at that time. All of the churches at Old Shuamta were built without additional decorations like carvings. The monastery was abandoned in the 16th century and is not active today.
Old Shuamta is in the forest, 12km east of Telavi.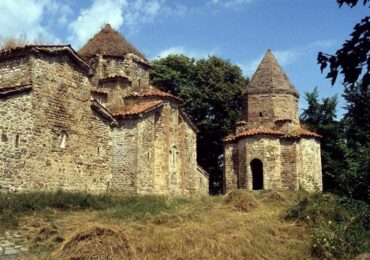 New Shuamta Monastery
Built by Queen Tinatin in the 16th century, New Shuamta has a unique, somewhat magical history. According to the chronicles of that time, Tinatin – wife of the Kakhetian King Levan – was not happily married, due to her husband's numerous affairs. During a time of complete sorrow, she had a revelation of the place where a monastery should be built. Accordingly, she the New Shuamta Monastery was created, Tinatin became a nun, and was subsequently buried there.
The impressive scale of the Cathedral of the Virgin Mary at New Shuamta indicates its spiritual and geographical significance, as it was one of the main cathedrals of the region. It is built out of the red brick and cobblestone, and is decorated with stone carvings and detailed in turquoise. The monastic complex consists of the Cathedral, monastic halls, and the bell tower.
New Shuamta is in the forest, 10km east of Telavi.
General Information
Entrance to the Cathedral is free of charge.
The territory of the monastery is supervised by the monks. Movement through monastery buildings and/or taking pictures may require special approval from the abbot.
Women are required to wear a headscarf (often found at the entrance to the Cathedral) and a skirt.
Men should not wear shorts or hats.
Best time to visit Shuamta: Late August – Late October.
How to get to Shuamta
Telavi – New Shuamta and Old Shuamta (10km)
Shuamta Monastery on the map