The fortress Batonis Tsikhe in Telavi, capital of Kakheti Region, is one of the very few medieval castles in Georgia that survived numerous conquerors and marauders.
Batonis Tsikhe is a royal complex constructed by a succession of Kakhetian kings. The first royal halls were built by King Archil in the 17th century. In the 18th century, Erekle II transformed the castle and added numerous household utilities. Understanding Telavi's strategic, political and spiritual importance, he built the wall around the city.
A permanent exhibition is in the Telavi Historical Museum, in the royal halls of Batonis Tsikhe. Guests can also visit the wall of the castle (made out of dark cobblestones with a small portion of red brick), the remains of the royal bathhouse, two churches, or just wander around the garden within the fortress. Batonis Tsikhereveals the Kakhetian fusion of Persian architecture and Orthodox tradition.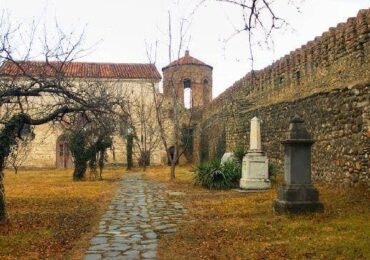 What to see at the fortress 
The Walls and Gates – built by King Erekle II, they surround the territory of 3 hectares. The western gate of the fortress is covered in ornaments carved in red bricks. The eastern gateis an example of the fusion of traditional Georgian architecture and Persian influence. The white second-floor balcony is carved in and wood.
Two Churches –built by King Archil and King Erekle respectively during their reigns. The older church is a small single-naved basilica with red tiles on the roof. Erekle's church is bigger, but the same in form.
Royal Bathhouse –built in traditional Georgian style, and featuring frescoes on its walls. Only two rooms of the original bathhouse remain.
Telavi Historical Museum – displays the traditions and culture of the royal household. It was opened in 1927, in the royal halls built by the King Archil and redecorated by the King Erekle II.
Best time to visit Fortress 'Batonis Tsikhe': Late August – Late October.
How to get to the Fortress 'Batonis Tsikhe'
Telavi City Centre– Fortress (20km)
Batonis Tsikhe on the map