Sighnaghi has always been a place of refuge for people threatened by the numerous conquerors and marauders. Built in the 18th century, Sighnaghi was soon surrounded by a mighty wall. Currently, only a part of the wall is visible, however, its design and position is accessible through the 19th-century plans of the city.
The 4-kilometer-long wall integrated 28 towers, each named according to the village with which they connected the city. Each tower had a gateway with mobile mechanisms for fast opening and closing. Villagers participated in the construction of their respective towers.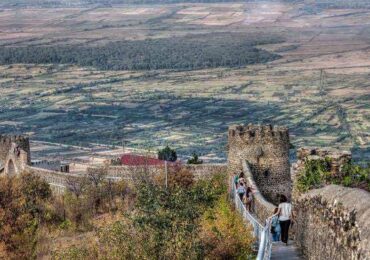 The King's Tower and The Bodbe Tower were important due to their political and religious significance respectively. Almost all parts of the wall and towers were built with cobblestones, however, red brick was also used in small portions.
Alongside with many secrets, the Sighnaghi Wall preserved the lives of numerous Kakhetians and comforted them with monuments of religious importance. The Basilica of St. Stephan, built inside the walls of the biggest tower in 1762, is one example of how important religion was in times of constant conflict.
What to see at the Sighnaghi Wall
Stephan's Basilica – a unique example in Georgia of a church built into the walls of a fortress. This 18th-century basilica is built out of red brick with a significantly smaller portion of cobblestones.
Restored Parts of the Wall –located in the old parts of the city. Walking around all of what is preserved is not possible, however, you can visit several gates. Under clear skies, the Alazani Valley with the Sighnaghi Wall in the foreground and Caucasus Mountains in the background create unique and incredible views.
Best time to visit Sighnaghi: Late August – Mid-October.
How to get to Sighnaghi:
Tbilisi – Sighnaghi (100km)
Telavi – Signagi (50km)
Sighnaghi Wall on the map