Surrounded by the beautiful slopes of the Caucasus Mountains, with crystal-clear water is Ilia's Lake. It was formed in a valley of the Duruji Rivier a few years ago, financed from the Presidential fund. Even though it is an artificial lake, the quality of the environment, clearness of the water, purity of the air and picturesque landscapes surrounding it make it the equal of any natural lake in Georgia. Ilia's Lake is in the country's easternmost region, Kakheti, near the village of Kvareli, where the microzone of the endemic variety of wine Kindzmarauli is located.
Ilia's Lake was named after Ilia Chavchavadze, a nobleman who is still considered one of the mightiest thinkers in the history of the country. He was a real polymath – a person of many jobs and aspirations.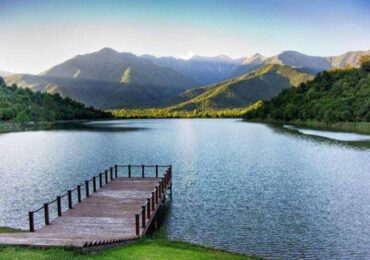 Chavchavadze was a writer and poet who used ink as a weapon against Russian occupation. Ilia insisted on the establishment of the first university in the Caucasus and created the first bank with his private capital. Chavchavadze created a union of educated men and women, who fought for equality among the peoples while developing the environment in the regions and educating the population. For his numerous altruistic attempts of preserving the homeland, Ilia Chavchavadze is considered a Founding Father of modern Georgia and was canonized by the Georgian Orthodox Church.
The Ilia's Lake resort was built around the idea of freedom so praised by Chavchavadze himself. In realizing the project, numerous recreational zones and utilities were built around it, and it is surrounded by a bicycle track. Ilia's Lake resort is ideal for active leisure, as well as for tourists who like the calm atmosphere, and perhaps some sunbathing. A few years ago, on one of the hills, the beautiful hotel Royal Batoni was built. From one side, it is the gateway to the lake, while from the other it unlocks the picturesque landscape of the mighty, ever-snowy Caucasus Mountains. The hotel itself is designed as a medieval castle.
What to do at Ilia's Lake: 
The territory around the lake and the lake itself are highly supervised by the regional government of Kvareli so that the tourist attractions are well-maintained:
Sports facilities include a football pitch, tennis court, 4-kilometer cycle route, and boat and catamaran.
The refurbished boulevard with beautiful trails and colorful illumination provide atmosphere for day and night walks or picnics.
The Amphitheatre at the northern end of the lake is home to numerous concerts and theatre activities.
The wide range of fish species bred in the lake ensures a high quality of Recreational Fishing.
Best time to visit Ilia's Lake: September – Mid-October, or April – May.
How to get to Ilia's Lake: