The fortress Batonis Tsikhe in Telavi, the capital of Kakheti, is one of the few medieval castles in the city that outlived numerous conquerors and marauders. The complex, consisting of the remains of the royal bathhouse, two churches and a beautiful garden, was constructed by a succession of Kakhetian rulers. King Archil was the first to build the royal halls in the 17th century, later refurbished by King Erekle II in the 18th century.
Since 1935, the halls of Batonis Tsikheare have been occupied by the Giorgi Chubinashvili Telavi Historical Museum. The oldest relics are dated as far back as the Stone Age, while the most recent are from the end of the 19th century. The permanent exhibitions include the personal belongings of Erekle II, artefacts from numerous Georgian archaeological excavations, manuscripts and books printed and written by prominent Georgian writers, and canvases by famous Georgian artists. All the numerous themed exhibits reveal the fusion of the European and Asian influence within the unique Georgian culture.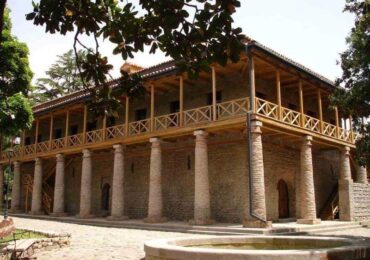 What to see at the Telavi Historical Museum 
Archaeological Collection – items from the Stone Age to the end of the 19th century. Work tools, weapons, jewelry, golden and other coins, and cutlery are among the artefacts.
Icons and Religious Objects – an important part of the museum. The oldest date back as far as the 12th century. Icons, clothes used in rituals, and other ceremonial items are on display.
Military Equipment – combat and parade weapons from Georgia, Russia, Persia, and several European states.
Ceramics and Porcelain – alongside traditional Georgian glazed ceramics are the decorative cutlery of Nana Botkoveli, and European porcelain.
Manuscript Fund and Library – more than 5,000 books, newspapers and manuscripts, published from around the country.
Photography Collection – more than 7,000 photographs of Kakhetian landscapes, portraits and cultural events..
Ketevan Iashvili Art Gallery – the personal collection of Ketevan Iashvili. Among the canvases byEuropean artists are masterpieces by Georgians Elene Akhvlediani, Gigo Gabashvili, and Valerian Sidamon-Eristavi.
Best time to visit Telavi Historical Museum: Late August – Late October.
General Information
Working Hours:
Every day except Monday: 10:00–18:00
Ticket Prices:
Adults: 2 GEL (~$1)
Students: 1GEL
School Children: 0.5 GEL
Guided Tours: 5 GEL
How to get to the Telavi Historical Museum
Telavi City Center – Fortress (20km)
Telavi historical museum on the map