The Georgian path to Christianity began with a woman – St. Nino of Cappadocia – who by virtuous enlightenment was given the task of baptizing the country. As the legend goes, pagan King Mirian III of Iberia was hunting when suddenly utter darkness fell and frightened him half to death; praying to 'Nino's God' had an immediate effect. Later, he accepted Christianity as the official religion and built the first church in Bodbe, on the tomb of St. Nino.
Throughout the years, the spiritual importance of the Bodbe monastery was amplified by the non-material authority resembled by the academy. Along with theology, secular sciences like mathematics, physics and chemistry, and Georgian chanting were taught. At the beginning of the 20th century, under the close supervision of the Abbess Juvenalia, a school for girls was established, where along with sciences, women studied carving, and embroidery.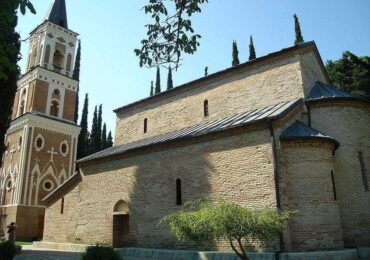 Oliver Wardrop – a famous British diplomat –described Bodbe in the work The Kingdom of Georgia, declaring it is in one of the best places in Kakheti, surrounded by thick forest. Additionally, he evoked an popular old tradition, according to which any vandal destroying the monastery will die within a year. It is noteworthy that the Mongols – conquerors that destroyed Georgia – never harmed Bodbe Monastery.
What to see at Bodbe 
Tomb of St. Nino – a holy symbol for Orthodox Christians. The walls are decorated with colourful stones and carvings. The tomb is in the main church and is open for visitors.
The Architectural Complex –two churches and a bell tower. The first church was built in the 4th century by the King Mirian, later refurbished by King Vakhtang Gorgasali in the 5th century, and acquired the form of the three-naved basilica in the 11th The bell tower was under construction for more than 20 years and finally completed in 1885.
Nino's Spring – according to legend, the path to the spring was paved through by the saint's prayers. The water is said to have miraculous effects, with many people recovering from severe illnesses. Above the spring is the small Church of Sts. Zabulon and Sossana, Parents of St. Nino. The spring is open for visitorsand is a 3km walk from the monastery.
General Information
Entry is free of charge.
The monastery is supervised by nuns. Movement through the monastery buildings and/or taking pictures may require special approval from the abbess.
According to tradition, women are required to use a headscarf (often found on the entrance to the church) and a skirt.
Men should not wear shorts or hats.
 Best time to visit Bodbe: Late August – Late October.
How to get to Bodbe
Tbilisi – Sighnaghi (100km)
Sighnaghi – Bodbe (2km)
Bodbe – St. Nino's Spring (3km)
Bodbe Monastery on the map