Apart from being known as the cradle of the finest Georgian wine, Kakheti Region is renowned for its picturesque landscapes of the Alazani Valley, blending into the high Kakhetian hills, with lakes of crystal-clear water and deep forests. Kvareli Lake, also known as the Chala Reservoir, is in the southern part of the Caucasus Mountains, north of the Alazani River. The lake and the lands surrounding it (300 hectares), were privatized by M-Group a few years ago with a mission to create a beautiful and calm resort in the heart of the wine-making region – Kvareli Lake Resort.
Kvareli Lake Resort is adapted for all types of leisure-seekers, including hiking for active types and fishing for guests favoring more sedate recreation.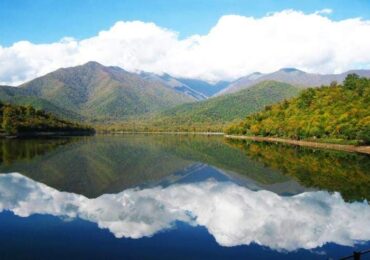 There is a track around the lake, on which the guests can ride bicycles rented in the hotel. A wide range of boats and catamarans are available for hire, while water skiing is an option as well. Spa and fitness facilities are also on offer.
The newly-built and well-refurbished hotel provides a wide range of rooms with picturesque views and comfortable terraces. There are two pools: one overlooking the lake and a smaller one for kids. In the evening, guests can move to the lounge bar and play table tennis, or watch sports or movies on the big screen. For corporate guests, the resort provides a fully-equipped conference room.
Best time to visit Kvareli Lake Resort: September – Mid-October.
How to get to Kvareli Lake Resort:
Tbilisi – Telavi (120km)
Telavi – Kvareli Lake Resort (45km)
Taxi