The Khareba Winery is just a few kilometers from the town of Kvareli, on a hill between two Kakhetian lakes. During the Soviet regime, the territory and the old winery were owned by the state, but were later privatized and are now managed by Winery Khareba. The mission of the company is the revival of ancient endemic grape species and producing wine to sell both domestically and internationally, thus ensuring the popularization of the Georgian wine around the world. The company owns numerous vineyards (1,000 hectares) across Georgia. As well as its branded wine shops within Georgia, Khareba sells its wines via official stockists in Japan and France.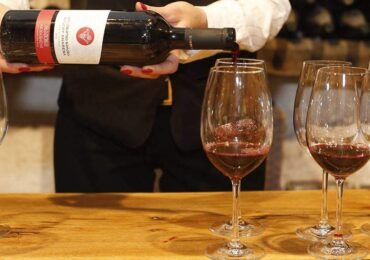 The wine tour at Khareba comprises several distinct activities. It begins in the Wine Tunnel, where the history of Georgian wine-making is related, then continues to the ethnic corner, where the guests may find themselves baking bread in the Georgian clay bakery('tone'), distilling Chacha (a high spirit drink), harvesting grapes ('Rtveli') and press them with their feet in the traditional 'Satsnakheli', or making the traditional Kakhetian nut delight 'Churchkhela'.
The Wine Tunnel is a truly unique experience. It was carved in the rocks in the 1960s by the Soviets ahead of an international wine competition. The tunnel consists of fifteen interconnected gates (total 8km), where the conditions are ideal for preserving, storing and aging wine. A year-round temperature of 12–14 degrees Celsius and 70% humidity ensure the high quality of the wine. During tour of the tunnel, guests can try over 40 types of wines, get an insider's peek at Georgian winemaking and visit the cellar, where more than 25,000 bottles of wine are aged and preserved.
The restaurant offers one of the best gastronomic experiences in the country, along with picturesque landscapes. It can accommodate more than 300 guests.
Best time to visit the Khareba Winery: September – Late October.
How to get to the Khareba Winery
Tbilisi – Telavi (100km)
Telavi – Khareba Winery (40km)
Khareba Winery on the map