The Schuchmann Chateau presents the synthesis of traditional French chateau culture and ancient Georgian customs. Established by the proactive voyager and wine connoisseur Burkhard Schuchmann, Schuchmann Wines Chateau & Spa is  just a few kilometers away from Telavi, in Kisiskhevi. It is surrounded by beautifully-arranged vineyards, where several endemic vine species are cultivated. Among the varieties are traditional red, rosé, and white wines, including Saperavi, Mtsvane, Rkatsiteli, Tsinandali, Kindzmarauli and Kisi. You can also find Cabernet Sauvignon, which has perfectly adapted to the Kakhetian micro zones.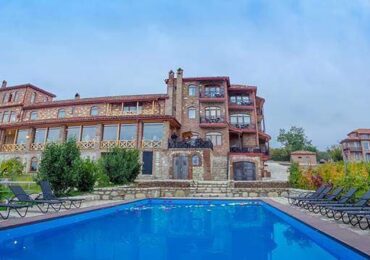 The picturesque vineyards naturally blend into the Caucasus Mountains, and a heavenly atmosphere, along with top-notch service, make Schuchmann Chateau a popular getaway spot. The hotel boasts comfortable rooms, an excellent restaurant, wine tours and tastings, a large outdoor pool, mini-golf course and fitness center, and a children's playground. All types of the wine produced by the company are available in the Wine Shop on the territory of the Chateau.
The Wine Spa is Schuchmann's new jewel. Apart from traditional massage and sauna, guests can enjoy spa therapies including grapeseed scrubs, mud baths, and hot wine baths. During the procedures, the grapeseed oil produced at the chateau is used. It is believed to have relaxational and healing benefits and can be purchased in the Wine Shop.
Wine Bar
The Schuchmann Wine Bar in Tbilisi's Old Town is decorated according to traditional French Wine Bar design, with a drop of Georgian flavor. Guests can enjoy tastings along with culinary delights.
Best time to visit Schuchmann Chateau: September – Late October.
How to get to the Schuchmann Chateau and Spa
Tbilisi – Telavi (100km)
Telavi – Schuchmann Chateau (10km)
Schuchmann Wines Chateau & Spa on the map