Surrounded by terraced vineyards, Chateau Mosmieri represents the aesthetic fusion of modern architecture and ancient Georgian traditions. The main building is decorated according to the finest traditions of the French chateau, with walls of dark stone and a red-tiled roof. At the Mosmieri vineyards, endemic Kakhetian vine species, including Saperavi, Rkatsiteli and Mtsvane, are cultivated, resulting in annual production of more than 250 tons of international-award-winning wine.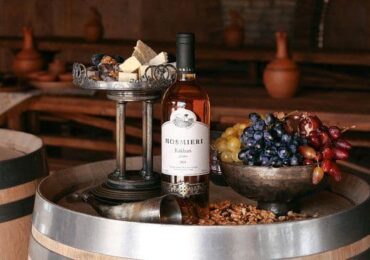 At Chateau Mosmieri, ancient traditional wine-making techniques are preserved and used alongside modern technological standards. The wines are of two types: fermented using state-of-the-art stainless steel tanks, or in Qvevri – the ancient Georgian technique, whereby the wine is fermented underground in clay vessels. There are 24 Qvevri, with volumes ranging from 1 to 3 tons. For aging, Mosmieri imported oak barrels from Burgundy, France.
The unique master classes at the Chateau Mosmieri are the brand's competitive edge. Upon request (with notice), guests may enjoy a wine-tasting, participate in the customary grape pressing in the traditional 'satsnakheli', study Georgian cuisine, bake bread in a traditional 'tone', and even distil some Chacha – a strong spirit drink made out of the grape shells and seeds.
'Mosmieri' mean 'wine connoisseur', and the name relects the mission of the company: to restore Georgian wine to in international markets.
Best time to visit Chateau Mosmieri: September – Late October.
How to get to Chateau Mosmieri
Tbilisi – Telavi (100km)
Telavi – Chateau Mosmieri (6km)
Mosmieri Winery on the map