For Georgians, wine-making is a sacred ritual, the technique for which was developed over millennia. Recent archaeological excavations in Kvemo Kartli, south of Tbilisi, concluded that the world's first wine was fermented in Georgia more than eight thousand years ago. Since then, Georgian peasants have never abandoned the vineyards – even in times of utter darkness.
Historically, wine-making is a traditional family pursuit, with techniques and equipment shared to descendants. Nowadays, entrepreneurs have stepped into the field of viticulture, with the main mission of reclaiming the international glory that Georgian wine once enjoyed. Akhasheni Wine Resort in Kakheti – Georgia's easternmost region – represents the fusion of traditional Georgian wine-making culture and the modern viticultural practices.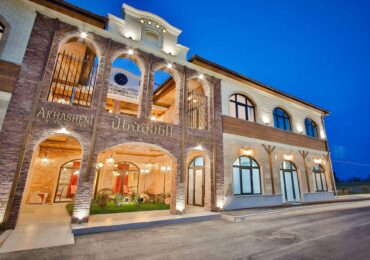 Just a few kilometers from Gurjaani, Akhasheni Wine Resort, surrounded by beautifully-terraced vineyards, represents the aesthetic fusion of the French Chateau and unique Georgian architecture. The picturesque landscapes of the mighty Caucasus Mountains and the ever-changing colors of the Kakhetian slopes create an unforgettable atmosphere.
The services available at Akhasheni Wine Resort can be adapted to the personal needs of every guest. The glorious hotel with 41 rooms offers a diverse experience at a reasonable price. Various entertainment and lounge areas for kids and adults, indoor and outdoor swimming pools, a fitness center and a conference hall ensure the high quality of the individual or business stay at the resort. Wandering the beautiful vineyards, wine-tasting in the exceptional cellar, and one of the best gastronomic experiences in the country are part of the cultural break during a stay at Akhasheni Wine Resort.
Akhasheni is a traditional high-class wine resort blended with ancient Georgian traditions. It was built by Kakhetian Traditional Winemaking, a company aspiring to return Georgian wine its ancient international reputation. The company owns vineyards not only in Kakheti, but also in Racha-Lechkhumi and Kvemo Kartli. Its wines are of two types: traditional Georgian fermented in Qvevri, and European-style, fermented in state-of-the-art equipment. Along with wines, the company produces brandy, ice-wine, sparkling wine, and Chacha – a Georgian spirit distilled fromgrape skins and seeds. Famous wine types including Akhasheni, Goruli, Mtsvane, Kisi and Tsitska are loved not only in Georgia, but also internationally.
Best time to visit the Akhasheni Wine Resort: September – Late October.
How to get to the Akhasheni Wine Resort
Tbilisi – Telavi (100km)
Telavi – Gurjaani (40km)
Tbilisi – Gurjaani (112km)
Gurjaani – Akhasheni Wine Resort (6km)
Akhasheni Wine Resort on the map