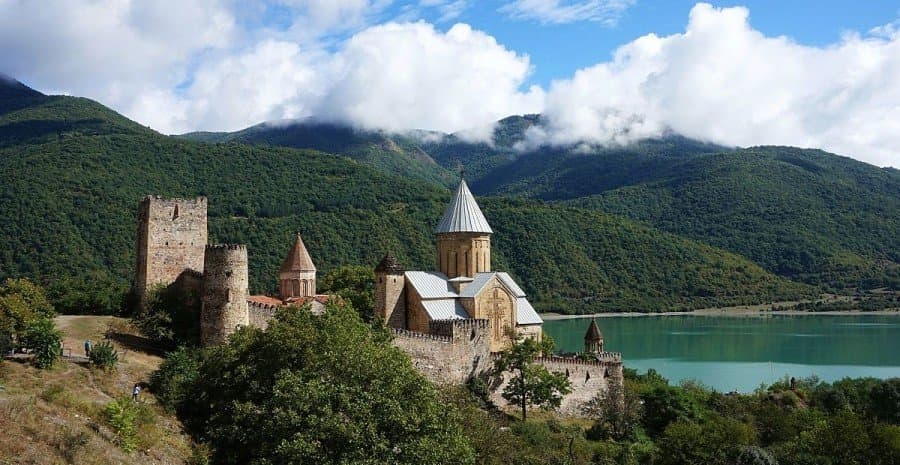 Touring Caucasus: Georgia, Armenia, Azerbaijan
Georgia, Armenia and Azerbaijan refer to the region of the South Caucasus. This area is a melting pot of cultures lodged between the Black Sea and the Caspian Sea, where the West (Europe) meets the East (Asia). Even though we began by offering Small Group Tour Travels only to the beautiful and culturally rich nation of Georgia, we sought to offer our esteemed customers value by extending our small group tours to include Armenia and Azerbaijan. The decision to extend Small Group Tour Travels was also influenced by the geographical proximity and the small size of the three countries, which allows travelers to visit most, if not all, of the attractions and historical monuments within these nations. Most importantly, visiting all three countries at once offers travelers an invaluable opportunity to sample and compare all the different natural sites, cuisines and cultural customs.
Why travel to Georgia, Armenia and Azerbaijan?
The South Caucasus offers a melange of Eurasian culture with uniquely distinct cuisines and cultural customs that emerged as different communities met centuries ago, interacted, and evolved with time. Additionally, touring Georgia, Armenia, and Azerbaijan provides the opportunity to explore incredible natural attractions and some of the most important historical monuments and destinations in the Caucasus region all in a single trip. A tour to Georgia, Armenia and Azerbaijan offers travelers with a learning opportunity on a portion of the history of human civilization that has not been emphasized or given the attention it deserves by modern society. In a sense, touring ancient and historical monuments in Georgia, Armenia, and Azerbaijan can be regarded as paying homage to our ancestors for their contribution in laying the foundation of the modern civilization we cherish and enjoy today.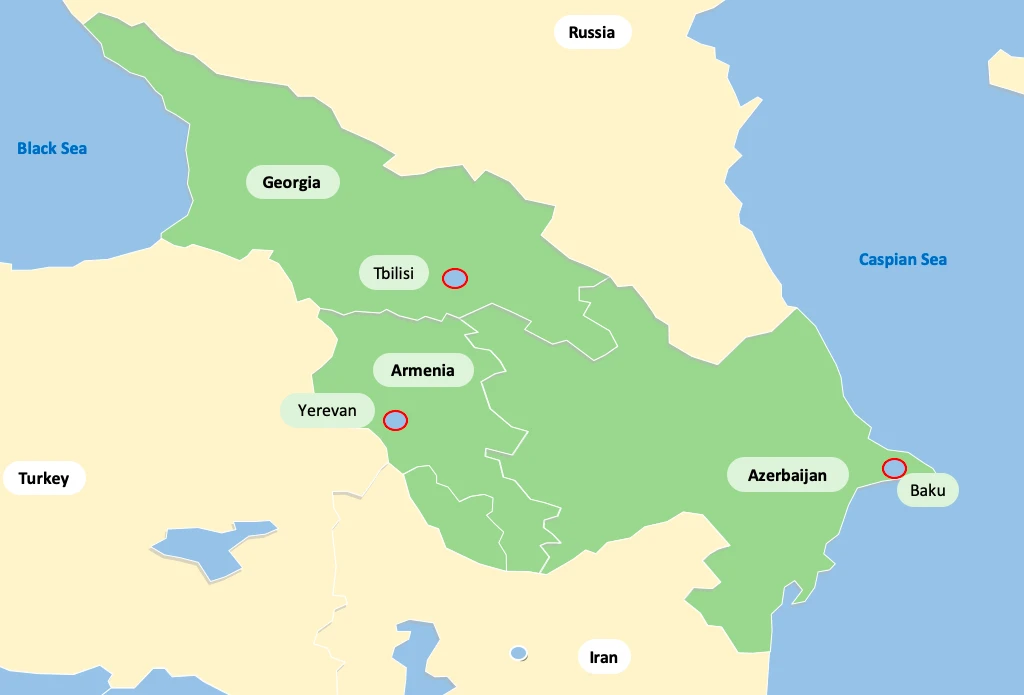 Georgia highlights
One of the main reasons why most travelers to the Caucasus prefer Georgia is its close similarity to other European nations and society but with a richly preserved historical heritage and pristine mountainous landscapes. Visiting Georgia offers value because it has something for every traveler from unique architecture for enthusiasts of architectural designs to Orthodox churches and monasteries for religious travelers. Additionally, Georgia offers a large variety of amazing and richly-flavored food, such as traditional meat dumplings (khinkali) or cheese and eggs on top of baked bread (khachapuri). If you are a wine traveler, Georgia has some of the best traditional wineries in Europe, offering a variety of wines for your indulgence.
Touring Georgia
Most tour travels combining the three nations usually commence in Georgia as lucky travelers make their acquaintance with this magical region after landing in Georgia's capital Tbilisi. The most effective strategy to ensure that you visit all the sites within your tour period is to chart a plan starting with the closest attraction and moving forward one at a time across the country until you crossover. For example, you spend the first day around Tbilisi visiting its Old Town part as you shake off the jet lag or fatigue from your long flight.
The second day you can move on to shorter trips away from the city such as a half-day trip to the ancient capital of Georgia known as Mtskheta combined with a visit to Jvari Monastery, poised on a hilltop overlooking the ancient capital. Once you have been charmed and enticed by what the region has to offer and sufficiently motivated to taste more, you can increase the legs of your tour trips.
For instance, you can take a day trip to witness the majestic beauty of the Northern Georgia, Mount Kazbegi, and the Gergeti Monastery, perched on the mountain. The spectacular natural beauty offered by this northern region of Georgia will leave you wishing you had more time to stay in for longer. Among the most important attractions in Georgia are: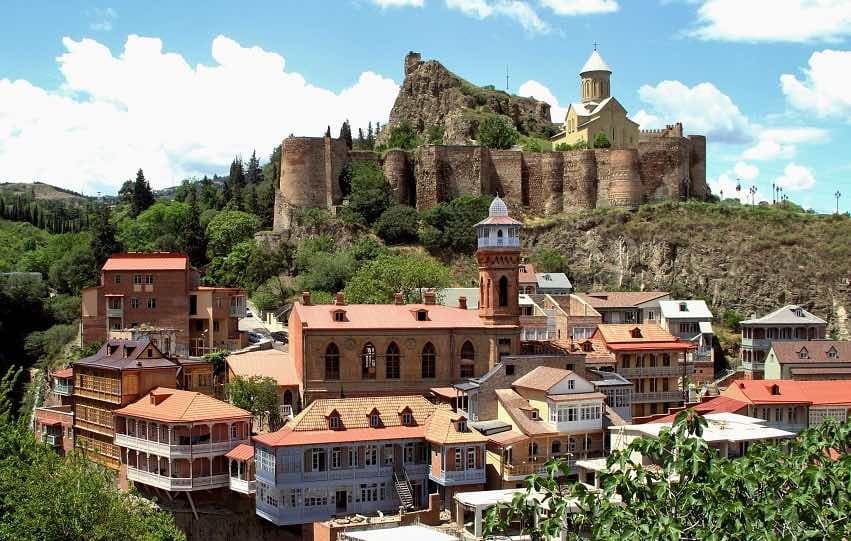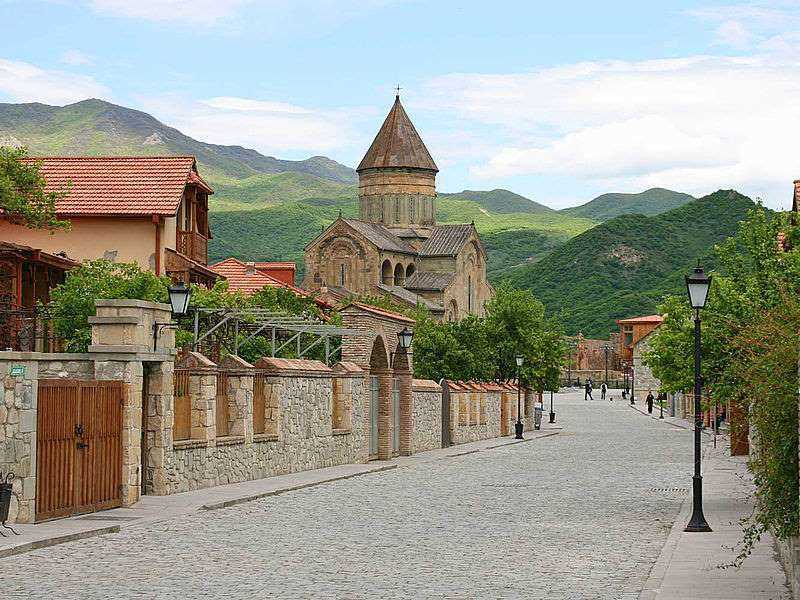 Azerbaijan highlights
The tour of the three Caucasus countries includes a visit to the highly-developing and beautiful secular Muslim nation of Azerbaijan. If you have traveled to Turkey before, you will notice several similarities, particularly in the old historical towns. The nation's vast revenues from oil fields scattered across Azerbaijan has enabled the development of tourism infrastructure, with English signs directing travelers to numerous historical sites and attractions. Before moving away from its capital you must visit the well-preserved old town of Baku, featuring sandstone buildings and cobblestoned streets. Among the most important attractions to include in your itinerary should definitely be:
Palace of the Shirvanshahs: During the Middle Ages, this 15th-century palace with sandstone walls and domes was the seat of Azerbaijan's regional ruling dynasty.
Gobustan Petroglyph Reserve: This reserve is a UNESCO-listed site preserving 12,000 years-old stick-figure stone engravings of livestock, wild animals, and shamans.
Alinja Castle: Regarded as Azerbaijan's Machu Picchu, the sparse medieval ruins of Alinja Castle offers magnificent viewing and insight of the wonders of Naxçivan.
Chiraq Qala Medieval Castle: This medieval castle dating to the 12th-century offers insight into when Naxçivan was at its peak and most powerful.
Ateshgar Fire Temple: A Zoroastrian temple and eternal fire site.
Yarat Contemporary Art Centre: This is an art center of creativity (Yarat), with several thought-provoking installations.
Heydar Aliyev Center: Offers a majestic statement of fluid 21st-century architecture and insights of the nation's cultural highlights.
İmamzadə: A masterpiece of brickwork and Central Asian–style blue majolica tiles offers insight into Islamic architecture of a bygone era.
Maiden's Tower: A 29m historical stone tower dating back a millennium in the city of Baku, offering a breath-taking view of Baku Bay and the Old City from the rooftop.
Möminə Xatun: A 26m brick tower perfectly proportional Naxçivan architecture constructed in 1186.
Dadivank Monastery: Built by Prince Surp Dadi in the 13th-century, this masterpiece with a massive bell tower offers fine khachkars and monastic cells.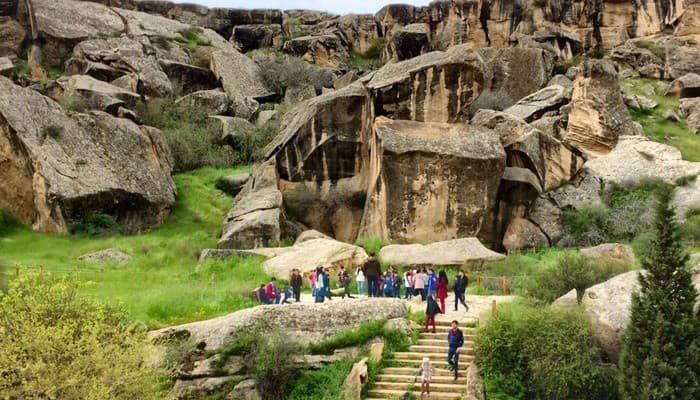 Armenia highlights
After sampling Georgia, travelers proceed to Armenia, as they weave through several monasteries on its northern region heading to the nation's capital Yerevan. A stark contrast between Georgia and Armenia will attract your attention. As you cross overland traveling away from Tbilisi and towards Yerevan, cultural aspects gradually shift away from European becoming more Middle Eastern as you travel deeper into Armenia. If you have traveled to the Middle East, you will notice that even though their culture is similar, Armenia's Middle Eastern version feels a little bit different, but you can't point it out. There are over 1,000 centuries-old monasteries in Armenia, with long intriguing history behind each monastery. Some of the most important sites in Armenia include;
Geghard Monastery: Founded in the 4th century, this monastery is a World Heritage site carved out on a cliff of the Azat River Gorge and named after the shard used to pierce Christ's side during the crucifixion.
Noravank: The New Monastery was founded in 1205 by Bishop Hovhannes and is regarded as one of the most spectacular sites in Armenia. Noravank is a complex of several historic churches and monuments such as the 13th-century Surp Karapet Church and 14th-century Surp Astvatsatsin Church, where Burtel Orbelian is buried.
Khor Virap Monastery: Built at the foot of Mt Ararat south of Yerevan, 5th-century Khor Virap majestic monastery offers a wealth of history going back to the pagan King Trdat III. You can combine this trip with Noravank because they are close.
Garni Temple: It was built in the 1st century AD by King Trdat I of Armenia dedicated to the sun god, Mitra. Garni is a Hellenic-style temple overlooking the Azat River featuring Ionic columns and a monumental staircase. It possesses a wealth of history preserved since the Neolithic era.
Armenian Genocide Memorial & Museum: From 1915 to 1922, Turks of the Ottoman Empire massacred over 2 million Armenians. Built-in 1967, the memorial commemorates the massacre to preserve the memory of the communities that were decimated while ensuring passage of history to future generations.
Gandzasar Monastery: Regarded as one of the most important structures in Karabakh, this monastery dating back to the 5th century signifies the presence of Armenians in Karabakh for millennia.
History Museum of Armenia: It is Armenia's pre-eminent cultural institution offering an extraordinary collection of Bronze Age artifacts.
Sergei Parajanov Museum: If you love the history of film making, this museum is crammed with collages, drawings, photographs, and assemblages created by renowned experimental film-maker Sergei Parajanov.
Matenadaran: This historical monument built by Mesrop in Yerevan's grandest avenue is the manuscript library with the architecture of a cathedral and was the first book depository for Armenian texts.
Akhtala Monastery: Beautifully painted frescoes all over its interior.
Haghpat Monastery: This monastery is famous for the atmosphere it offers travelers.
Debed Canyon: The deepest canyon in Armenia. After spending some time exploring Yerevan, we went on a day trip to the Tsaghkadzor ski resort area and nearby Kecharis Monastery. We also went to the
Lake Sevan: This picturesque lake is one of the largest freshwater high-altitude lakes in Eurasia.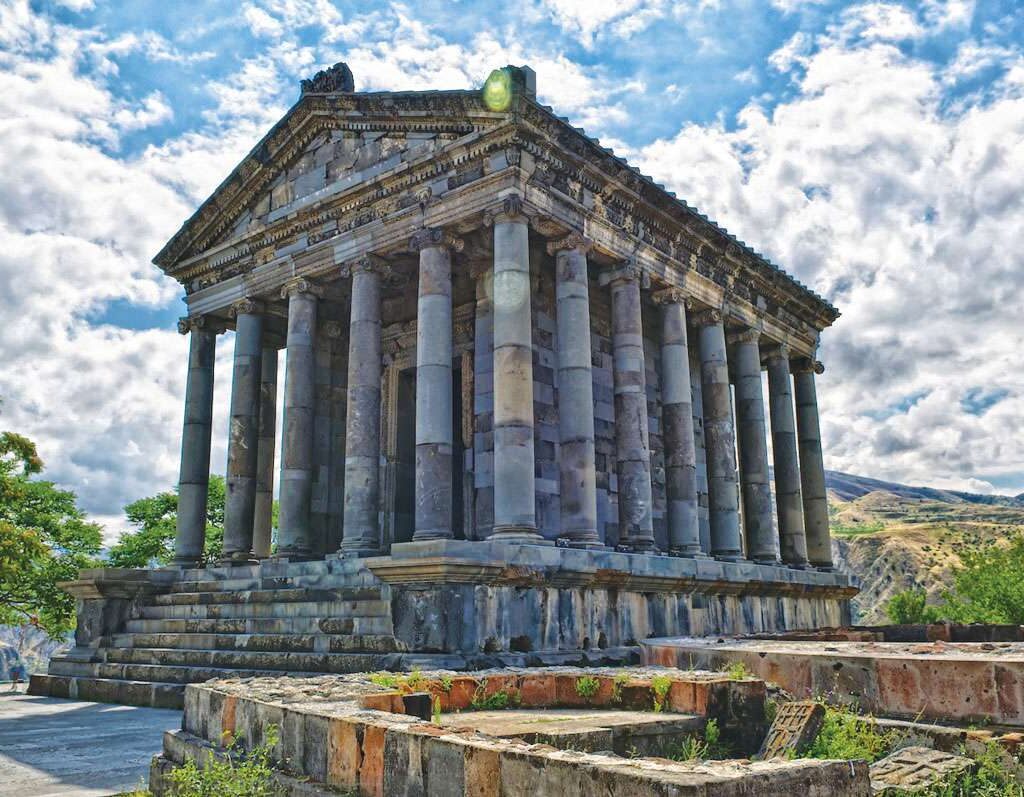 Georgia, Armenia, Azerbaijan travel: useful tips
Safety: You will feel absolutely safe in all three countries. Minor frictions can be experienced along the border as you crossover to the next country. These may include significant (up to 1 kilometer) walking distance between two border checkpoints. Additionally, timing is important in these crossings because you don't want to waste precious time queuing in long lines at the border instead of spending every second immersed in the cultural and historical wonders. This is why you need to travel with us since we have mastered the skill of offering value for every second of your tour. 
The state of infrastructure: All three countries are relatively developed with functionally effective tourism infrastructure. Even though you can easily get public transport between and around the cities and beyond, it is recommended that you travel to the region through a trusted agency.
Availability of amenities: Travelling in the Caucasus is generally very easy, mainly because of the low cost of readily available amenities such as hotels and meals. For example, in Armenia, you can easily get accommodation at a budget hotel for $30 per room/night with an incredibly delicious meal for around $5 to $10. Even though this can be the ideal destination for solo backpacking, it is better to travel the three countries through an agency because you still need the services of an experienced guide and a solid planner so that you don't miss the most important attractions or get lost in a foreign country.
Weather: The weather in the three countries can be brutal, with unpredictably cold periods in Winter and Autumn. But you can avoid being bogged down by weather or any weather-related issues by traveling with our experienced guides who understand the region's weather patterns.
Language barrier: Russian is commonly used across the three countries, but most prefer to speak their respective native languages, with growing number of people speaking and understanding English. The language barrier can be an issue though, especially if you are in trouble and require clear communication without the awkward body language and hand signals to get the immediate help you need. This is, among other things, the main reason why you need to travel with our Small Group Tour Travel because our guides will eliminate the challenges posed by the language barrier.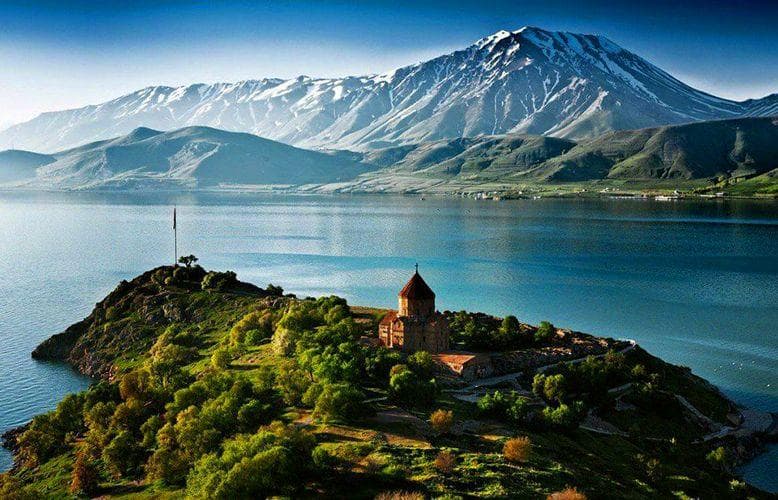 South Caucasus | 15-day group tour of Azerbaijan, Georgia and Armenia
Small group tour to Caucasus offers you well-managed travel program with the tour price that is hard to beat. Tour combines 15-day itinerary in Azerbaijan, Georgia and Armenia.