Azerbaijan, Georgia and Armenia Farm Tour
21 Days
Tour summary
Farm tours as well as agri tourism are something of a new type of travel in the region of South Caucasus. All three countries – Azerbaijan, Georgia, Armenia – have been blessed with super fertile lands and favorable climate.
South Caucasus farm tour is a special interest holiday program. Travelers are offered to see firsthand how farming activities are developing in the region. And what are the major specialities of it.
Azerbaijan
The 21-day tour starts in Baku, Azerbaijan's cosmopolitan capital on the shores of the Caspian Sea. It then moves in deeper into the country, for travelers to visit different farms and communities. Apart from agricultural visits, there are food master classes and artisan workshops that await our guests.
Georgia
Tour program goes on through the lush green Kakheti region and Alazani valley. People here have been making wine since 300 BC. Traditional wine production is something not to be missed. Next up – Tbilisi, vibrant capital of Georgia. And the South-East of the country – to see how revival of traditional farming is transforming the lives of locals.
Armenia
Following in the footsteps of Silk Road merchants and medieval Crusader Knights the tour route flows into Armenia. The land that is now, and has always been famous for amazing fruits! And visiting fruit farms is only a part of a journey. South Caucasus farm tour finishes in Yerevan, Armenia's colorful capital. Free day at leisure in the end will allow you to absorb all of the emotions, new experiences and memories.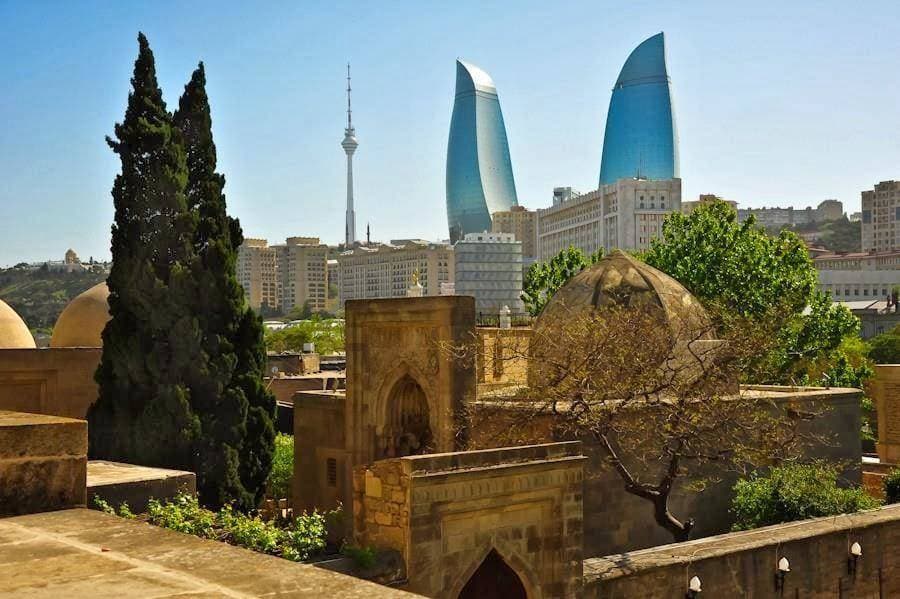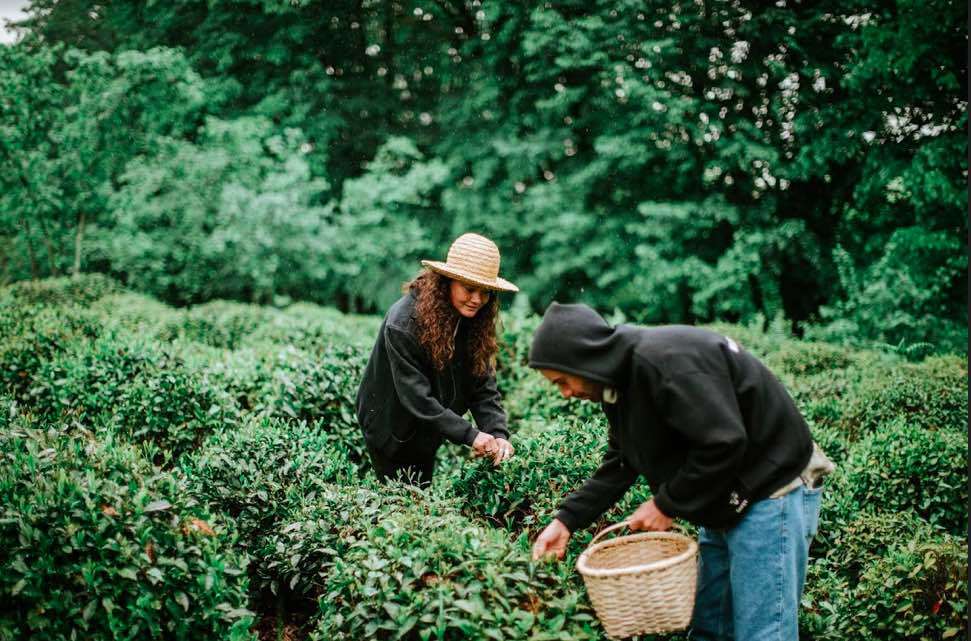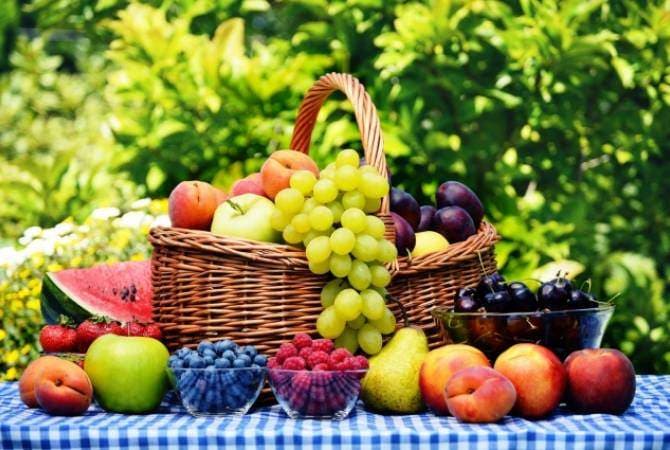 Tour program
Arrive in Baku international airport. Our representative will be meeting you, and arranging for your transfer to the hotel in the Old Town.
Spend the first day in the region by exploring Baku, Azerbaijan capital city. Your guide will first take you to the "Shehidler Hiyabani" (memory alley) with a picturesque view opening from the site.
Keep on wandering the new part of Baku and learn about XIX- XX centuries architecture: Nizami Ganjavi monument, Rasul-Zade Street, Nizami and Fountain square. Continue the tour by entering "Icheri Sheher" (inner town in old Baku) – famous Maiden Tower, Sheikh Shirvan Palace, "Caravanserai" market, and The Carpet Museum displaying a superb collection of Azerbaijani rugs.
This day will finish with welcome dinner in local restaurant. Transfer to the hotel after dinner.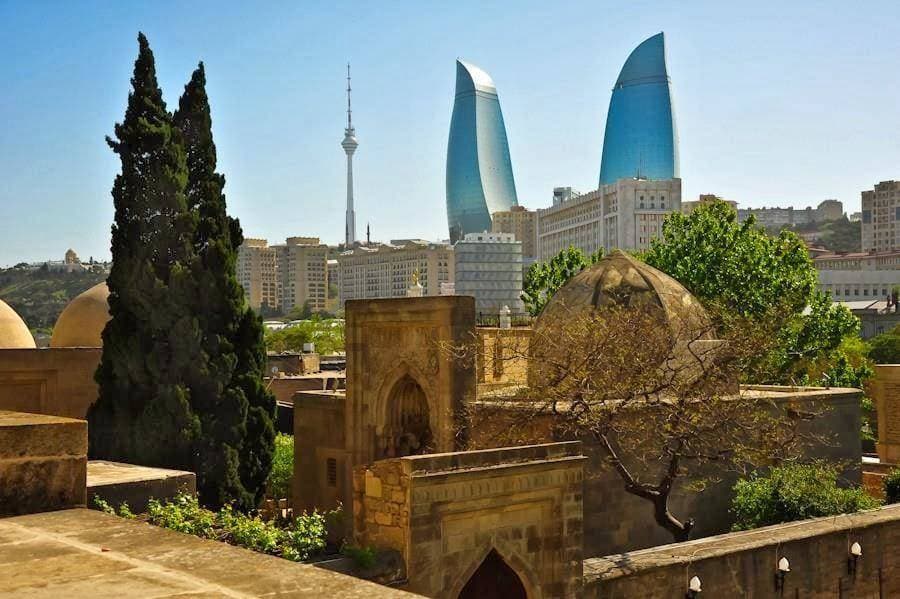 This day of the Caucasus farm tour will be dedicated to the travel to Greater Baku area and Absheron peninsula. Travel south through the livestock regions of Absheron, that also has huge oil-gas reserves, and the grain region of Gobustan to Lankaran on the coast of the Caspian Sea near the southern border with Iran.
Depart your Hotel and drive to Gobustan National Park, where you will see the petroglyphs from 10 thousand BC. You will continue the tour by visiting one of the most exciting sites in the area – mud volcanoes in Gobustan. It is believed that almost half of world's mud volcanoes are in Gobustan.
Next stop is an ancient temple of fire worshippers called Ateshgah. Known fact that centuries ago zoroastrians from India passed thousands of kilometers coming to Ateshgah to worship fire literally coming from underground. Azerbaijan is labeled as a "Land of fire" for a reason. "Yanardag" (burning mountain), your next destination, is a place where burning natural gas amazes visitors and wandering strangers for thousands of years.
Transfer to Lankaran for dinner and overnight.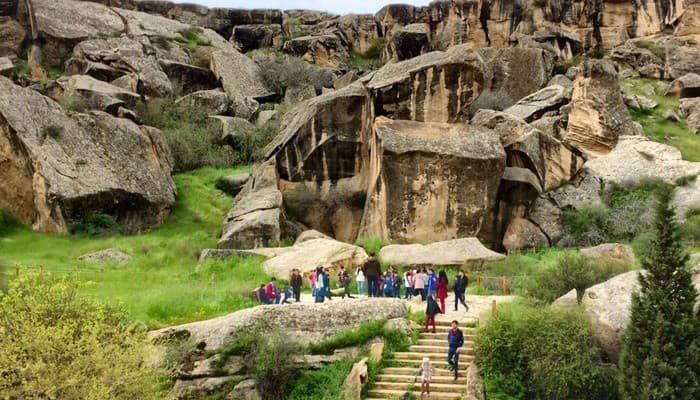 Agriculture is of great importance to Azerbaijan, accounting for a large portion of employment and rural livelihoods. This sector is highly climate sensitive – changes in temperature and frequency of extreme events such as drought, heat waves and floods. Lankaran, famous for citrus, rice and tea farms, has been recently trying to overcome temperature changes in the area.
You will visit a "Citrus Valley" farm in Istisu village. Located on 15ha of highly fertile land, farmers here are engaged in various citrus fruits cultivation. This farm is supported by Azerbaijan Ministry of Agriculture in the frames of joint project with USAID called "From City to Village". Lunch in the farm.
In the afternoon a brief sightseeing tour to Lankaran Khans Palace, and you'll visit the Circular Castle, known as the prison where Georgian revolutionary and Soviet politician Joseph Stalin was incarcerated.
Depart back to Baku for overnight.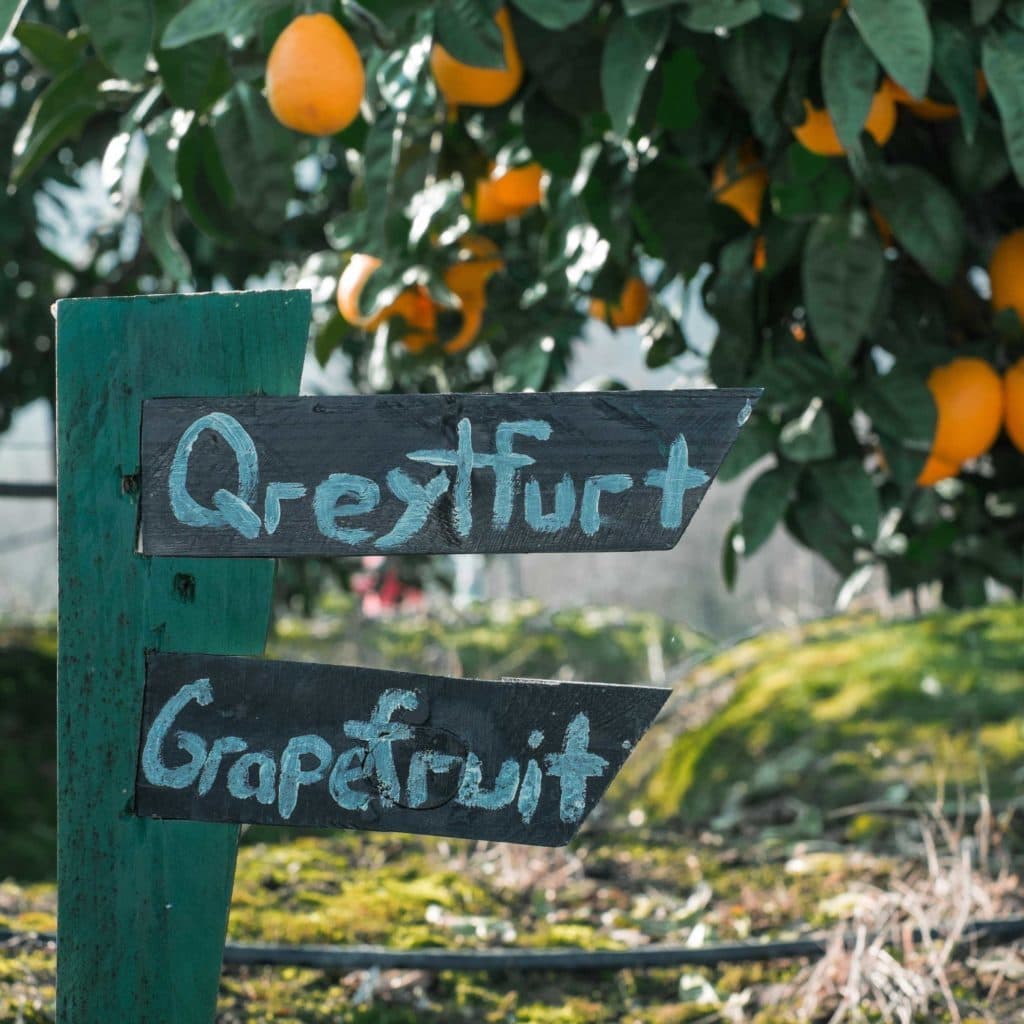 Today's 440 kms journey is through the picturesque Caucasus Mountains travelling via Shamakhi to Sheki in the northwest of Azerbaijan. This long day journey will have a stop in historical town called Shamakhi. Make en route stops at the Sheikh Diri Baba mausoleum and then keep on traveling to Shamakhi, visit historical "Juma" (Friday) Mosque and "Yeddi Gumbez" (seven domes) mausoleum.
Visit local wine producing farm for lunch in Shamakhi.
Late evening arrival to Sheki. Overnight.
Spend this day touring around picturesque, formerly major Silk Road cross point, Sheki and its vicinities. Sheki used to be positioned on the old Silk Road and was itself an important producer of the much-coveted natural fiber. High-quality Sheki silk was known throughout the region for its luxe sheen – the city was even nicknamed 'Caucasian Lyon' in reference to France's biggest silk producer.
Sheki was famous for its Kelaghayi, a traditional Azerbaijani silk shawl decorated with woodblock prints. In 1861, the first silk factory was built in Sheki to process the local silk and turn it into fabric. More factories followed course. Incredibly, some are still ticking away today, apparently using the same Soviet-era machinery. A visit to such silk workshop will be arranged. This day you will visit the Mountain Village of Kish followed by the Palace of Sheki Khans a UNESCO World Heritage Site.
In the morning depart Sheki and drive towards the border with Georgia (~ 2 hours).
Please note: border crossing in Caucasus countries require travelers to leave the vehicle with all the baggage, and proceed with border formalities, first on Azerbaijan side. Neutral territory is also crossed by foot (~ 800 meters long). Pass Georgia border control. On Georgia side you will be met by local guide and driver, to continue the tour.
Your Georgia tour will start with the region of Kakheti famous for its ancient winemaking traditions. Georgian wine is somewhat unique – vines are being held in Qvevri (clay pot) underground for at least 6 months before turning into wine. And the first Georgian experience will be a freshly made lunch in local farmers house. After which you will be visiting his farm and see how this farmer makes his living in this part of Georgia, called Lagodekhi. This mid-size farm is specializing in dairy products (with particular emphasis on cheese making), hazelnuts, garlic and meat. Lagodekhi in Kakheti is also distinguished with its fruits and vegetables.
Further down Kakheti, we will make a stop in Khareba wine producing company. Its most distinguished feature is the biggest wine cellar in the region. It's been placed inside the mountain tunnels. Originally built for military purposes, today the tunnel is used to store Kakheti's finest wines.
Drive to Akhasheni wine resort, for rest and overnight. The resort belongs to KTW Company. The name KTW stands for Kakhetian Traditional Winemaking. And resorts premises are facing a small vineyard, as well as a nice wine tasting room. Amazing dinner will be served.
Overnight.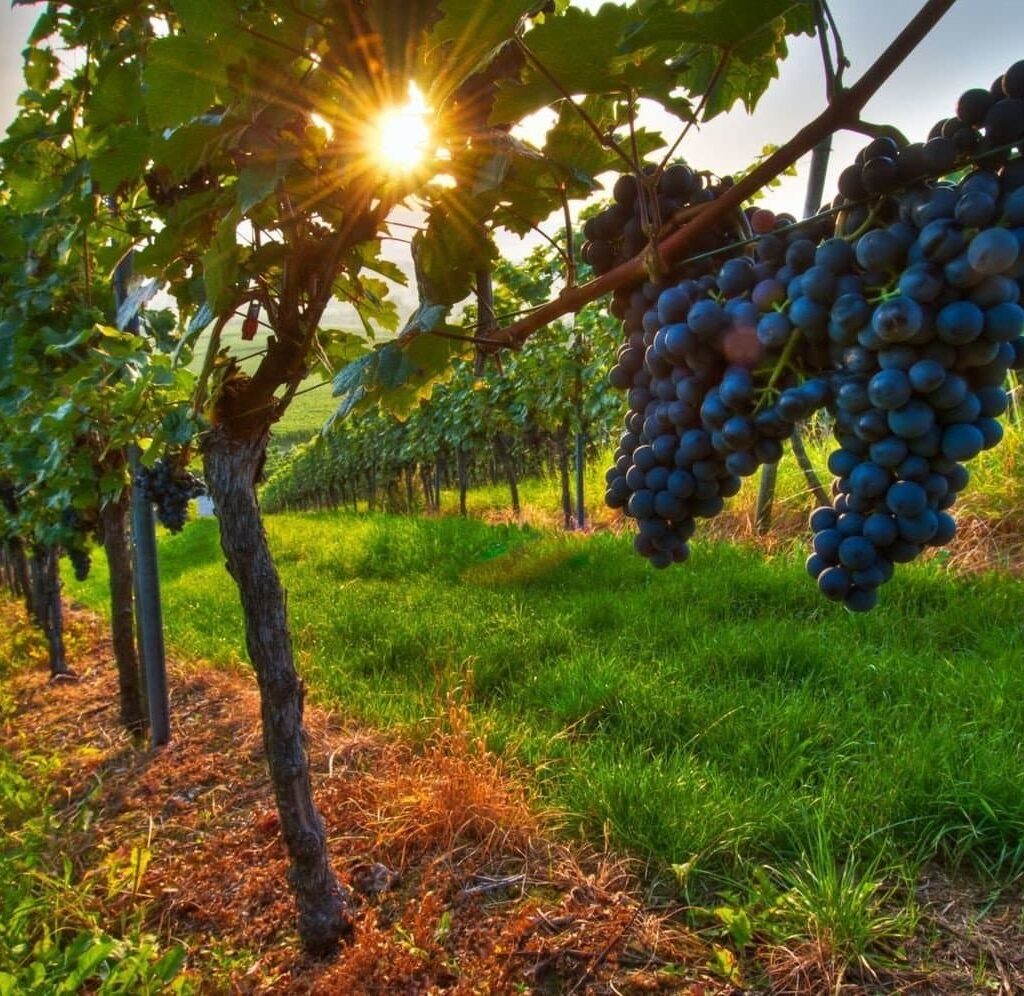 Wake up to an amazing view from your room in Akhasheni wine resort over Caucasus mountains. After breakfast continue exploring Kakheti region of Georgia. Numerous vineyards as well as both big and small wine producing facilities are biggest landmarks of the region. Arrive to the 5thcentury Zegaani monastery, nested in the middle of green oasis in the middle of Alazani valley.
Continue exploring the region by visiting local family producing wine of indigenous grape variety called Vakirula. Next stop before driving to capital city Tbilisi will be the town called Sighnaghi, labeled recently as a "city of love", mostly for the fact that one can register there their marriage 24/7. Previously a royal residence, Sighnaghi still surrounded by ancient city walls and currently one of the most popular travel destinations in Georgia.
Arrive in Tbilisi late afternoon, check-in to the hotel. Overnight.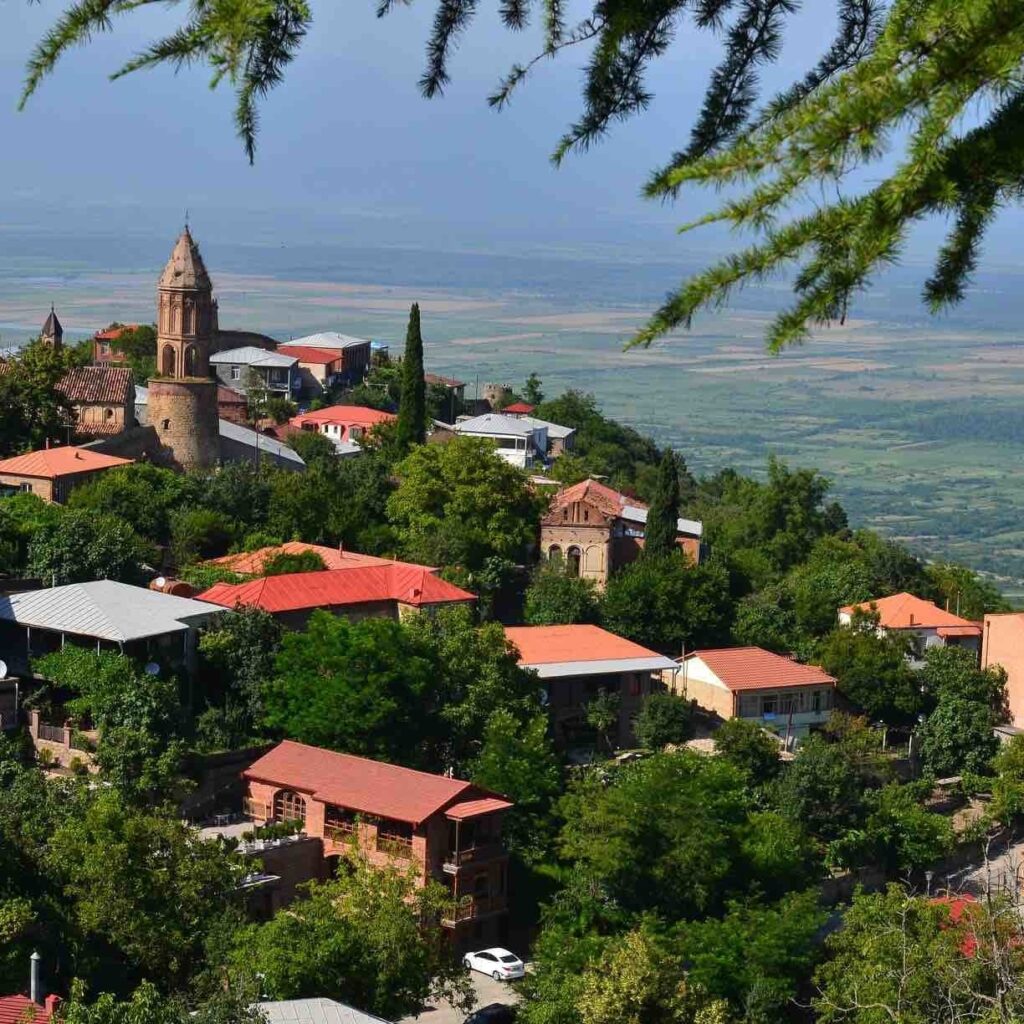 After breakfast drive to the outskirts of Georgian capital. Visit a donkey farm called Virlandia. Major production is donkey milk. This farm is a home to 60+ donkeys, with each one providing up to 300 grams of healthy milk.
Afternoon have a brief Tbilisi old town tour. Tbilisi for many centuries of its existence was a place where people of all faiths, cultural and national backgrounds used to live together, making Tbilisi a contemporary metropolis filled with history and atmosphere of the rich and great past. Your South Caucasus travel will continue this day with the tour of old Tbilisi: at the Metekhi church and King Vakhtang monument you will listen to the Tbilisi founding legend, continue by cable car to ancient Narikala fortress, walk down to the "Legvtakhevi" (fig) gorge and Tbilisi waterfall, passing by the church and mosque.
In the evening have a traditional Georgian dinner, accompanied by national dance and music show.
Overnight in Tbilisi.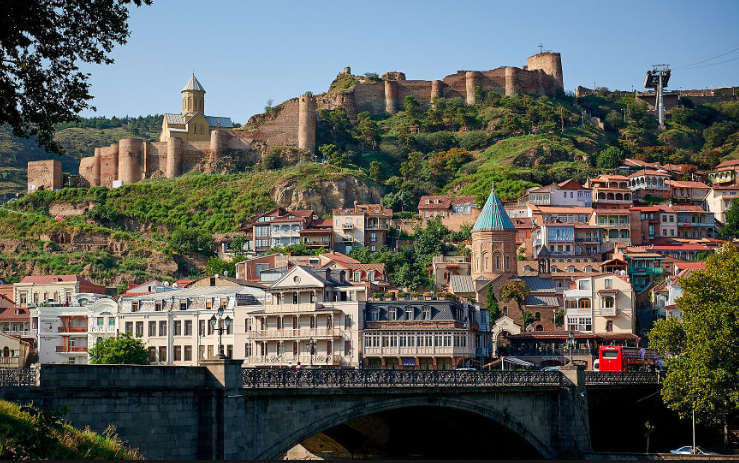 After breakfast depart Tbilisi. First attraction on the way is Jvari monastery, picturesquely located on top of the mountain hill, overlooking the conjunction of two major rivers – Aragvi and Mtkvari (aka Kura).
Continue to Kutaisi. On the way stop in the village Nabakhtevi for local farm visit. At present, the farmer grows cereals, vegetables, legumes; he has a vineyard.
The road to Kutaisi will take you over Rikoti pass and through the longest tunnel of Georgia (1,722 m), that is also considered to be a border between Western and Eastern parts of Georgia. Arrive in Kutaisi in the evening. Dinner and overnight.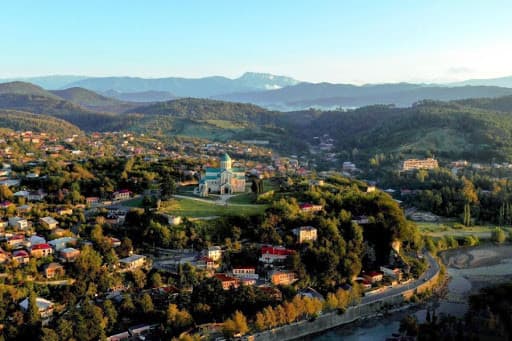 After breakfast in the hotel, start sightseeing tour of Kutaisi's vicinities: In the morning visit the Gelati monastery (12th century) built by King David the Builder. Gelati was the center of spiritual and scientific life of the Middle Ages. Next stop is Motsameta monastery that stands above the rough Rioni river and is buried in coastal vegetation. Tombs of brothers David and Constantine Mkheidze, 8th century Dukes of the area killed by the Arabs, are located here.
Visit tea plantation – lunch, followed by a plantation tour. Georgia, as surprising as it might be, is one of the most suitable places on Earth to grow organic high-quality tea. Organic – because it is located in a climate zone where illnesses or pests do not threaten tea bushes. One of the biggest headaches in most tea-growing regions, which is also the reason why most of the world's tea is heavily treated with different harmful chemicals. High quality – because Georgian plantations are well-aged (mostly more than 50-years old) and seed-grown which adds complexity to the taste and flavour. In addition, cold winters reduce the tea growing season in Georgia to only seven months, which gives bushes time to rest and gather strength. This again enhances the flavour, especially in spring.
Return to Kutaisi for dinner and overnight.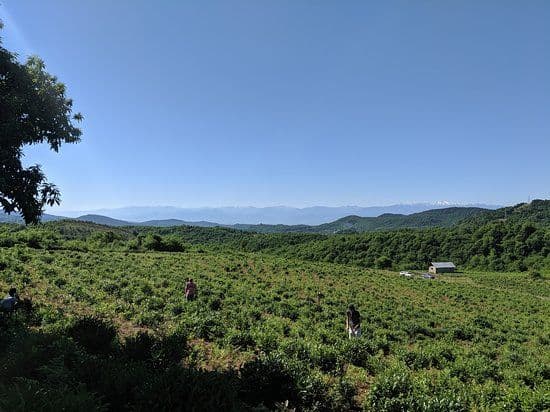 After breakfast in the hotel depart Kutaisi, continue your Georgia tour by driving South-West of the country, to the region called Samtskhe-Javakheti. Picturesque road lies through Rikoti mountain pass. After about 2.5-hour drive from Kutaisi you will arrive to the beautiful town called Borjomi. This small city is nestled between high mountains and is a birthplace of numerous mineral water sources. Waters of Borjomi were the reason for XIXth century Russian Grand Duke Nicholas to commission the Royal residence here. Visit Borjomi Park and try waters at its source.
Free afternoon in the hotel surrounded by mountain forests. Hotels in the area are mostly renovated former Soviet-time VIP health resorts for communist party establishment. For small additional charge you may book a consultation with a therapist and get health procedure of your choice (list of available procedures can be provided separately upon request).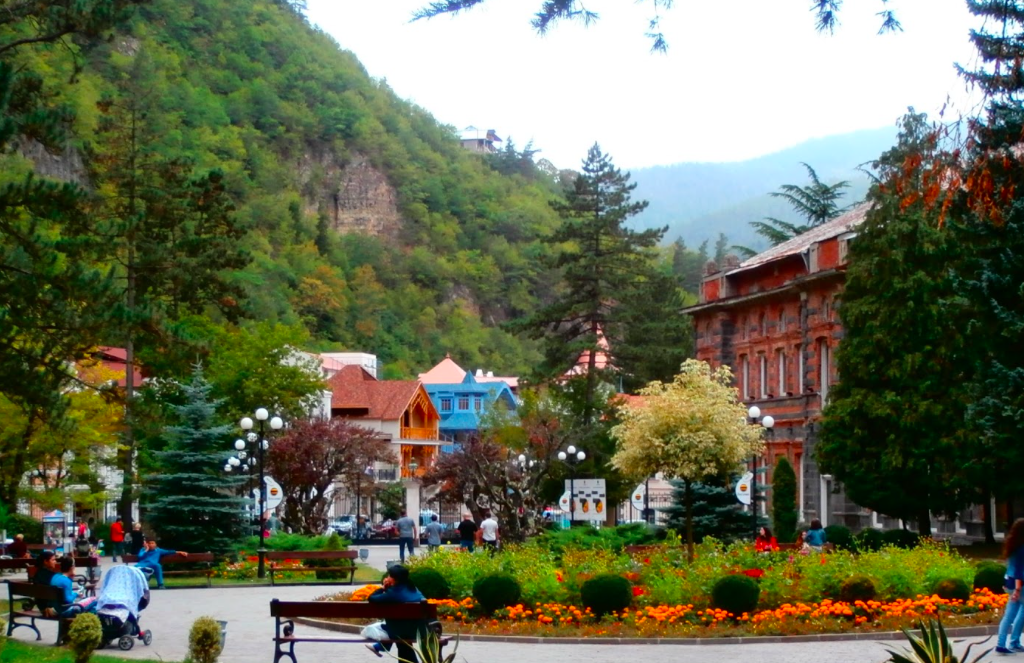 Wake up to an amazing fresh air of Borjomi forests. After delicious breakfast depart your hotel and in about 40-minute arrive in the local village Atskuri to spend this wonderful day engaging in local farming activities. Currently a small rural village, Atskuri was an important defensive stronghold in the Middle Ages. You may still see the remains of its main fortress.
Atskuri is now also a home to Barbale farm. Name Barbale comes from the name of Goddess of Fertility in Georgian Mythology. You will learn and taste local produce, take part in easy agricultural work (i.e. hoeing, irrigating lands, harvesting fruits and vegetables); contribute to your own lunch making process, whilst learning secrets of local cuisine. All of these surrounded by truly magnificent views over the mountains, ancient fortress, and of course the freshest clean air.
Drive back to Borjomi for dinner and overnight.
After breakfast drive further South and in 2 hours arrive in Vardzia. On your way you will make a stop at one of the dairies producing plants in the area. Small plant tour.
Arrive in Vardzia. A very extensive and complex cave town, Vardzia transports you to the 12th century, when Georgia was flourishing and powerful under the rule of Queen Tamar. Explore the remains of ancient caves.
Lunch on premises of small local farm. The place originally was organized as a family guesthouse. But it grew over the last few years to become one of the leading examples of sustainable development. Located on the bank of River Mtkvari, this farm/hotel has its own fish pond, rabbit and pig yards, chicken coop, as well as a rich kitchen-garden. And, most remarkably, solar-panel powered greenhouse. Needles to mention that the place has its own wine.
Check-in to local hotel. Free afternoon.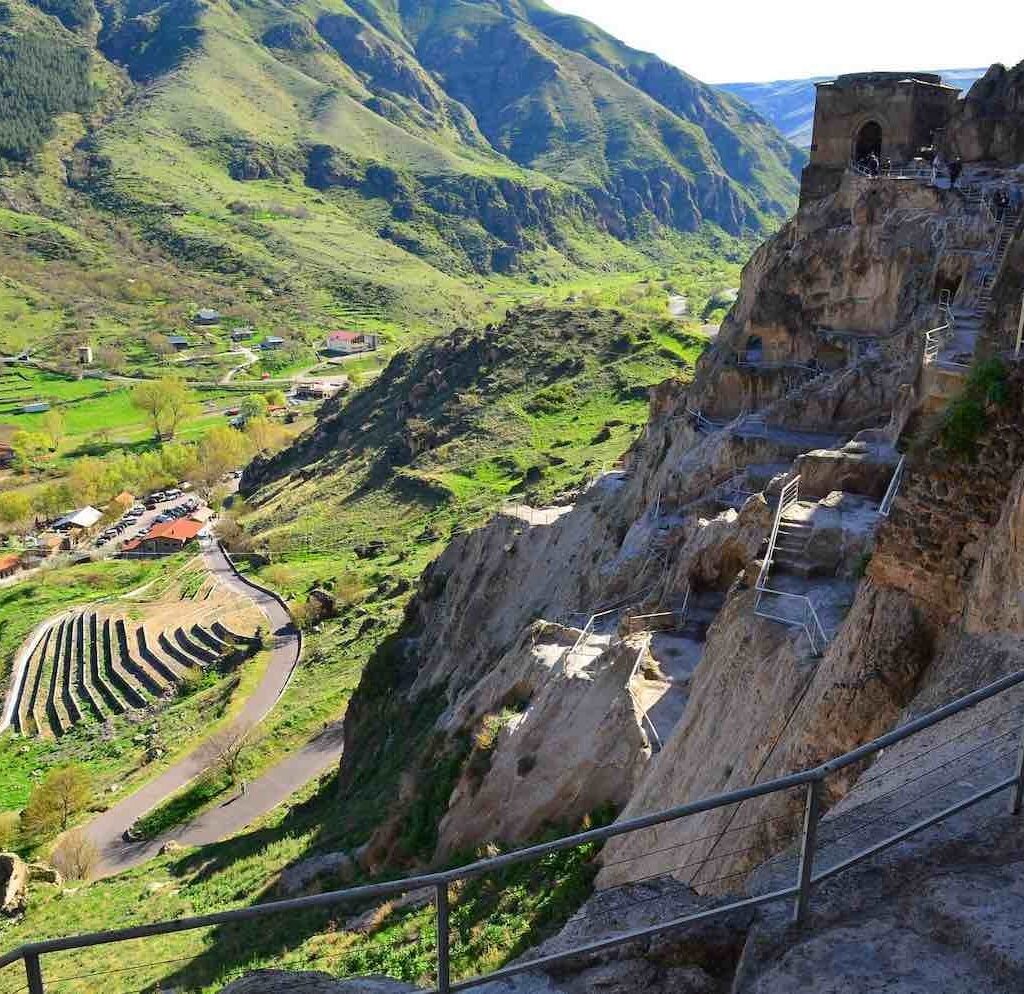 Depart from Vardzia very early in the morning, as a very long travel day awaits the group. In about 2-hour drive arrive to the Georgia-Armenia border in the town of Bavra.
Please note: border crossing in Caucasus countries require travelers to leave the vehicle with all the baggage, and proceed with border formalities, first on Georgian side. Neutral territory is also crossed by foot (~ 500 meters long). Pass Armenia border control. On Armenia side you will be met by local guide and driver, to continue the tour.
Cross Bavra border and head to Gyumri, the second largest city in Armenia after the capital Yerevan. Gyumri, which lies on the border with Turkey, became part of the Russian Empire. Gyumri was renamed Alexandropol in 1837 after the visit of Tsar Nicholas I, in honor of his wife, Empress Alexandra Fyodorovna. Visit the Sev Ghul fortress, also known as Black Fortress. The fortress is a 360-degree round structure made of black stone, from which it gets its name.
Gyumri is also famous for its Kumayri district where you can walk through a small authentic Armenian town of 19th century with numerous traditional old houses. The lunch will be arranged in Gyumri.
Head to Dilijan town for dinner, rest and overnight.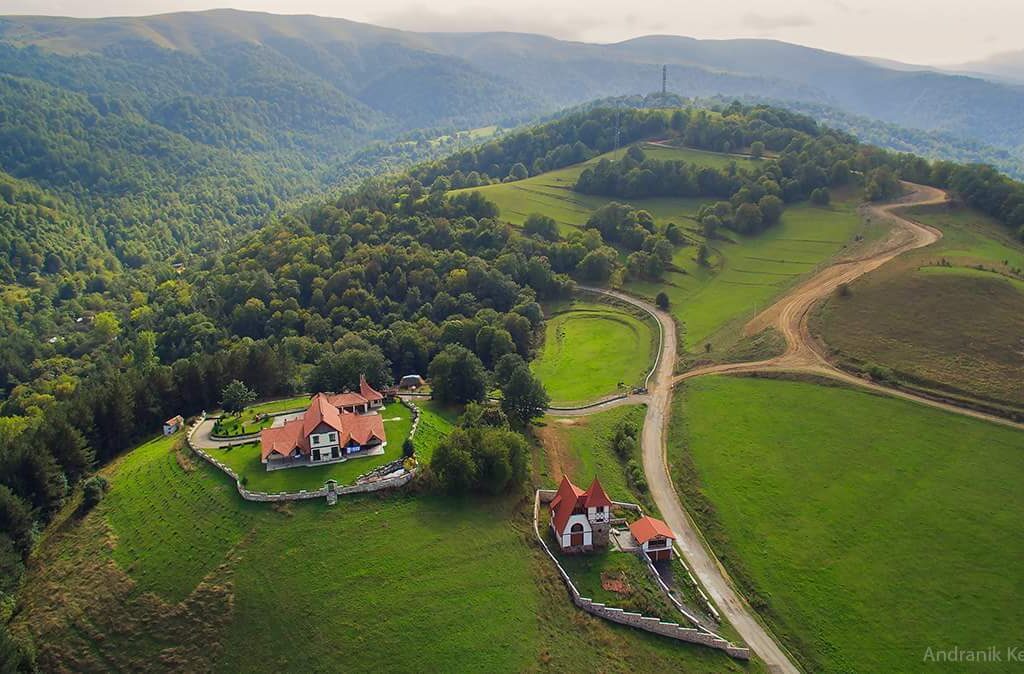 After breakfast at hotel in Dilijan you will head to Vahagni town in the Lori Province of Armenia. We will visit the Dilly Dairy complex and farm. They milk Schwitz and Simmental originally imported from Germany and have year round production of fresh, natural and ecological milk. They also produce Italian Mozzarella cheese, Mozzarella pizza cheese and Ricotta as well as Armenian cheese. The company also produces cream and rendered butter without chemical agents. This afternoon we will visit dairy farms where they source their milk.
In the evening return to Dilijan for dinner and overnight.
Today we will have a horticultural visit on our way to Goris. This morning we'll drive along the shores of Lake Sevan set 1,900 metres above sea level and the largest freshwater lake in the Caucasus.
Martuni village visit a local beekeeper to taste organic honey and other bee products (possibility to have a beehive therapy, which is rare and exceptional experience for foreigners) – visit a very special family owned cheese factory who are known as cheese inventors, having a cheese tasting.
Arrive in Yeghegnadzor for dinner and overnight.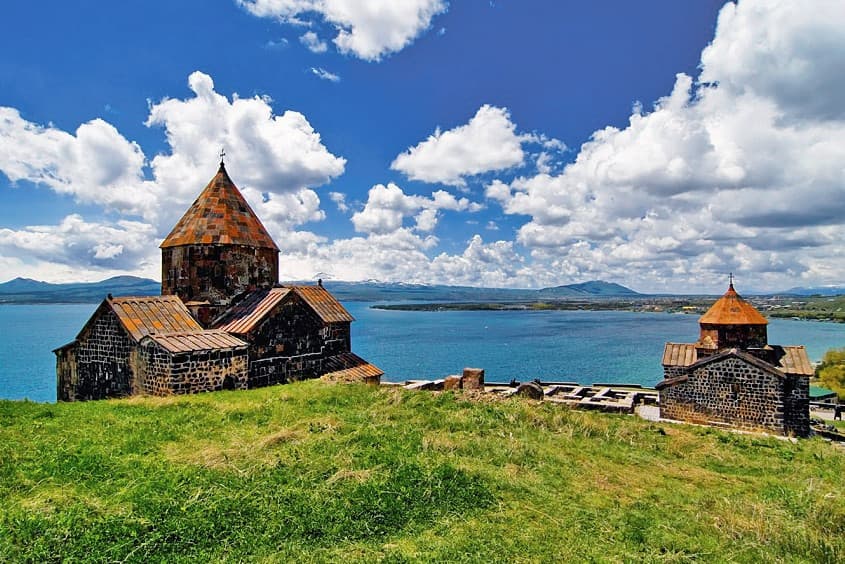 Depart small welcoming town of Yeghegnadzor and drive towards the capital city of Armenia – Yerevan.
You will visit Areni Winery on the way for a wine degustation with Armenia's best wines coming from this region.
Lunch today is in a local home, where you will have opportunity to see how to distil vodka, enjoy homemade vodka and wine, and also see how to bury Armenian cheese. Finally, you will visit Noravank Monastery – a great religious and cultural centre of 12th century which is located in a seemingly inaccessible location amidst impressive red cliffs and stunning mountains.
Arrive to Yerevan late in the evening for dinner and overnight.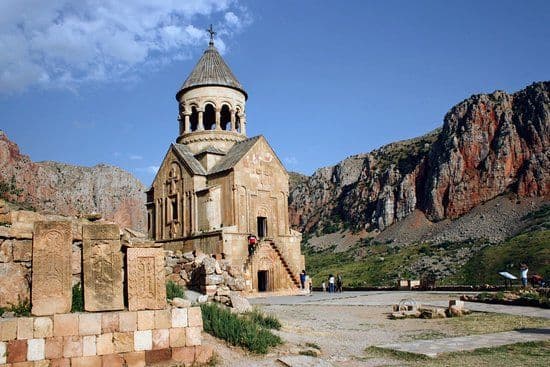 In the morning start exploring the vibrant city of Yerevan with your guide. Originally established in 782 BC, Yerevan is a thriving city with the excitement, hustle and bustle of a modern capital. You will start your exploration from the Republic Square, the masterpiece of the architect Alexander Tamanian, and then continue to the Opera House, a stunning architectural piece and the hub of Yerevan. Visit to the Ararat cognac factory for sampling and factory tour.
You will then depart for Echmiadzin, the spiritual centre of all Armenians and the seat of the Armenian Catholicos. As you return to Yerevan, you will stop at the ruins of Zvartnots – the pearl of 7th century architecture, inscribed in UNESCO's World Heritage list. You will then return to Yerevan and visit the History Museum of Armenia.
Traditional Armenian welcome dinner will be arranged on this day, accompanied by national dance and song show.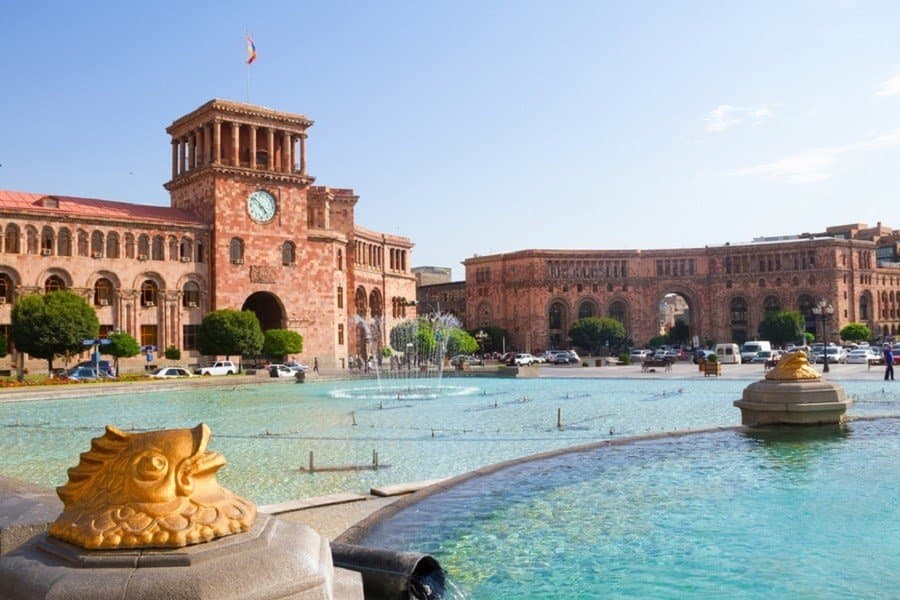 It's a short drive from Yerevan to Garni Village where you will have lunch at a local family house and learn how to make traditional flatbread. Sightseeing today includes 1st century Garni Temple, Geghard Monastery, the Genocide Memorial Complex and Museum on Tsitsernakaberd Hill. If you climb the steps of the Cascade Monument you'll enjoy breathtaking city views of Republic Square, the Opera House and Swan Lake all of which you can see tomorrow when walking the streets of Yerevan.
Free afternoon in Yerevan.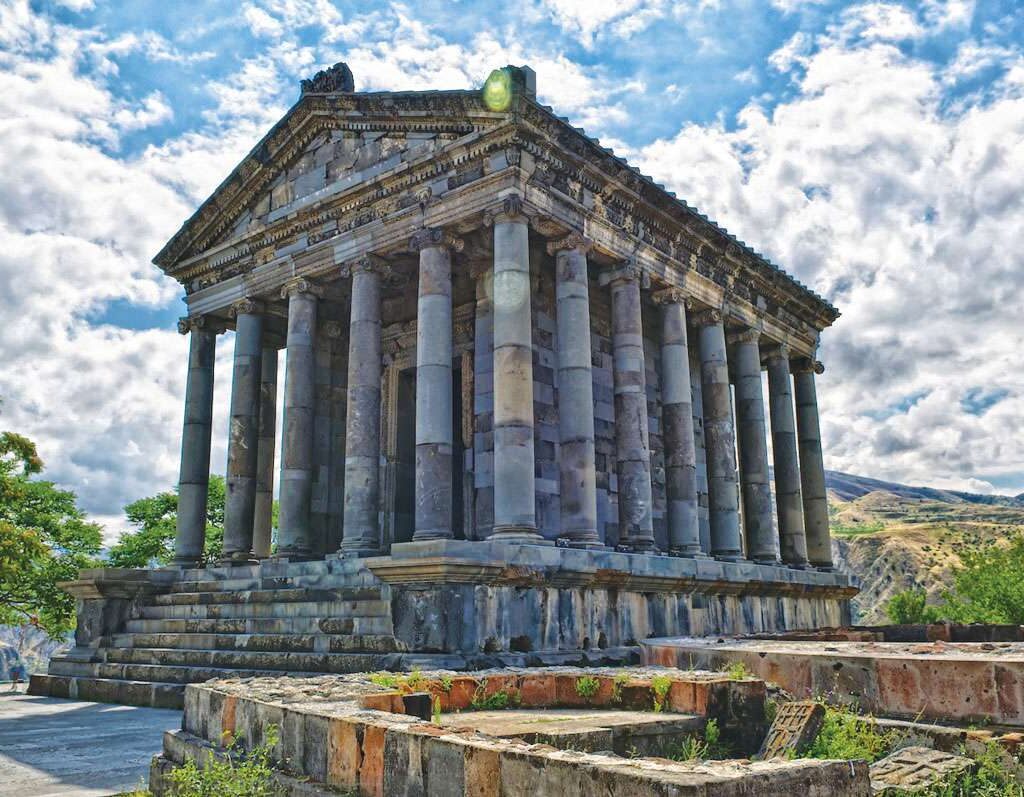 Check-out from the hotel till noon. Free time until transfer to the airport.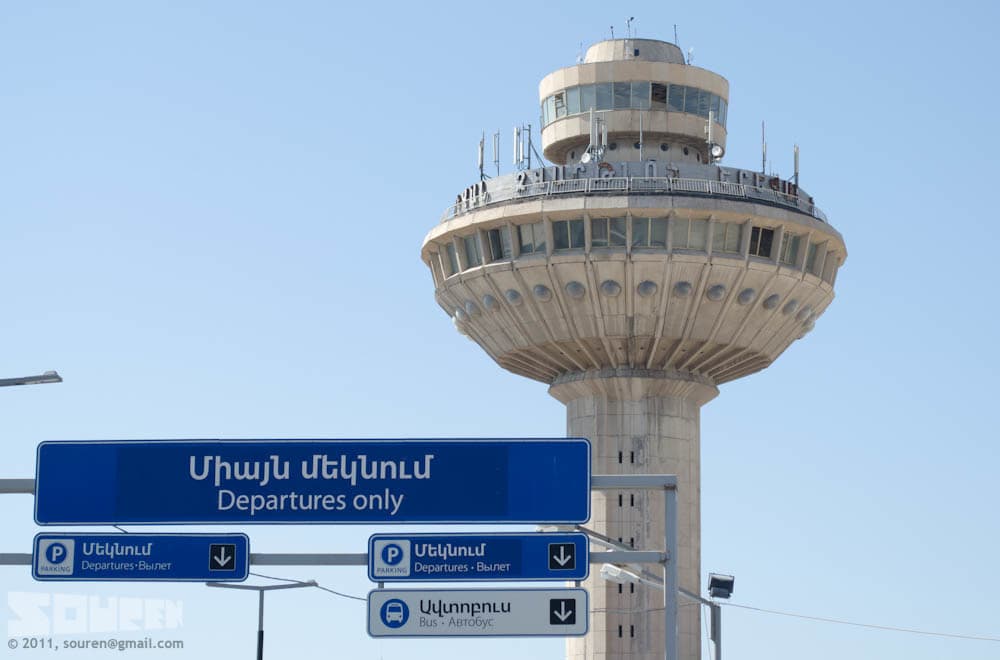 ---
Tour accommodation
Accommodation on this South Caucasus farm tour will be provided on a Double / Twin room sharing basis. Hotels level – 4 star hotels, where available. Otherwise – comfortable boutique hotels are booked. Solo travelers requiring individual rooms are subject to additional Single supplement charge.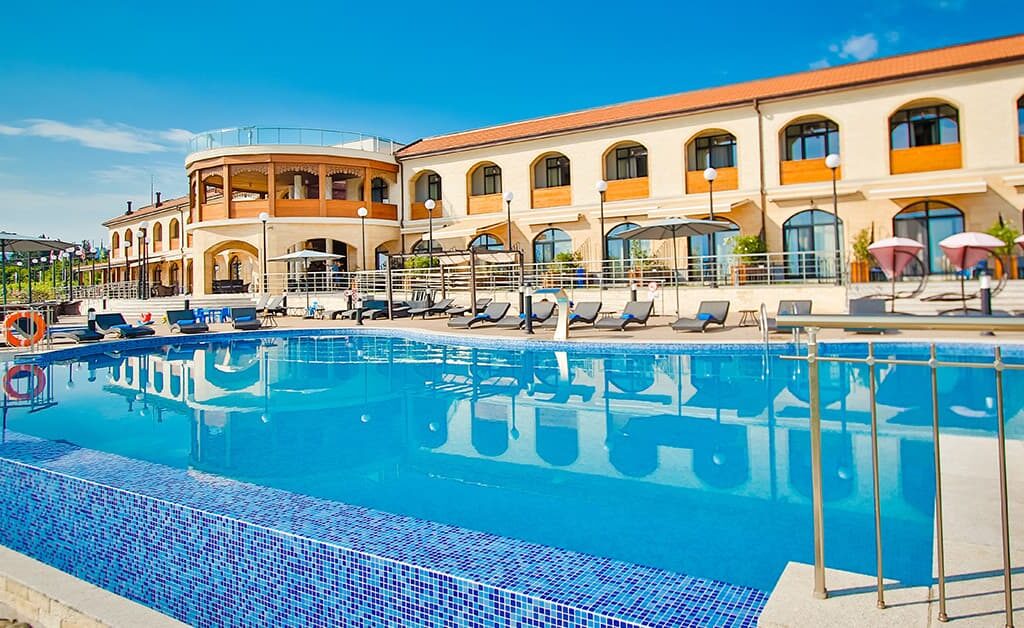 ---
Tour price include:
20-night accommodation in 4-star hotels, or comfortable boutique hotels (Double / Twin room basis)

Airport transfers upon arrival and departure

Transport during tour days in comfortable air-conditioned vehicles

Meals: breakfast at hotels, lunches and dinners as per tour program

English-speaking guide service in three countries

Admission and entrance fees to all sites and locations as per tour program

Farm and agricultural visits, accompanied by owners and/or senior management

Wine tastings as per tour program

Mineral water (0.5l per person / per day)
---
Enquiry or book the tour
---
Similar tour options