Farm and agri tours in Georgia and South Caucasus
Farm or agri tourism and local farm stay is a relatively new but already popular travel concept. Farm or agri tours are ideal for a family vacation, or an individual one, as well as a corporate trip. That is because these trips are a unique opportunity to fill your tour to Georgia and South Caucasus with more unforgettable moments, to become part of the fascinating life of the locals, to feel yourself more than just a tourist, but rather like a guest, and a true friend in a welcoming, family environment.
Farm tourism offers those that engage in it to become contributors in progressively popular worldwide trend of responsible tourism, which imply the involvement of the tourism industry into socially oriented projects and sustainable development of local community, such as: the support and popularization of farming, giving local farmers an opportunity to sell their product and receive additional income in the form of payments for the guests accommodation, farm tours organization, running farming master-classes and providing other forms of village leisure.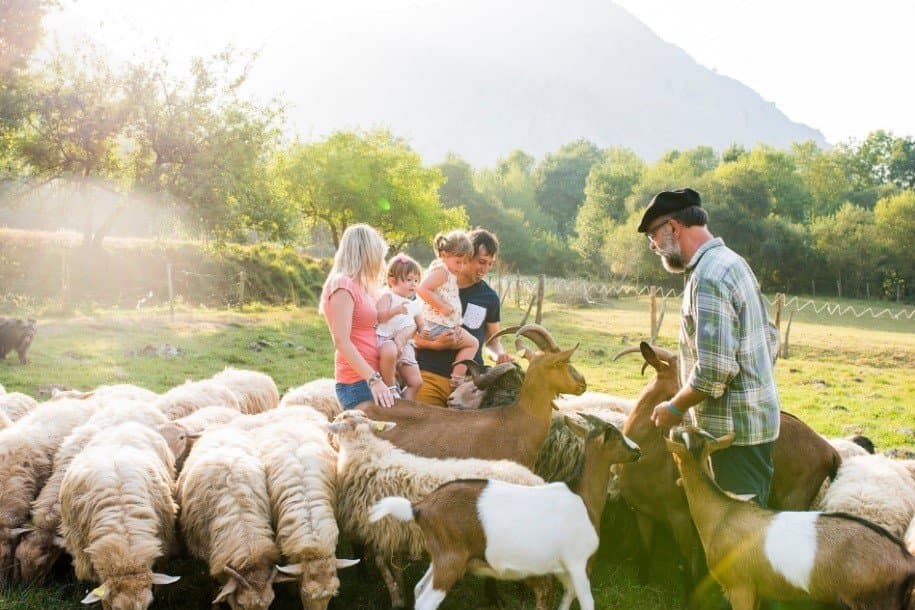 Farm and agri tour activities
Choosing Georgia as their destination for a farm tour and farm stay our guests get an opportunity to stay with local family in a Georgian village, or in a small guesthouse nearby. Famous Georgian hospitality is naturally in offering, as well as various activities like preparation of traditional food, farming activities like gardening, harvesting and taking care of the plots. Travelers are free to choose what they want to do and which agri tour to take based on the chosen farms capacities and specialization, as well as on their own abilities.
South Caucasus (Azerbaijan, Georgia and Armenia) grand farm tour, for instance, is a special interest travel program. With a more in-depth experience into regional farming. Dairy farms, cattle and sheep farms, fruits and vegetables producing enterprises – are among those places to be visited.
Our main farm and agri tours in Georgia and South Caucasus include the following activities*:
Vine harvesting
Fruit harvesting
Wine-making
Tea-making and tea harvesting
Horse riding
Food making
And many more…
*- Some of the activities are seasonal. Please send us your request with potential travel dates and we will suggest you the best offer for that period.
Within each farm tour to Georgia there is also time to have a guided walk and hike around the area: some offer fascinating mountain sceneries and ancient monasteries, other beautiful valleys, lakes and waterfalls. But above all – there is a traditional Georgian dinner that awaits tourists in the evening, with home-made food prepared with all-natural local products.