Free video tour about hiking around Tbilisi. This is our way of continuing to operate during coronavirus times, to support our guides, and help other local businesses – while offering you the option to tip the guides (or donate towards our partnerships).
---
Tbilisi hiking tour content:
---
Tbilisi Views – hiking tour in Georgia
By Zviad Kelenjeridze – hiking guide in Georgia.
This "Georgia from home" video tour is dedicated to one of the most popular tourist activities in Georgia. Short hiking around country's capital city Tbilisi. This is a hike on Mtatsminda mountain and ridge. Usually this trail starts from Turtle lake, but because of the COVID-19 situation and certain restrictions the area now is closed. So today we're going to start it from different location in the Vake neighborhood of Tbilisi, near the St. George Church.
Watch this tour to see what a magnificent views one can reach to, with only a couple of minute walk from Tbilisi city center. Imagine how these places look starting from late Spring up until late Autumn! And plan your travel to Georgia.#travelaftercovid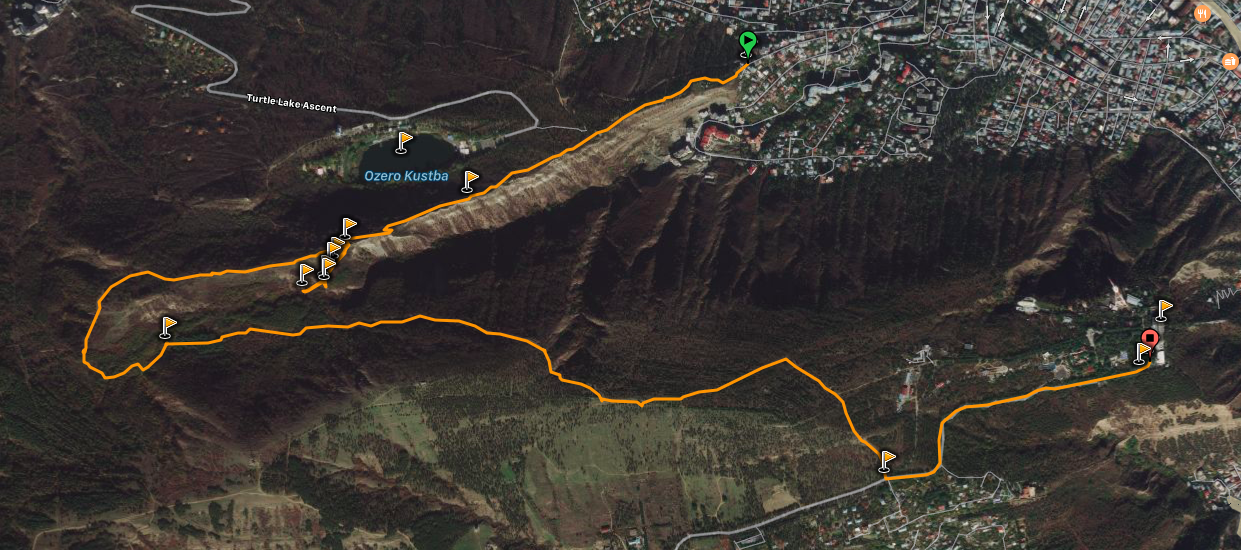 Nature escape
As you probably know Tbilisi is surrounded by several mountain ridges. All around the city. This fact is actually one of the reasons why Tbilisi was built here. All these mountains around the city served as natural protection for it. Mtatsminda is the main mountain and a home to a main ridge near Tbilisi.
The place is extremely popular among both tourists and locals alike, as this is a shortest and easiest way to escape to the nature from a busy city life. It will only take you about 15-20 minutes to get from basically anywhere in Tbilisi to the starting point of this trail.
Turtle lake – view from above
Usually people drink coffee down there, near the lake. But here at the top of Mtatsminda ridge it is also a very good spot to enjoy lake views. The lake in Georgian is called "Kus Tba" (literally translated – turtle lake). The name believed to be originated from the fact that the lake is full of turtles.
It is not a big lake, but it is amazingly picturesque one. Locals tend to come up to the lake during the hotter periods of the year, as a temperature here is always lower than that of downhills. People spend time near the lake taking boat rides, swimming, jogging around, or simply enjoying the views and fresh air sitting in one of many small cafes on the shores.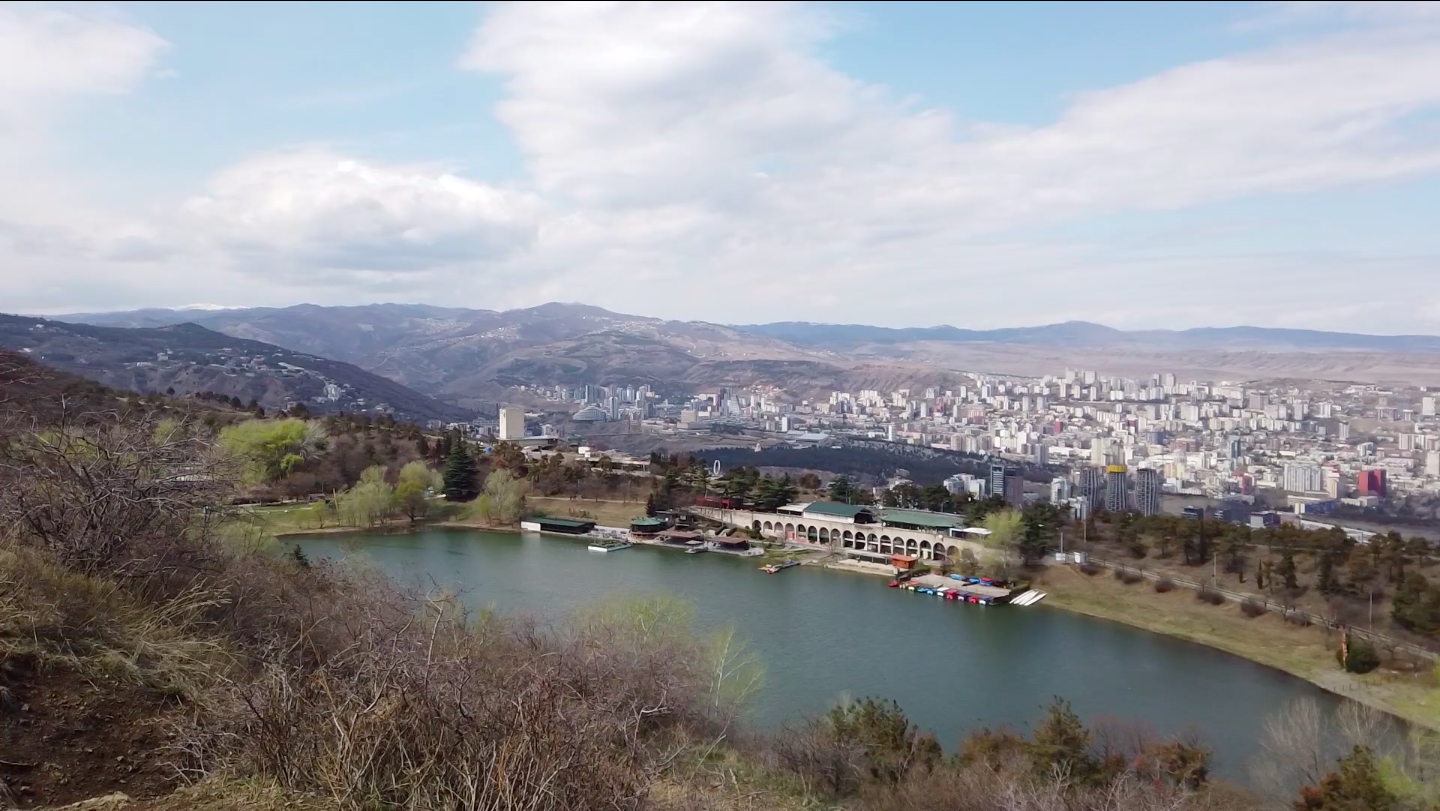 Vake park and Georgian rugby
From one of the trails' spots there is an amazing view over the Vake park of Tbilisi. The park is the biggest one in Georgian capital. It was opened in 1946 to commemorate the end of World War Two. Currently it is the greenest recreation area, loved by all. Its' alleys, high trees and fresh air make Vake Park a must see for anyone wanting to leave the traffic and city noise behind.
Next to the Park there is one of the central stadiums of Tbilisi, named after famous Georgian football player – Mikhail Meskhi. The place is also home to major rugby games played by Georgian national team.
Rugby is arguably the most popular sport type in the country. Some say that the reason behind it lies in Georgian traditions. There is a word "lelo" that is used within Georgian rugby union terminology, and it means a "try". Lelo (or "lelo burti"), literally a "field ball", is a Georgian folk sport, which is a full contact ball game, very much like rugby. Lelo was played in Georgia from very ancient times and is still played in rural areas.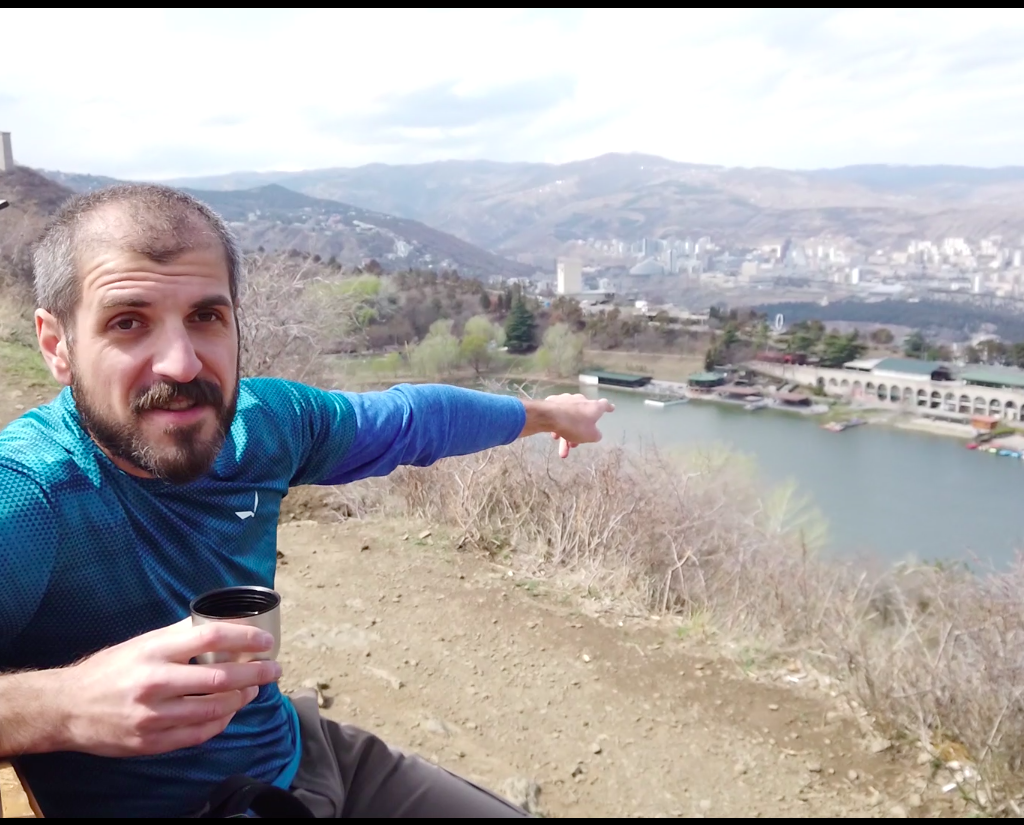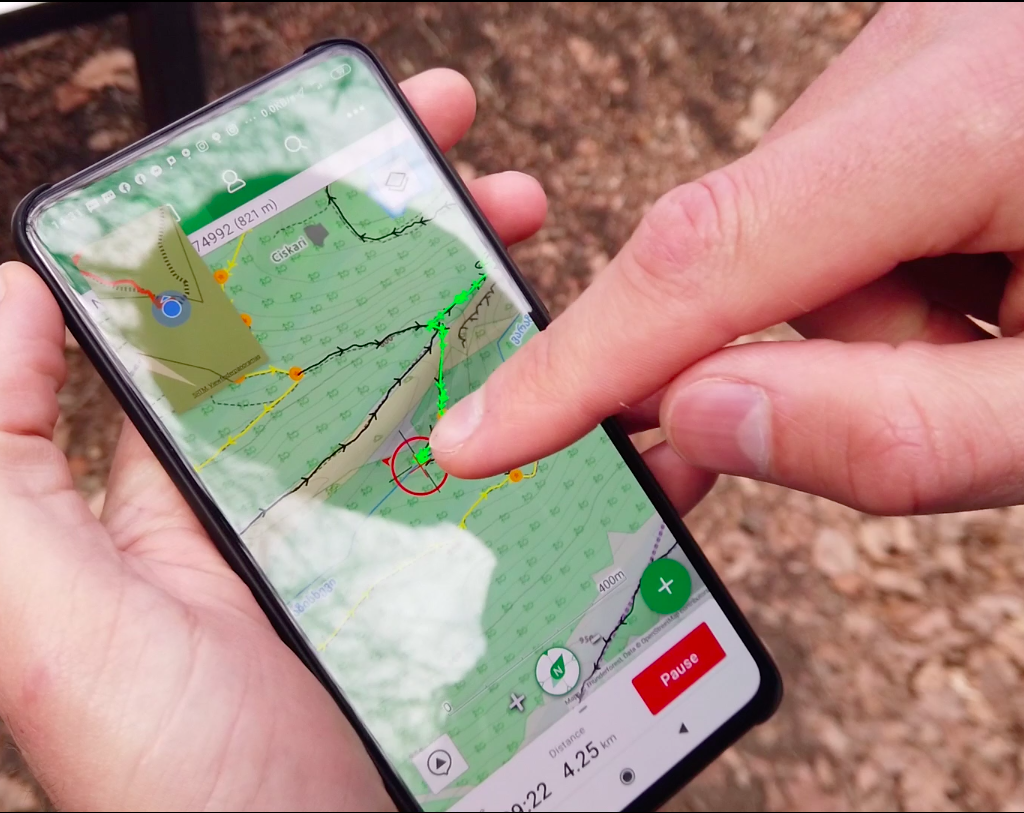 Nightingale Forest
Education and interpretation are a vital part of hiking trails in Georgia. The trail above Tbilisi is no exception. A small detour from its main route will lead a wonderous traveler to the place called Nightingale's lowland forest. Informational boards along the way reflect flora and fauna species found in the area. Kids-friendly design allow younger generation of hikers learn about footprints that different animals leave.
Open-air ethnographic museum
Another magical view that can be found on this tour, is a glance over Georgian traditional houses and towers. Tbilisi Museum of Ethnography, often just called the Ethnographic Museum, is an open-air exhibition of centuries-old architectural and folk craftwork items from different regions of Georgia.
Not far from (and on the way to) Turtle Lake, on a hill overlooking the Vake district, this museum is essentially a small glimpse into Georgian history, through the various relics that showcase the differences of the many regions. There is much to see, so expect to spend some time there if you're planning to explore it fully. You can see the way of life for all the parts of Georgia through different eras. From furniture of the 1500s to the history of traditional winemaking.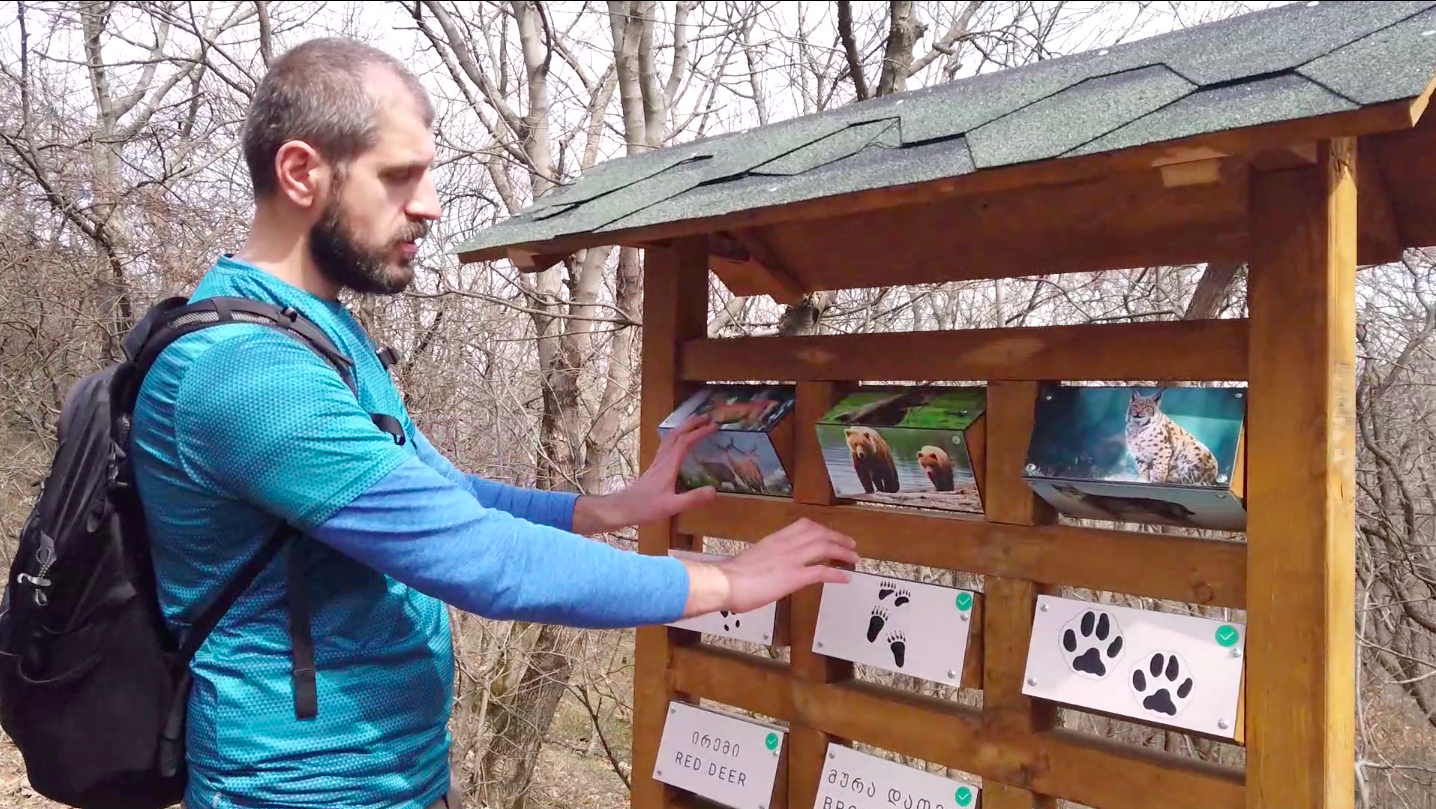 Bombora – amusement park
Tbilisi views hiking tour finishes at the entrance to the major local amusement park. Located at the highest point in Tbilisi, at 770 meters high, Mtatsminda Park is an amusement facility that stands on top of Mount Mtatsminda, overlooking the Georgian capital.
You can find cafes, a theme park, a lot of entertainment attractions (Ferris wheel, roller coasters and more) and picnic zones.There are also events such as wine and cheese festivals, allowing you to relax and have a great time with friends while at the park.
The park is also a home to the most popular viewpoint in Georgia. Laid in front of the 3-storey restaurant complex the terrace is an amazing place to enjoy a breathtaking view over Tbilisi.
Our suggestion: take a funicular ride from here down to Tbilisi city center. It is going to be an enjoyable end of a long and exciting day.
---