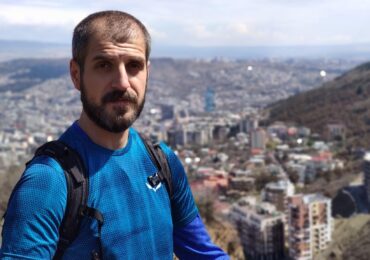 Guide: Zviad Kelenjeridze
Zviad Kelenjeridze is a trekking guide, trail marking specialist and co-founder of travel company Trails and Wines. Zviad has been working in the Tourism industry since 2011 and is actively involved in the development of adventure and eco-tourism products in Georgia.
---
About Zviad
Zviad has been working in different fields of the tourism industry since 2011. After finishing medical college, he found his new passion and dedicated himself to mountain tourism.
He worked for Georgian National Tourism Administration for 5 years is Tourist Products and Tourist Infrastructure division and is one of the creators of Georgian waymarking standard for hiking trails. He was in charge of trail marking projects in different regions of Georgia, during which was waymarked 700 km of around 100 hiking trails.
He speaks Georgian, English and Russian languages and believes that the Caucasus Mountains with its highest peaks in Europe are the most precious gift for Georgia. Now Zviad is a Head of Adventure Tours in company Trails and Wines, and gives training and lectures for active and future hiking guides.
---