Free video tour about history of Georgian tea. This is our way of continuing to operate during coronavirus times, to support our guides, and help other local businesses – while offering you the option to tip the guides (or donate towards our partnerships).
---
TOUR DESCRIPTION
Tour name: Georgian tea history
Location: Tbilisi private tea museum
Tour theme: Georgian tea
Host: Mr. Shota Bitadze and his son, Giorgi
Tour guide: Vanda
Georgian Tea History tour content:
02:40 Appearance of tea producing culture in Georgia
05:44 Chinese influence in Georgian tea farming
09:48 First Georgian tea
13:19 Road to modern tea farming in Georgia
22:03 Tea brewing master-class – the Georgian way!
---
Georgian tea history in brief
By Shota Bitadze, Tbilisi tea museum and shop owner, head of Georgian organic tea producers association.
Appearance of tea producing culture in Georgia
The appearance of tea in Georgia was preconditioned. The main prerequisite was that the Russian Empire at the end of XIX century needed large amount of tea for its army and fleet.
Similar situation was in England. The British Empire also had the same need. But at that time tea wasproduced only in China, and it was quite expensive.
England did the experiment and it worked out well. They started their tea production in India.
The Russian Empire also had had many attempts, but they all failed. They were first tried at the Nikitsky Botanical Gardens in Crimea, where there were acclimatization plots, and on several occasions Chinese tea bushes of Thaisensis were planted, but the acclimatization of them failed.
Then, in 1847, by order of Governor General Vorontsov, who was the King's vicar in the Caucasus,and lived in Tbilisi, they starter planting Chinese tea bushes in Ozurgeti and Anaseuli (Georgia).
Tea bushes were also planted in the Dadiani Botanical Garden and in the Sukhumi Botanical Garden, but it was significant and remarkable that the tea bushes in Anaseuli were acclimatized and allowed the region to develop this culture.
In Iran, for example, tea was introduced after 1900. There are many versions, but according to the documented one, Russian specialists brought tea to Iran and laid the groundwork. Tea was imported from Georgia (then colonial part of Russia), as tea was nowhere else nearby.
1847 is the birth year of Georgian tea and it is also important that it is the beginning of the spread of tea culture in the whole region. That is exactly why most of Georgian current tea labels have "1847" year brand.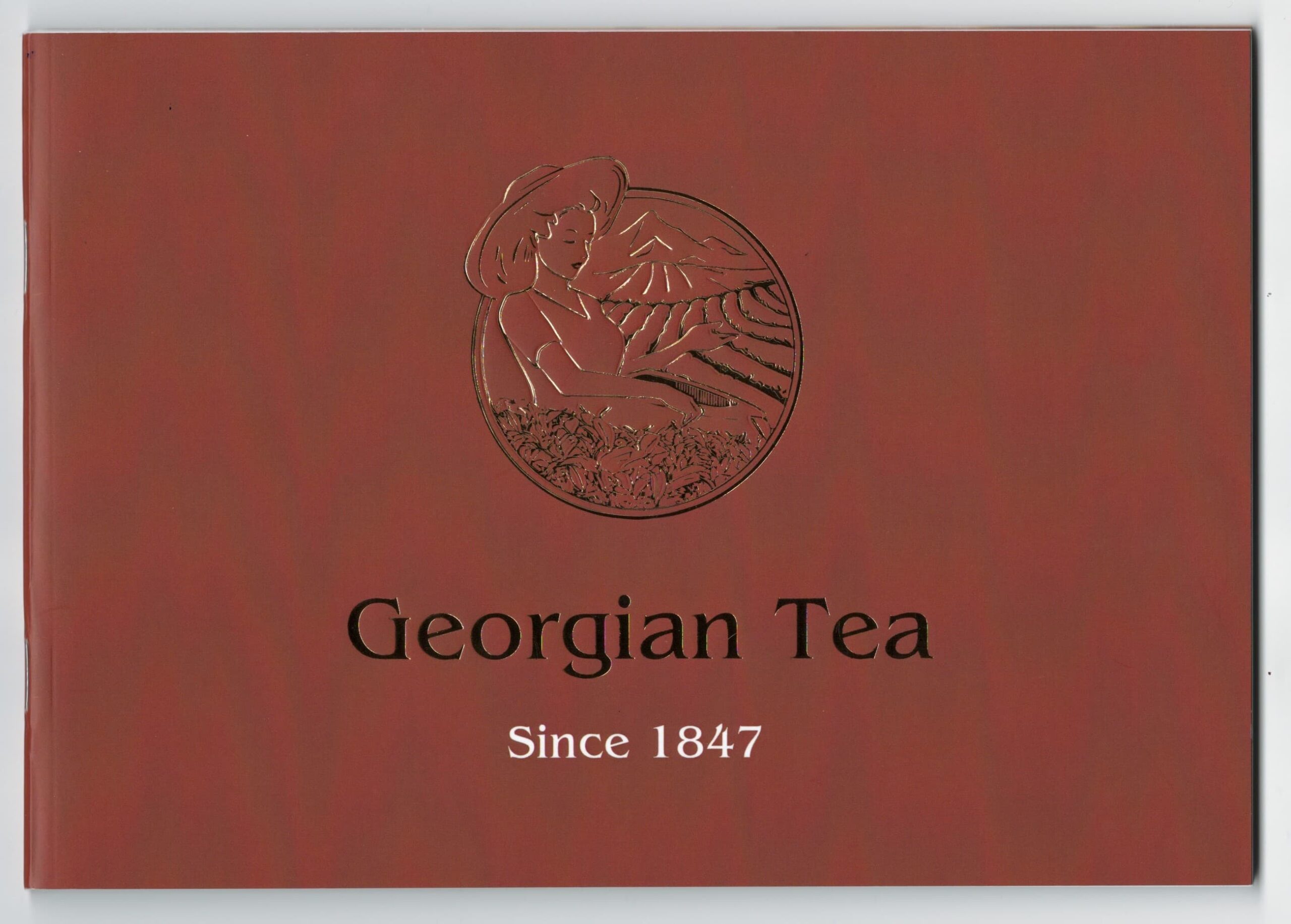 Chinese influence in Georgian tea farming
The next milestone was in 1893. Since it became known that Ozurgeti area could be brought to the industrial level, the Popov brothers made a very significant investment in tea production. They invited Lau Dzhen Dzhau, a tea specialist from China. Tea plantations and the first tea factory were built in Chakvi (Adjara region). That factory still exists.
The production of Georgian tea was based on English technology, because in England at that time there was an industrial revolution, they had relevant machinery; so they brought machinery from England to the local factory.
The next significant year in the history of Georgian tea was 1900. It is when Georgian tea was presented at the Russian Empire Pavilion during the World Achievements Exhibition in Paris. The original tea box of that time is kept in Tbilisi tea museum.
Writing on the box says: "Paris, 1900. The highest award – the Grand Prix. Popov Brothers". The box also shows where this tea was sold to. Tea was bought by the Russian Royal Family, the Austrian-Hungarian Royal Family, the Bulgarian Royal Family, the Shah of Iran.
The Popovs were suppliers to the Royal families of Russia and Eastern Europe. They had stores throughout the Russian Empire and Eastern Europe, and they also had stores in Tbilisi.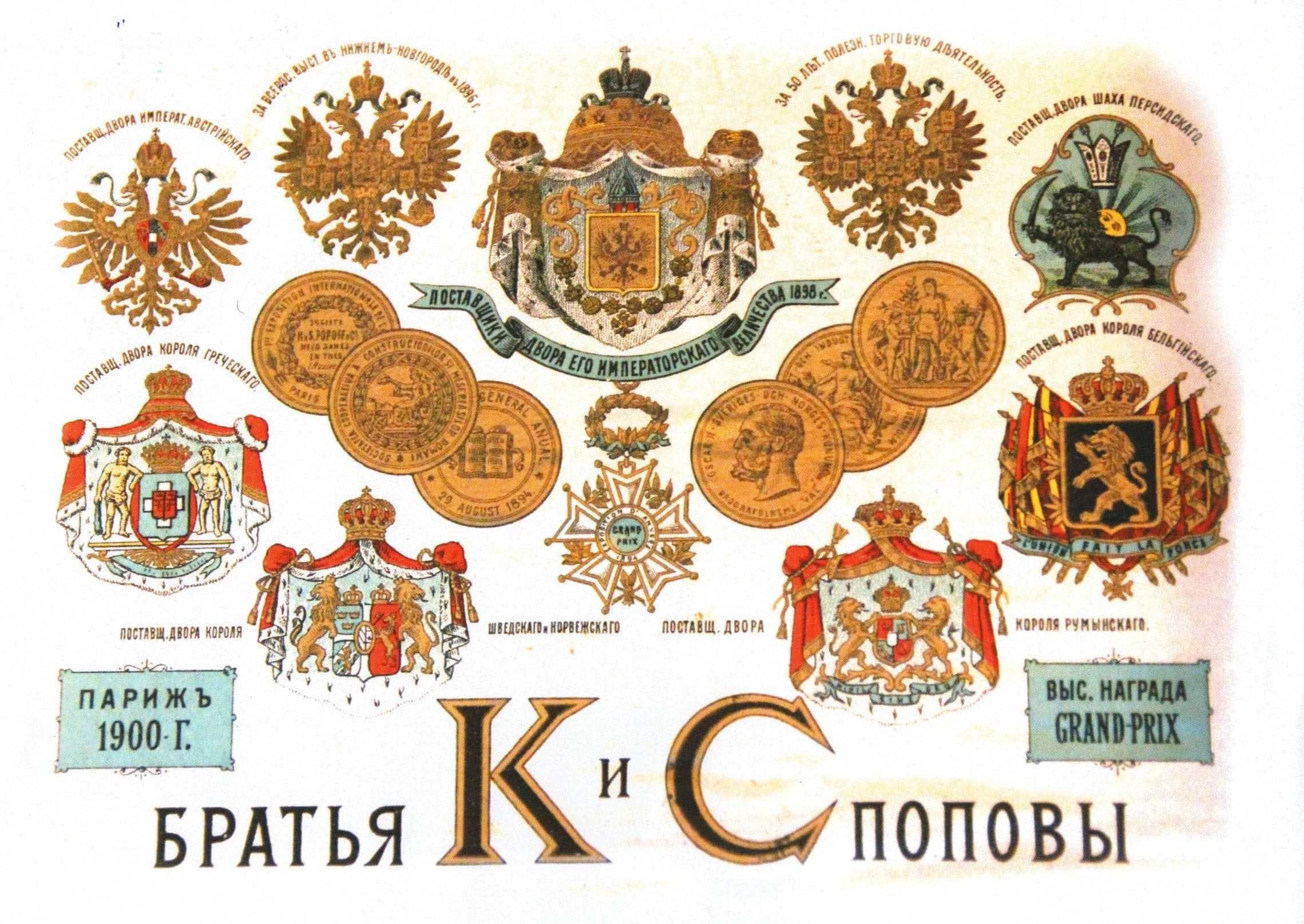 First Georgian tea
It is worth emphasizing that the Russian Royal family was very interested in the fact that in 1900 it was possible to produce tea in Georgia. At that time, Nikolai II's brother, George Romanov, who lived in Georgia, in Abastumani, offered Lau Dzhen Dzhau to move to work for the Royals.
Lau Dzhen Dzhau agreed to the offer and, as a result, the Popov Brothers were restricted, and then thrown out of the market altogether. New factories were built, plantations were planted, tea production was widened. As a result, tea industry in Georgia developed for the purpose of empire.
As a widespread national product tea did not exist yet in Georgia. Because initially it started as a private business that supplied the tea it needed. The 1900 saw the peak of Georgian tea quality. But after that quality declines, as mass production shrinks, leading to increase of low-quality tea produce.
The next stage in the history of Georgia tea was the coming of the Communists. According to Lenin "Tea is the drink of the proletariat and we must produce a lot of it". This was a policy that was continued by Joseph Stalin, who sent its minister Beria to Georgia. He used harsh methods to bring agriculture in Georgia to a very high level, and tea industry in particular.
Originally Georgia, tea was called the Russian Imperial tea, and not labeled as a product that was produced in Georgia. Like the English tea, which is produced in India, has nowhere written that it is the Indian tea. And it still says on tea boxes that it is an English tea. Similarly, now Georgian tea was labeled as produced in the Soviet Socialist Republic.
The first label where there is a Georgian inscription, and where it is clearly states that it is a Georgian tea – was also during the Communist era. It's the first label stating that this is Georgian tea. The labelwas very artsy, featuring Adjarian woman and a man and Chinese woman. Adjarian man hosts women for tea and Chinese woman looks a little surprised.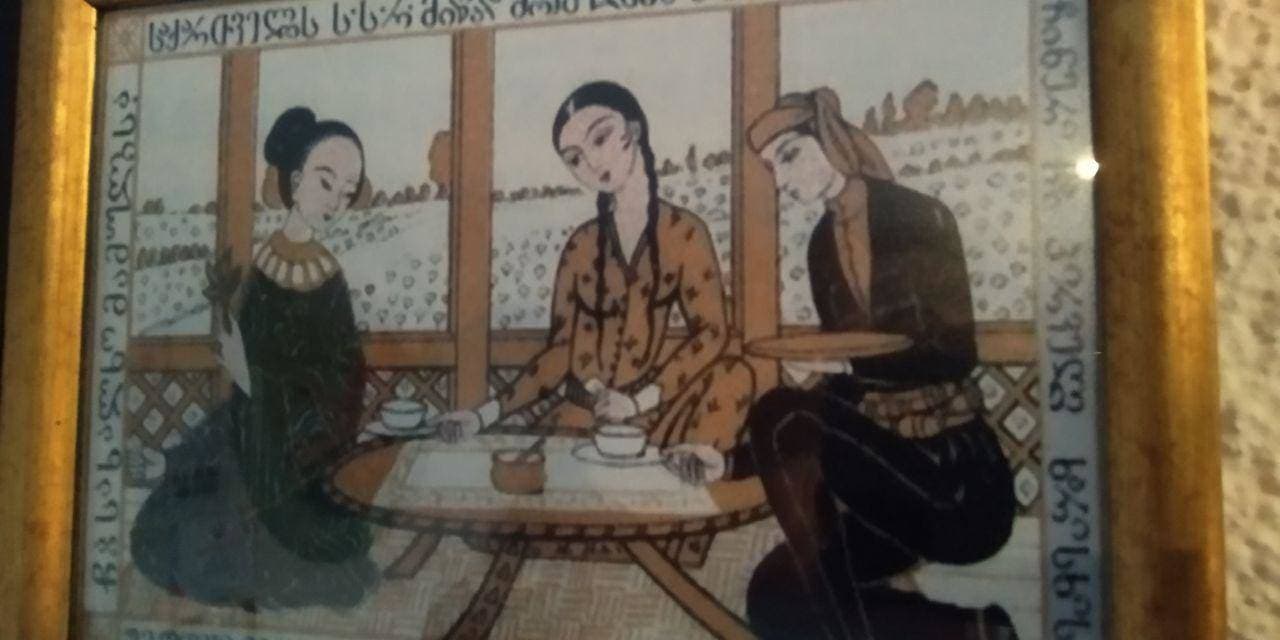 Road to tea farming in Georgia
After the collapse of the Soviet Union and Georgia's independence, everything was degraded, and so was the tea industry. Georgia did not have its own national tea production, this production was built first by the demands of the Popov brothers, after the Russian Empire, then by the Soviet Union, there were large factories and large quantities of tea production and technologies. When all this stopped, the locals no longer knew how to make tea.
For example, many of locals had tea bushes in their yards, but when you were visiting them, they offered coffee or packaged tea, while they had a tea bush growing 
This was because we were not in the tradition of the farm production. Japan, and partly China, have great experience in farming tea. But, for instance, India, Kenya, Sri Lanka, for example, also did not have the tradition of farming, just like Georgia, as tea was an imported culture there as well.
In 2006, I started making tea in Georgia with the idea to develop a tea farming tradition. I started inquiring as to what can be done in Georgia for the tea production, so I began to study.
The situation at that time was like this: there is no industry, there is no machinery, there are just some enthusiasts, who produce 50-100 kg of tea and sell it from their own home. Their product was non-standard and non-tech. My idea was that it should have been switched to a more professional farmer production. So I went over through Georgia to see who does what and who we start the work with. The main thing that was missing – it was knowledge. So it was absolutelly necessary to gain that knowledge.
Every year since 2009, I have been visiting with my fellow tea farmers a tea college in Fujian Province, China. There we've learnt tea farming traditions and techniques. All this was done with the help of the Chinese government and the family of Lau Dzhen Dzhau. This gave me the opportunity to learn everything in detail and then share it with other enthusiasts in Georgia.
In 2018, with the support of the Chinese government, 25 people from Georgia were enrolled in tea colleges and institute. The name of the study program was "Promoting the Development of the Tea Industry in Georgia". This gave us an opportunity to bring back a new generation of tea farmers.
Now we have standardized Georgian tea. And it's being exported to many countries around the world, including China. In 2018 we were able to make a first ever Georgian tea that was produced by own our technology.
We're now in the process of preparing some export to South Korea. This turmoil [coronavirus crisis] coincided with the extraction of tea, so we were unable to extract the tea yet.
---
More video tours on Georgian Tea
---