Tbilisi – Yerevan – Tbilisi train tickets
Reserve and book your Tbilisi-Yerevan and/or return train ticket here. No payment is required at this point. Our consultants will receive your request, check tickets availability on requested dates, and confirm you in writing. Online payment instructions will be sent to you if tickets are available. We advise to reserve Georgia train tickets in advance. At least 2 weeks before intended departure date. During high travel season, from April till October, train tickets are sold out very quick.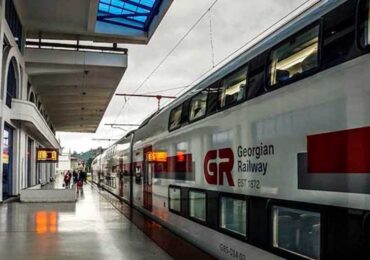 Booking process
Fill out the reservation form below
Receive your Tbilisi-Yerevan train tickets reservation confirmation
Send us travelers information
Have a wonderful journey!
Rate our consultants on Google, Facebook or TripAdvisor 🙂
Click to read reservation service terms and conditions. It's clear. It's short. It's a 2 minute read.
Train ticket Reservation form is a request for Geotrend to check availability of desired train. And, if available, Geotrend will purchase train ticket on your behalf.
If availability is confirmed, you will be asked to send your, and other accompanying travelers details – i.e. full name and surname, passport photo copy (with all four edges clearly visible). These are required to process the actual train ticket purchase.
Prices are inclusive of Geotrend commission and online payment processing fee. Geotrend's commission for Tbilisi-Yerevan train destination. Tbilisi-Yerevan train tickets are paper based. Once purchased you may collect them in our office either in Tbilisi or Yerevan, or request delivery to your hotel in Tbilisi or Yerevan.
Please note that Tbilisi-Yerevan-Tbilisi train tickets, once purchased, are non-refundable and non-exchangeable.
Your personal details are treated in accordance with Geotrend's Privacy Policy.
Tbilisi – Yerevan train ticket prices*
Compartment for 2 – single one way ticket price is 75 US$
Compartment for 4 – single one way ticket price is 60 US$
Open carriage – single one way ticket price is 50 US$
*Our prices are higher than that of Railway company, and include our service charge, payment processing fees, and other commissions.
FAQ about Tbilisi - Yerevan train
What is the difference between travel classes?
Compartment for 2 – otherwise known as "SV" (stands for Russian Spalny Vagon – sleeping carriage) it is a private compartment for 2 persons, with two sleeping berths / bunks.
Compartment for 4 – otherwise known as "Coupé", it is a 4-bunk private compartments fully separated from each other and a corridor.
Open carriage – otherwise also known as "Platzkart" are carriages with different layout comparing to the two types above. With no wall between compartment and corridor, only four bunks along the long sides of the compartment, and two more mounted on the corridor wall, the lower bunk folding in the daytime to become two seats.
Please note that above travel class types cannot be combined in single carriage. Every carriage within the train is a dedicated one to a particular travel class.
Is there a restaurant or cafe on the train?
There is no restaurant or cafe on Tbilisi-Yerevan trains, so travelers are advised to have their own food/snacks with them. But you can always ask train attendant to sell you tea, water or coffee.