Diretto verso la Georgia occidentale? Georgia verde | Tour privato della Georgia di 12 giorni Questo canyon nascosto e questa bellissima cascata erano un tempo il luogo in cui la nobile famiglia locale, i Dadiani, faceva il bagno. Oggi è un luogo turistico popolare.
Dopo essere stato riabilitato per il turismo, il canyon è ben tenuto e vengono offerti tour in barca. Il canyon conduce a una cascata.
Se stai cercando un po 'più di avventura, dirigiti verso la parte inferiore del canyon dove l'acqua crea una piscina naturale e fai un tuffo nell'acqua fresca.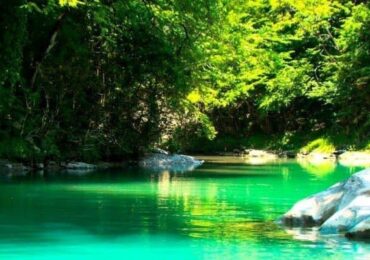 Cosa guardare:
Nokalakevi – Dopo aver visitato il Martvili Canyon, puoi fermarti alla fortezza di Nokalakevi sulla strada per Zugdidi. Nokalakevi è un bellissimo sito archeologico che risale al IV-VI secolo. L'area è un'area storicamente importante e strategica per la guardia della regione di Samegrelo, con vista sul fiume Tekhuri. C'è anche un museo in cui è possibile visualizzare manufatti locali e conoscere l'ampia storia della regione.
Dadiani Palace (Zugdidi) – I Dadianis erano una famiglia aristoratica che aveva rapporti molto stretti con Napoleone Bonaparte. Molti oggetti conservati nel museo del palazzo erano collegati alla Francia, e più precisamente allo stesso Napoleone, come la sua maschera mortuaria, una lettera privata e altre curiosità. Il museo ospita oltre 41.000 oggetti, quindi può richiedere parecchio tempo per spostarsi. Una delle parti migliori del museo è il suo giardino botanico, che è stato creato per volere della principessa Dadiani nel corso del 19 ° secolo e ospita molte piante rare e distintive.
Periodo migliore per visitare il Martvili Canyon:
Aperto tutto l'anno, anche se i mesi più caldi sono la soluzione migliore poiché le gite in barca non sono organizzate con tempo nevoso e piovoso.
Come arrivare a Martvili Canyon:
Sebbene la distanza da Zugdidi non sia breve, in un giorno si può fare una gita al Canyon Martivili. Ci vorrà circa un'ora e mezza per la sola andata.
Puoi prendere un autobus dalla stazione degli autobus di Kutaisi (dietro a McDonald's) o un taxi.
Martvili Canyon sulla mappa
Visit real Georgian village on the shores of Bazaleti lake, just 1-hour drive from Tbilisi. Village Mlashe is a home to a brand-new sustainable tourism project – local family-run Salty Garden.

12 Days

ALL INCLUSIVE 12-day Georgia group tour program is a result of our ongoing efforts to make all our travel options eco-friendly. Based on a responsible travel concept, this tour…

12 Days

Georgia Green tour 12-day program is a result of our ongoing efforts to make all our travel options eco-friendly. Based on a responsible travel concept, the tour combines the unique Georgian culture, rich history…

15 Days

ALL INCLUSIVE 14-day group tour to Georgia – is the best option for those travelers wishing to visit Georgia. Look no further as you have already found a perfect Georgia tour program.

3 DAYS

Lagodekhi getaway tour is a perfect 3-day travel program for a weekend in Georgia. Ideal tour package for those wishing to spend a couple of days in nature. Just a few hours from Tbilisi, visitors can…

7 Days

The tour itinerary is drafted around places that are far from major tourist attractions. Tea village of Tsitelmta in the Guria region or Machakhela nature reserve are hardly ever visited by mass tourists. The fact that indeed makes…

One day farm tour to the village of Atskuri in Georgia (near the town of Borjomi). Dive into the life of Georgian farm and see how locals make their living. With this amazing day tour we offer our guests to experience agricultural life firsthand.