Come ex capitale della Georgia e seconda città più grande, Kutaisi ha molto da offrire ai turisti.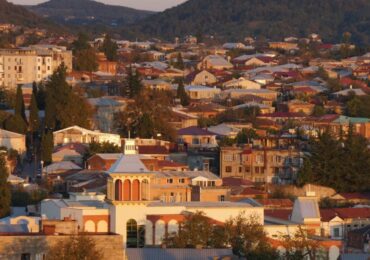 Cosa vedere a Kutaisi:
Cattedrale di Bagrati e Monastero di Gelati – La cattedrale di Bagrati è una delle chiese più grandi e più care del paese. Fu costruito nell'XI secolo e presenta bellissimi affreschi dell'epoca. Il monastero di Gelati si trova nelle vicinanze. Fu costruito nel 1106 ed è stato il primo istituto di istruzione nel paese. Entrambi sono elencati come siti del patrimonio mondiale dell'Unesco.
Riserva naturale di Sataplia – Un viaggio completo a Kutaisi senza un viaggio a Sataplia, sulle pendici di un vulcano spento. Questa riserva gestita si trova nel comune di Tskaltubo, a circa 10 km da Kutaisi. Le impronte dei dinosauri trovate nella zona sono una delle principali attrazioni turistiche, insieme a impressionanti grotte e panorami. La riserva è ben mantenuta, con percorsi turistici pedonali facilmente accessibili e grotte illuminate. Grotta di Prometeo – Ancora più sorprendente della Riserva Naturale di Sataplia è la Grotta di Prometeo. Questa caverna impiega circa un'ora per esplorare e presenta incredibili stalagmiti e stalattiti, cascate pietrificate e persino un lago sotterraneo su cui vengono offerti tour in barca (tempo permettendo).
Palazzo del Parlamento – Se desideri saperne di più sulla Georgia moderna, organizza una visita al futuristico e straordinariamente vuoto edificio del Parlamento. Vengono offerti tour in cui è possibile conoscere meglio il sistema parlamentare del paese e perché l'edificio non è utilizzato come base permanente del legislatore (solo su appuntamento).
Come arrivare a Kutaisi:
treno
marshutka (minibus), bus. I biglietti per autobus e minibus costano in media da 10 a 20 persone.
taxi. I prezzi dei taxi partono da 100 GEL ex Tbilisi.
Horseriding is very popular in Georgia and there are plenty of opportunities to ride a horse in different areas of the country. Explore amazingly picturesque and otherworldly East Kakheti landscapes on a horseriding day tour.

7 Days

The tour itinerary is drafted around places that are far from major tourist attractions. Tea village of Tsitelmta in the Guria region or Machakhela nature reserve are hardly ever visited by mass tourists. The fact that indeed makes…

12 Days

ALL INCLUSIVE 12-day Georgia group tour program is a result of our ongoing efforts to make all our travel options eco-friendly. Based on a responsible travel concept, this tour…

15 Days

ALL INCLUSIVE 14-day group tour to Georgia – is the best option for those travelers wishing to visit Georgia. Look no further as you have already found a perfect Georgia tour program.

3 DAYS

Lagodekhi getaway tour is a perfect 3-day travel program for a weekend in Georgia. Ideal tour package for those wishing to spend a couple of days in nature. Just a few hours from Tbilisi, visitors can…

One day farm tour to the village of Atskuri in Georgia (near the town of Borjomi). Dive into the life of Georgian farm and see how locals make their living. With this amazing day tour we offer our guests to experience agricultural life firsthand. 

Visit real Georgian village on the shores of Bazaleti lake, just 1-hour drive from Tbilisi. Village Mlashe is a home to a brand-new sustainable tourism project – local family-run Salty Garden.