Conosciuto come il "Monastero verde" per la sua dimora tra alberi di un verde caratteristico, così come per la tinta verdastra sulle sue pareti, il nome ufficiale del monastero situato nel comune di Borjomi è Chitakhevi St. George Monastery. Il villaggio in cui si trova porta lo stesso nome, Chitakhevi.
Una delle caratteristiche interessanti del monastero sono le ossa di monaci torturati e uccisi nel XVI secolo durante le invasioni.
Il monastero verde ha una splendida vista e un grazioso giardino. Pertanto, è un bel posto per fare picnic e trascorrere del tempo godendosi la vita all'aria aperta.
Poiché il monastero è una gita di mezza giornata, è consigliabile pianificare attività aggiuntive per la giornata.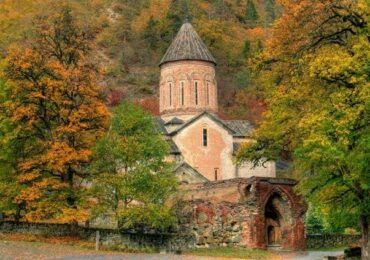 Cosa vedere a Borjomi:
Borjomi Central Park – Il Borjomi Central Park è uno dei posti migliori da visitare nella zona con bambini piccoli. Ci sono varie fontane e campi da gioco, nonché un percorso che porta alle sorgenti di zolfo, anche se dovresti prendere in considerazione che si trova a circa 3 km a piedi dall'ingresso del parco. Tuttavia, il parco offre corse in auto in determinati orari.
Periodo migliore per visitare Borjomi:
Le diverse stagioni hanno i loro vantaggi. Se stai cercando di fare delle passeggiate / escursioni e goderti i colori, la fine della primavera / estate è la cosa migliore. In inverno, potresti pianificare di integrare questo viaggio in un'escursione nella vicina stazione sciistica di Bakuriani.
Come arrivare a Chitakhevi:
Da Borjomi, la forma di trasporto più conveniente è un taxi dal centro città. Si consiglia di prendere un'auto più grande poiché parte della strada non è sigillata.
Visit real Georgian village on the shores of Bazaleti lake, just 1-hour drive from Tbilisi. Village Mlashe is a home to a brand-new sustainable tourism project – local family-run Salty Garden.

12 Days

ALL INCLUSIVE 12-day Georgia group tour program is a result of our ongoing efforts to make all our travel options eco-friendly. Based on a responsible travel concept, this tour…

12 Days

Georgia Green tour 12-day program is a result of our ongoing efforts to make all our travel options eco-friendly. Based on a responsible travel concept, the tour combines the unique Georgian culture, rich history…

15 Days

ALL INCLUSIVE 14-day group tour to Georgia – is the best option for those travelers wishing to visit Georgia. Look no further as you have already found a perfect Georgia tour program.

3 DAYS

Lagodekhi getaway tour is a perfect 3-day travel program for a weekend in Georgia. Ideal tour package for those wishing to spend a couple of days in nature. Just a few hours from Tbilisi, visitors can…

7 Days

The tour itinerary is drafted around places that are far from major tourist attractions. Tea village of Tsitelmta in the Guria region or Machakhela nature reserve are hardly ever visited by mass tourists. The fact that indeed makes…

One day farm tour to the village of Atskuri in Georgia (near the town of Borjomi). Dive into the life of Georgian farm and see how locals make their living. With this amazing day tour we offer our guests to experience agricultural life firsthand.