Puoi viaggiare in tutta la Georgia e vedere i suoi monumenti architettonici. Oppure puoi vederli tutti contemporaneamente andando al Black Sea Resort di Shekvetili e visitando il parco "Georgia in Miniature". Il parco in miniatura è una delle più recenti attrazioni della Georgia e presenta circa 50 miniature di monumenti architettonici provenienti da tutta la Georgia. Inoltre, ogni display ha una piccola scheda contenente informazioni sulla sua storia.
Il parco è aperto dal lunedì al sabato dalle 11:00 a mezzanotte. La domenica apre da mezzogiorno a mezzanotte. Se hai bisogno di stringerti in tempo per visitare il parco durante il giorno, esita ad andare dopo le ore, poiché il parco è splendidamente illuminato, incluso ogni monumento individualmente, il che crea un ambiente e un'atmosfera incantevoli.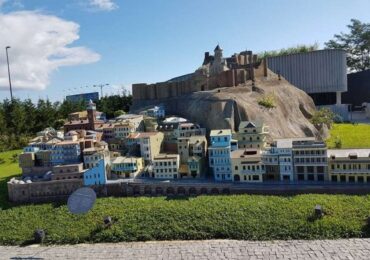 Oltre ai display in miniatura, il complesso del parco comprende un centro visitatori, che ha un mini-anfiteatro, caffè e altre aree per riposare e godersi la visita.
Complessivamente ci vorrà circa un'ora per esplorare l'intera area, quindi puoi pianificare di visitare le aree vicine lo stesso giorno.
Cosa vedere a Shekvetili:
Parco divertimenti Tsitsinatela: il parco in miniatura si trova accanto al parco divertimenti Tsisinatela. Offre giostre per tutte le età. Tuttavia, tieni presente che apre ogni giorno alle 18:00.
Black Sea Arena – questa arena di recente costruzione ha già ospitato artisti come Elton John, Aerosmith e altri. Se ti trovi in zona, assicurati di controllare tutti i concerti che potrebbero essere programmati in quel momento.
Paragrafo Resort & Spa Shekvetili– se siete disposti a concedervi il lusso, questo hotel di fascia alta offre alloggi fantastici con viste mozzafiato, piscine, un parco acquatico e un acquario.
Periodo migliore per visitare Shekvetili:
Da giugno fino alla fine di settembre, quando il clima è caldo, e tutte le aziende sono pienamente operative.
Come arrivare a Shekvetili:
Puoi usare il nostro comodo trasferimento in furgone da Batumi a Tbilisi, con una sosta nel Parco delle miniature georgiane
Da Batumi ci sono marshrutka (minibus) e autobus che effettuano viaggi giornalieri.
Puoi anche prendere un taxi, che costerà circa 20 GEL.
Georgia nel parco delle miniature sulla mappa
One day farm tour to the village of Atskuri in Georgia (near the town of Borjomi). Dive into the life of Georgian farm and see how locals make their living. With this amazing day tour we offer our guests to experience agricultural life firsthand. 

12 Days

Georgia Green tour 12-day program is a result of our ongoing efforts to make all our travel options eco-friendly. Based on a responsible travel concept, the tour combines the unique Georgian culture, rich history…

Visit real Georgian village on the shores of Bazaleti lake, just 1-hour drive from Tbilisi. Village Mlashe is a home to a brand-new sustainable tourism project – local family-run Salty Garden.

12 Days

ALL INCLUSIVE 12-day Georgia group tour program is a result of our ongoing efforts to make all our travel options eco-friendly. Based on a responsible travel concept, this tour…

7 Days

The tour itinerary is drafted around places that are far from major tourist attractions. Tea village of Tsitelmta in the Guria region or Machakhela nature reserve are hardly ever visited by mass tourists. The fact that indeed makes…

3 DAYS

Lagodekhi getaway tour is a perfect 3-day travel program for a weekend in Georgia. Ideal tour package for those wishing to spend a couple of days in nature. Just a few hours from Tbilisi, visitors can…

15 Days

ALL INCLUSIVE 14-day group tour to Georgia – is the best option for those travelers wishing to visit Georgia. Look no further as you have already found a perfect Georgia tour program.